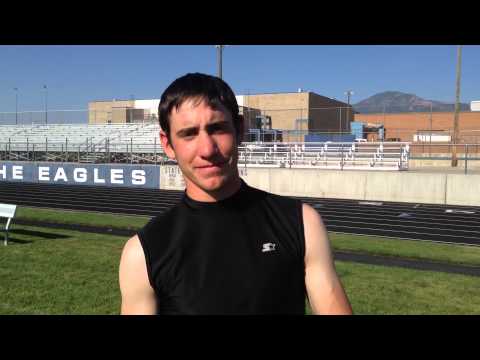 View 4 Items

Note: Beaver finished with a 9-2 overall record in 2013 and was first in 2A South with a 6-0 record. It lost to South Summit 14-7 in the 2A semifinals.
BEAVER — There's been a weird trend at Beaver High School lately. For whatever reason, the size of each class seems to alternate. A big senior class is usually followed by a small junior class and then a big sophomore class.
This year the senior class is the minority with only five or six kids expected to play, while the juniors make up a huge chunk of the team.
"We'll be real young. If we started three seniors I'd be surprised," said Beaver coach Steve Hutchings.
The junior class is pretty talented, though, so don't expect much of a drop-off — if any — from last year's 2A semifinalists. Beaver has established itself as one of the top-flight programs in 2A, and doesn't really endure rebuilding years.
After three straight quarterfinal appearances from 2010 to 2012, Beaver advanced to the semifinals for the first time since 2002 last season, losing to eventual champ South Summit 14-7.
That group rode the coattails of a strong offensive line to a 9-2 season, and Hutchings is expecting the same this season.
"Last year we put all our stock at offensive line, and this year we're doing that again," said Hutchings.
Three of Beaver's few seniors are offensive linemen. Landon Burke and Payton Radon are both returning starters, while Gideon White played the final four games after being cleared medically following three years of watching from the sideline after back surgery.
Outside of the trio of seniors, the varsity experience is minimal and with it comes some unique challenges.
"Because we lost everybody, we're still not set on who plays what. We have a couple games to move into that, but we don't want to be halfway through the year trying to figure out where people play," said Hutchings.
"From year to year, it's interesting. Some plays work with some teams and not really with other teams. I'd like to get that all sorted out through the first couple games."
Beaver opens with nonregion games against Canyon View and Kanab before diving into region play in Week 3 with rival Parowan. Afterward it's a nonregion rematch with South Summit in Week 4.
In Week 4 last year South Summit humbled Beaver 37-6, but the Beavers closed the gap over the next two months and narrowly lost to the Wildcats in the semifinals.
Defense was the difference-maker down the stretch as Beaver only allowed 53 total points during its six-game winning streak heading into the semis. With Burke, Radon and White anchoring the defensive line, the coaching staff is optimistic about another strong defensive season despite the youth.
Mathew Roberts finished third on the team in tackles as a sophomore last year at linebacker, but this year his primary position is quarterback. He's taking over for Kasen Hutchings, who passed for over 1,000 yards and 16 touchdowns last year.
The biggest void Beaver must fill is at fullback. Jesse McMullin rushed for over 1,000 yards in both 2012 and 2013 and was the focal point of everything the Beavers did offensively.
Coach Hutchings said Dillon Smith, Tyson Fotheringham and Braxton Wilson have been battling it out this summer to claim the starting job.
Beaver Beavers at a glance
Coach: Steve Hutchings is entering his 10th year as head coach at his alma mater. He owns a 47-47 career record.
Offense
(3 returning starters; Wing-T offense)
The only position Beaver has any tangible varsity experience is on the offensive line, but that should help the younger players ease into the speed of varsity play. Mathew Roberts takes over at quarterback, while Brantsan Blackburn will be an integral part of the offense at tight end. Brennan Hutchings is a returning starter at running back, but this year he's shifting to the slot back. Sophomore Dillon Smith and juniors Tyson Fotheringham and Braxton Wilson are in competition for the starting fullback position.
Defense
(3 returning starters)
Roberts was the third-leading tackler at linebacker last year, but he'll move to the secondary to minimize his wear and tear and keep him fresh offensively at QB. Beaver's defensive line should be a strength with returning full-time starters Landon Burke and Payton Radon. Gideon White and Blackburn are also expected to make big contributions.
Coaches preseason 2A South straw poll: Second
Deseret News 2A South prediction: First
Bottom line: Four or five years ago, with very few seniors or returning starters, Beaver would be headed for a frustrating rebuilding year. That's not the case anymore. During his decade as head coach, Hutchings has turned the program into a consistent winner and he expects a strong junior class to keep the trend going. A visit from defending 2A champion South Summit in Week 4 will reveal a lot about Beaver's potential this season.
….
Beaver coaching history
2005-current — Steve Hutchings (47-47)
1999-2004 — Brandon Draper (41-25)
1989-1998 — Alan Raddon (64-40)
1963-1988 — Al Marshall (218-70)
1955-1962 — Pat Lindsay (26-24)
1954 — Unknown (2-5)
1950-1953 — Lamont Thornock (11-14)
1949 — Unknown (4-3)
.....
Deseret News First Team all-staters the past 10 years
2013 — Kasen Hutchings, QB/LB
Comment on this story
2013 — Jesse McMullin, RB/LB
2013 — Michael Roberts, WR/DB
2013 — Bailey Bradshaw, OL/LB
2012 — Kendall White, TE/LB
2012 — Tyler Terry, OL/DL
2011 — Jeremy Brown, RB/DB
2010 — Slade Edwards, FB/LB
2008 — Jordan McMullin, OL/LB
2006 — Justin Moss, QB/DB
2006 — Jeff Oldroyd, FB/LB
2004 — Ben Roberts, RB
To view second team and honorable mention all-staters through the years, check out the Deseret News All-State Archives.
High school football: Beaver Beavers 2014 preview
Beaver's Gideon White
Deseret News prep editor and Real Salt Lake beat writer.