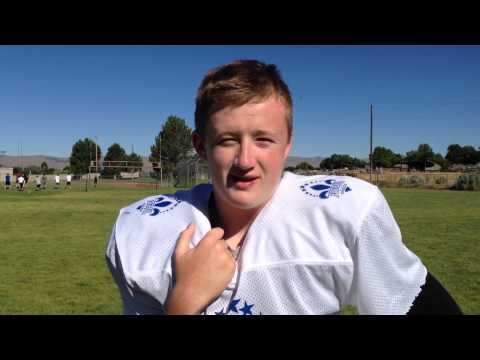 View 15 Items

Note: Juab finished with an 8-4 overall record in 2013 and was second in 3A South with a 4-1 record. It lost to Judge 41-20 in the 3A semifinals.
NEPHI — The road to last year's revamped 3A state championship traveled through Judge Memorial, but the tides might be shifting south this year, and Nick Robins is the reason why.
Last year the quarterback threw for over 2,000 yards and 29 touchdowns to lead Juab into the 3A semifinals, and this year the SUU commit is back and hungrier than ever.
"We've got a taste of that college field and got to the semis and I definitely think we can win it this year," said Robins.
Robins completed 61 percent of his passes for 2,097 yards last season and a very impressive 29-6 touchdown-to-interception ratio.
Last season, unfortunately, came to a bittersweet end in the semifinals against Judge when Robbins broke his arm on the second possession of the game.
Collectively though, whether Robins had stayed in the game or not, Juab just couldn't match up with Judge's physicality. That's been a point of emphasis all offeseason.
"We felt we needed to get stronger. A couple teams kind of ran over us last year, but we've been working our butts off in the weight room and a lot of guys are getting bigger and stronger and we're going to be a lot better team this year," said Robins.
Judge and Manti both put up 41 points on Juab last year, and as a result defense is the question mark coming into the season with only three returning starters.
With such a strong offense, Juab's defense doesn't need to morph into the Seahawks defense, but it does need to get a few more stops than last year against the quality opponents.
"That's what we're looking at and trying to emphasize, because we feel we should have the weapons to score some points and move the ball, but it's a matter of if we can shut teams down," said Juab coach Mike Bowring.
With Robins slinging it around the field, just a little defensive support should be good enough.
"We've gone to a few seveon-on-sevens and some things and he's throwing the ball really well right now. He's one of the big leaders on our team, and it's just nice to have somebody that's got a year of experience under them and he had a great year last year," said Bowring. "I kind of use him as another coach. A lot of times I'll ask him what he's seeing and what he likes and nine out of 10 times he's right."
In addition to a great understanding of Juab's spread offense, Robins also has the luxury of sitting in the pocket behind four returning starters on the offensive line.
The only question is who's going to catch all those passes besides returning starter Dedric Davidson. The senior caught 31 passes for 659 yards and 12 TDs, but the other four Juab receivers who had double-digit receptions all graduated.
Kayden Whiting should emerge as one of those targets at slot receiver. He would've played a larger role last year, but he missed most of the season with an injury.
Nobody else has any real varsity experience, but they're all hungry knowing a quarterback of Robins quality is throwing the ball.
"About half the time he throws to somebody other than the primary guy because he has that vision and that knowledge to check down to that second and third option," said Bowring.
A year after fullback Dalton Harmon rushed for 998 yards to keep defenses from exclusively keying on the pass, Brandon Smith is anxious to step into that role after getting just four varsity carries in 2013.
Last year Juab averaged 32.8 ppg, and with Robins back it should easily reach that productivity again. To truly compete for the 3A state championship, however, the Wasps need to shave a touchdown or so off their 22.3 ppg scoring defense.
Bowring is hoping a more focused purpose in the weight room this offseason helps his team take that next step.
"There's some things we've changed up this year because when we looked at what we were doing … I'm not sure we were doing enough to get to that level that we need to," he said.
"When you play a team like Judge and some of those teams that are big, physical, fast, you've got to get stronger, faster and bigger. So we're trying to focus on those things we can control and try and put these kids in a better situation."
Juab Wasps at a glance
Coach: Mike Bowring is entering his 11th season at Juab with a 77-37 record. Prior to moving to Juab, Bowring was the head coach at Monticello for seven years and he won a state championship in 2001. His career coaching record is 123-67. Bowring is a graduate of San Juan High.
Offense
(6 returning starters; Spread offense)
Returning all-state quarterback Nick Robins has four returning starters on the offensive line protecting him — Nick Wohlforth, Jake Hatfield, Ethan Phillips and Brandon Aagard. Juab hasn't had a 1,000-yard rusher in over a decade, but Dalton Harmon came very close last season with 998 yards. That experienced offensive line would love to help new fullback Brandon Smith approach that productivity. The receiving corps is solid with slot backs Dedric Davidson and Kayden Whiting returning, but discovering the most productive wideouts has been a focus this summer.
Defense
(4 returning starters)
In last year's semifinal loss, Judge plowed through Juab's run defense for 350 yards and five touchdowns. That will never be good enough in November. The Wasps have worked hard in the offseason to get tougher for those big games, and a year of experience for three defensive front contributors will no doubt help too. Wohlforth and Hatfield were both starters a year ago, while Phillips rotated in at defensive tackle. The return of a healthy Whiting at linebacker will definitely help the run defense, while newcomers Tyse Ostler and Talon Jennings have impressed at linebacker this summer. Davidson is one of the top returning cornerbacks in 3A with eight interceptions the past two seasons.
Coaches preseason 3A South straw poll: First
Deseret News 3A South prediction: First
Bottom line: Juab hasn't won a region championship since 2008, but the rest of the 3A North coaches have pegged it as the team to beat in 2014. It will be very interesting to see how Bowring's team handles the favorite label. Over the years the Wasps have drawn motivation from being the underdog and have been pretty successful. Now, everyone will be gunning for them. With a very strong contingent of offensive starters returning, anything less than another semifinal appearance will be a disappointment.
….
Juab coaching history
2003-current — Mike Bowring (76-38)
1999-2002 — Will Biesinger (18-25)
1992-1998 — Paul Messersmith (48-26)
1991 — Alan Sperry (3-6)
1988-1990 — Raymond Nielsen (4-21)
1985-1987 — Fenton Broadhead (8-18)
1976-1984 — Lee Scott (35-54)
1971-1975 — unknown (24-25-2)
1967-1970 — Dennis Hansen (18-19)
1964-1966 — LeRoy Davis (1-23)
1962-1963 — Verl Shell (2-14)
1960-1961 — unknown (1-15-1)
1959 — Cary LaComb (3-4)
1957-1958 — unknown(4-11)
1956 — Marcus Garrett (2-6)
1955 — unknown (0-6)
.....
Deseret News First Team all-staters the past 10 years
2013 — Nick Robins, QB
2013 — Brandon Morgan, WR
2010 — Elias Brooks, LB
2008 — Jordan Bainter, OL/DL
2008 — Jameson Izatt, OL/DL
2008 — Cody Keisel, FB/LB
2008 — Chandler Street, RB/DB
Comment on this story
2007 — Kade Brough, OL/DL
2007 — Jordan Jones, QB/DB
2006 — Tyler Davidson, WR/LB
2006 — Landon Nielson, WR/DB
2006 — Todd Watts, OL/LB
2005 — Shane Blackett, QB/DB
2005 — Kyle Callaway, OL/DL
2005 — Trent Stowell, OL/DL
2004 — Trevor Jones, RB
2004 — Matt Howard, RB
2004 — Kellen Nielson, WR
2004 — Jordan Guillory, OL
To view second team and honorable mention all-staters through the years, check out the Deseret News All-State Archives.
High school football: Juab Wasps 2014 preview
Juab's Nick Robins