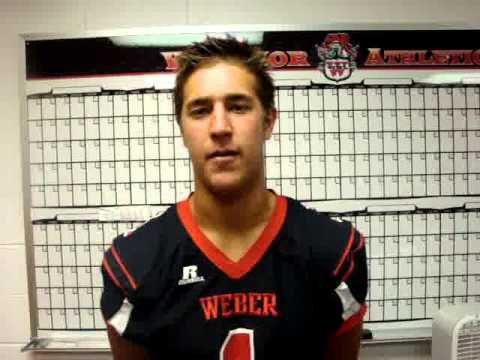 View 30 Items

Note: Weber finished with a 5-5 overall record in 2013 and was fifth in Region 1 with a 2-4 record. It did not qualify for the 5A playoffs.
PLEASANT VIEW — You'd think that, after snapping a lengthy losing streak and going on to win more games last year than it had in the previous three seasons combined, Weber High's football program would be feeling pretty darned pleased and proud these days.
And if you think that, you'd be mistaken.
Oh, sure, the Warriors were glad to get that King Kong-sized monkey off their backs last season, when they shed a 23-game losing streak that stretched back to 2010. And putting together a final 5-5 record was certainly a welcome sight in 2013, especially following back-to-back winless seasons.
But the Warriors and their intense second-year head coach, Matt Hammer, are far from content.
"You get done with it and you look back at a couple of those games and you're just like, man, you have a chance to have a winning record and be a playoff team, which is the ultimate, consistent goal around here is to play in November or that last weekend in October," Hammer said.
"But it's almost like I'm walking on the cliff, though. It's like is that all we've changed and this is the best that they could've done here, rather than no, that (5-5 record) should be the very, very average of what we do here and we've got to build off that. So I think it's actually been harder now this year because I know we've got more in us. We've got to go win seven or eight games, if not more.
"I think it was easier last year because I thought there was enough talent here to go win some football games," he said. "But now it's hey, we want to be a winning team year in and year out, so it's actually been harder that way. I think it's been good, but it's more of a challenge. I don't think there's any reason why we cannot do that if we do things right."
The Warriors started last season by winning four of the first five games, only to lose four of their last five to see a possible state playoff berth slip away.
Coach Hammer says that last year's learning experience helped this year's returnees take notice of what it takes to be a strong, competitive team. And now it's time to use those lessons and try and take the program to the next level.
"The commitment from the kids is there and the light's going on in their heads," he said. "It's going on and they're understanding it. I'm excited for two or three years from now when all those kids in the little league that we've been giving back to start coming through and doing our offseason speed training and all that stuff all the way through and see that whole progression.
" ... Now you're gonna start seeing that as it grows. But what is it gonna look like two, three, four years from now, to see that whole picture?"
"With this senior class, they understand," Hammer said. "It's changed the mentality around here but now it's like, hey, there's a lot that goes into it. The consistency and the accountability of these kids on a daily basis, it's not 'August 1st, show up and now it's football time.' The good teams do it year-around. ... And we've got some kids that can lead us, so it's good."
One of those leaders is senior quarterback Cole Dean, a returning starter who threw for 1,871 yards and 15 touchdowns last season.
"He's a great leader and, when he's on the football field, he's really, really good," Hammer said. "He's got to understand that playing that position, everybody looks at that kid and he probably gets treated differently, unfairly sometimes, but at the same time, that comes with it. And the better you are, the more people are gonna try to be out to get you. That's just the way sports goes."
Dean will be backed up by versatile junior Wyatt Berdinner, who starts at slotback and plays cornerback, returns kicks, and will also see some time at running back.
At running back, seniors Hunter Bell and Braxton Beck will share most of the carries. Bell, who ran for 359 yards and a touchdown last year, is a "tough kid, downhill guy, one cut and go" type of runner, Hammer says.
Bell will take on most of the rushing load this year following the graduation of last year's star ballcarrier, Auston Tesch, who signed with Weber State and is currently serving an LDS Church mission in Washington, D.C.
Beck, who starts at linebacker, "has a little bit more big-play ability in him," according to Hammer.
Wyatt Watts, a senior and former quarterback, will play fullback for the Warriors and is a solid receiver out of the backfield.
At wide receiver, senior Jaxon Porter returns after catching 25 passes for 541 yards and five touchdowns last year.
"He's a big, strong, physical kid," Hammer said of Porter. "He's just got to be more consistent of playing on every down, and he knows that. But he's done a real good job of progressing."
Logan LaRose, a senior who transferred from Roy after tearing his ACL in a game at Logan last season, will also line up at wide receiver for the Warriors.
"I like that kid's competitiveness," Hammer said of LaRose. "He believes he's the best player on the field all the time, which I like."
Berdinner, a "quick, explosive, shifty guy," will also play wide receiver.
Senior slotback Nick Austin is a "very confident kid who catches the ball really well," Hammer said, and junior receiver Alijah Cassel is a "great player who has all the tools" and is being counted on to contribute along with sophomore Brevin Dean.
"That's the kid I'm most excited about," Hammer said of the sophomore receiver. "The kid can flat-out run and he'll play a lot for us. The game's not too big for him, so he's gonna have a chance to be good for a long time."
At tight end, senior Nick Kitchens will start after playing defensive end last year, and he'll be backed up by senior Josh Shaw and junior Issac Bell.
Rowdy Romrell, a senior, anchors the Warriors' offensive line.
"He's a little undersized, but he's a bulldog," Hammer said of Romrell. "He's just a tough kid; he'll fight ya, he has a lot of competitiveness in him. He's one of those grinders. You look at him in the weight room and he doesn't look like much, but he's a tough kid. I like that kid a lot."
Romrell's backup is junior Zach Woodhouse.
At right guard, senior Adison Hoggan will start and is backed up by junior Dax McCann. And at left guard, senior Kolby Nye is a "good, tough kid, one of those kids who won't say two words but works his butt off," Hammer said.
He'll be backed up by senior Austin Neilson.
At left tackle, senior Wyatt Beckey is a returning starter who, at 6 feet 4 and 285 pounds, is definitely capable of playing at the next level.
"He moves his feet well, and he's gotten tougher as he's come along," Hammer said. "He's bought more into the weight room and that process and it's helped him. He's a recruitable kid that will continue to play on."
Beckey will be backed up by senior Austin Gaudette.
At the right tackle spot, junior Levi Nye gives the Warriors a "good, strong, good-looking kid," Hammer said. "Of all the kids in our program, he has the most potential. He's tough and he probably has the nastiest personality to him, which is nice. He has a chance to play at next level when it's all said and done."
Levi Nye will be backed up by senior Nick Elmer, a "good, tough kid" who can play both tackle positions.
"I think we're stronger than we were a year ago up front," Hammer said. "And I think we're a little more athletic than we were a year ago up front. But I just question how tough we're gonna be. When it's third-and-1, are we gonna get movement and get knock-off and do things right? They showed good things in summer camp, so we'll see how it goes. I'm excited for the West game (on Aug. 22) just to see where we're at."
At defensive end, Gaudette will get his chance to shine.
"Austin's probably shown the biggest improvement of everybody on our whole football team," Hammer said. "He really stood out at camp, made a lot of plays, and he works his butt off."
Nick Kitchens will also play at D-end on one side, while Porter and Kolby Nye will hold down the other D-end spot.
"Jaxon is going to be the biggest surprise for us on defense this year," Hammer said of Porter. "He's just so quick and explosive and he can cause some havoc."
At defensive tackle, Hoggan and Levi Nye will man one position, with Romrell and Beckey seeing time at nose guard.
Beck, who had 46 tackles, three interceptions and a sack last season, leads the linebacker corps, where he's joined by Shaw and senior Soren Nelson in the starting lineup, with promising junior Garrett Hoyt, Bell and senior Grayson Whetton providing depth.
Berdinner will start at one cornerback spot, with Cassel backing him up, while senior newcomer Jared Dickson will start at the other cornerback spot.
"Probably the biggest surprise of the whole thing has been Dickson, a tough, competitive kid who quit playing football after ninth grade," Hammer said.
Seniors Hayden Denney and Carson Clark provide depth at cornerback.
Austin will start at one safety spot, backed up by senior Zeke Greer, while junior Levi Putnam, a transfer from Fremont, will start at the other safety position, with LaRose in reserve.
Senior Nick Sosa will do the placekicking duties; junior Caleb Clark will handle the kickoffs; and Porter will do the punting.
Hammer realizes, after winning five games last year — and it could've very well been seven if not for heartbreaking losses to Roy and Northridge — that the Warriors won't be able to sneak up and surprise any opponents this season.
"It's gonna be a different mentality," he said. "I think we got the attention of everybody in our region and on our schedule, and I think people feel like they've got to come and play when they play Weber. I think we earned a little bit of that, but we have to back it up by doing it again.
"We can't ride the roller coaster. Every time we step on the field, you're gonna get a team that plays extremely hard, plays with a lot of confidence, and believes in what's going on. Hopefully we can just continue to do that."
And after coming up with a fiercely competitive performance in last year's season finale against Region 1 champion Davis, Hammer has high hopes that his team can continue to show that kind of heart, effort and determination when the curtain goes up on the 2014 campaign.
"It all comes back to the kids," he said. "If the kids put in the effort and the time, and you put 'em in the right spots, they're gonna make plays and do things. We have kids that should put some, well, I won't say fear, but other teams are gonna have to respect them.
"You always want to be that team where everyone's gunning for you. We're definitely not there yet, but at least we're not everybody's homecoming game anymore. We've just got to line up and get those kids excited about playing and playing at a high level and minimize our mistakes.
"The way we competed and hit people against Davis last year, after the way we played the week before against Syracuse, I was (darn) proud of them and the way they came back and fought and competed and played with that passion you always want to see," Hammer said. "Hopefully, that feeling carries over of what it's really all about."
And for the Warriors, what it's all about now is to continue to work hard, strive to get better every day, and — even though they did plenty to be proud of — don't be content with what you did last year.
Weber Warriors at a glance
Coach: Matt Hammer begins his second season at the school. He posted a record of 5-5 in his first year as a head coach. The former Clearfield High and Southern Utah University athlete formerly served as an assistant coach at Weber State.
Offense
(4 returning starters; multiple formations)
Cole Dean is the returning starter at quarterback, and he threw for 1,871 yards and 15 touchdowns last season. His favorite returning target is wide receiver Jaxon Porter, who had 25 catches for 541 yards and five TDs in 2013. Wyatt Berdinner, Logan LaRose, Nick Austin, Alijah Cassel and Brevin Dean join forces with Porter to give the Warriors a solid receiving corps. Hunter Bell, who had 359 yards rushing and averaged 5 yards per carry last season, leads the ground game behind a strong, athletic offensive line featuring Rowdy Romrell, Adison Hoggan, Levi Nye, Kolby Nye and Wyatt Beckey. The Warriors will be aiming to achieve scoring consistency after averaging 32 points per game in their five wins last year, but only 17 ppg in their five losses.
Defense
(2 returning starters; 4-3-4 formation)
Braxton Beck leads a solid linebacking group that includes Josh Shaw, Soren Nelson and Garrett Hoyt, and the Warriors' front four of Austin Gaudette, Adison Hoggan, Rowdy Romrell and Jaxon Porter is formidable, especially with Nick Kitchens, Levi Nye, Kolby Nye and Wyatt Beckey providing ample depth. Wyatt Berdinner spearheads a secondary that includes Jared Dickson, Nick Austin and Levi Putnam. Much like the offense, the Warriors' defense needs to improve and be more consistent. In their five wins last year, they were superb, giving up just 11 points per game. But in their five losses, that number jumped to 29 ppg, and they allowed an average of 32 points in their four league losses.
Coaches preseason Region 1 straw poll: Sixth
Deseret News Region 1 prediction: Fifth
Bottom line: Second-year head coach Matt Hammer helped this program start turning the corner back toward respectability last year, as the Warriors snapped a 23-game losing streak and ended a streak of three straight losing seasons. They'll miss the play of last year's workhorse running back/linebacker Auston Tesch on both sides of the ball, but the Warriors have enough experience and weapons on offense to put points on the scoreboard, and enough talent on defense to keep their opponents from lighting it up. Hammer hopes that the young men in his program won't be content with last year's five-win season and will see that success as merely a starting-off point, not a finish line, in his quest to transform this program into a perennial playoff contender. In what shapes up as a balanced Region 1 race, Weber appears to have postseason potential if it can avoid the hard-luck losses that hurt its chances last year. Season-ending home games against Syracuse and Davis this year will likely tell the tale for the Warriors.
.....
Weber coaching history
2013 — Matt Hammer (5-5)
2010-2012 — Rick Corbridge (3-25)
2005-2009 — Richard Murray (16-34)
2003-2004 — Aaron Tillett (5-15)
1994-2002 — Kory Bosgieter (49-41)
1990-1993 — Glenn Prisk (13-24)
1983-1989 — Rod Buckwoldt (26-38)
1978-1982 — Hal Lewis (15-31)
1976-1977 — Joe James (4-14)
Comment on this story
1974-1975 — Jerry Coggins (13-6)
1970-1973 — Unknown (11-21-2)
1967-1969 — Lee Bunnell (6-20)
1965-1966 — Richard Connelly (4-13-1)
1953-1964 — Mel Wood (56-43-11)
1952 — Unknown (5-4-1)
1948-1951 — Mel Wood (10-26-2)
1945-1947 — Floyd "Slick" Slater (9-22-2)
1944 — Glenn Arnett (5-2)
1932-1943 — Unknown (25-55-2)
1931 — Mark Ballif (2-4-1)
1927-1930 — Unknown (7-19)
1926 — Fred Dixon (1-5)
To view second team and honorable mention all-staters through the years, check out the Deseret News All-State Archives.
EMAIL: rhollis@desnews.com