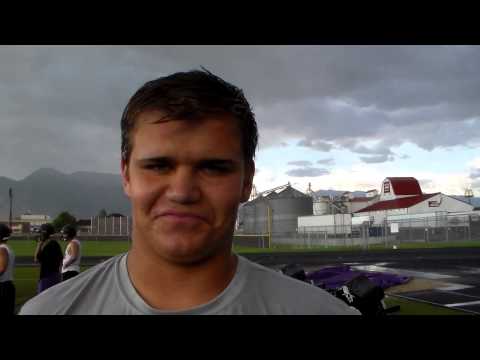 View 4 Items

From the first day you could tell he brought a lot of confidence with him and that he was definitely a coach who knows what he's doing.

—Lehi RB Caden Calton about new head coach Ed Larson
LEHI — Lehi star running back Caden Calton could hardly believe the news when he first heard it.
Sure, he'd listened to all the rumors, but when it was formally announced that coach David Hastings was moving on, Calton and most of his teammates were distraught.
"I was very surprised and it's definitely news you don't want to hear," Calton said.
Under Hastings, Lehi found pride and a way to be competitive in Region 4, a region most consider one of the toughest in the state.
Indeed, winning had been hard to come by for the Pioneers prior to Hastings' arrival in 2011. The program went winless in 2009 and 2010, and then slowly improved season by season under Hastings until last season, when it narrowly missed the playoffs with a 5-5 record.
"Hastings changed this program around, and you want to keep it going. So yeah, I was real nervous who would replace him," Calton said. "All the sudden there was pride walking down the halls as a football player at Lehi and we didn't want to lose that."
Enter new coach Ed Larson, who was hired in early February after spending the previous four seasons as head coach at Timpanogos. Larson brings with him 15 years of coaching experience at both the collegiate and prep levels after guiding the Timberwolves to the state playoffs in three of his four seasons as coach there.
News of Larson's hiring quickly turned Calton's trepidation into excitement.
"From the first day you could tell he brought a lot of confidence with him and that he was definitely a coach who knows what he's doing," Calton said. "I love his offense and I love the way he runs things and I think he's a coach who can keep things going here and even improve things."
Larson's offense won't resemble Hasting's run-heavy approach much at all. Larson likes to spread the field and throw the football, but still has plans to utilize Calton, who had 1,954 yards and 24 touchdowns rushing last season.
"I have this back (Calton), who is just phenomenal, and we're going to use him. I'm not dumb enough not to use him," Larson said. "But in addition to running we're going to get him out in one-on-one situations and try and get him the ball outside throwing the ball and take advantage of what he has to offer."
Larson is unsure who will be playing quarterback, but it's likely going to be either junior Calvin Miles or sophomore Connor Miser.
Coaches feel confident in an offensive line led by senior Brackin Stringham entering the season.
"We like our size up front, but they now have to learn how to pass protect, so they're going through that process," Larson said.
Indeed pass blocking was a foreign concept in Hastings' run-heavy offense, but players are confident they'll overcome the learning curve.
"It was tough learning at first, I'm not going to lie," Stringham said of learning basic pass blocking fundamentals. "It's coming and I love it. I hope to play at the next level and you definitely need to both run block and pass block effectively, so this is good."
Considering Hastings rarely fielded receivers in his offense, the group Larson will rely on is almost completely inexperienced, but ready to learn.
"I've been real impressed with the football IQ of these kids," Larson said. "We're asking a lot of them. We're throwing everything at them right now and I'm very impressed with how they've taken everything. We have a long way to go, but I think we'll get there."
On defense, it's former Bountiful assistant coach Alema Te'o taking the reins.
Te'o, who runs the annual All Poly Camp, will run a 3-4 base defense led by outside linebacker Dustin Tafoya.
"Dustin is definitely a leader and I think we have a good linebacking corps," Te'o said. "We have guys who play hard and fly around to make plays."
Te'o is looking to solidify his front, but believes things will come together.
As for his players, they're confident in Te'o's approach.
"I love Coach Te'o and how he coaches us," Tafoya said. "He goes out there and just teaches us how it's done. He's there for you, but he expects a lot. He wants us to go 100 percent all the time."
Overall, Larson and Te'o hope to maintain Lehi's newfound winning attitude and pride gained during last season's uncommon success — not just for this year's team, but for teams down the road.
"What we're selling to these kids is they have an obligation to win now, but they also have a responsibility to transfer those work habits — what it takes to win — to the younger guys," Larson said. "All the winning programs, that's how they continue to win. Players set the tone and that's what we want to build here. We're trying to create a program with a consistent winning culture year by year."
Lehi Pioneers at a glance
Coach: Coach Ed Larson is in his first year coaching at Lehi. He brings with him 15 years of experience, including the last four years as head coach at Timpanogos.
Offense
(6 returning starters; Pro-style offense)
Larson plans a complete overhaul of Hastings' simple, but effective double-wing system. Larson will employ a lot more passing, but still plans to run the ball often.
"Caden Calton hits the hole great and runs physical, so we're definitely going to use that," Larson said. "You want to get the ball to your best players, so that's what we're going to do."
Defense
(1 returning starter; 3-4)
Defensive coordinator Alema Te'o has his work cut out for him with just one returning starter, but he's excited to get going.
"I've coached at a few different programs, but nothing that really satisfied my passion to really want to coach the way I feel I can," Te'o said. "Here Ed has really turned me loose to do things my own way and I'm excited for the opportunity."
Coach's preseason Region 4 straw poll: Sixth
Deseret News Region 4 prediction: Sixth
Bottom Line: It will be tough for the Pioneers to improve upon last year's five wins given the strength of Region 4 and the challenge of instilling different systems on both offense and defense. Should the players adapt quickly to those systems Lehi could prove dangerous once again and make a run for the playoffs.
….
Lehi coaching history
2014 — Ed Larsen (0-0)
2011-2013 — David Hastings (7-13)
2007-2010 — Derrick Peyton (3-36)
2002-2006 — Joe Hays (22-30)
1998-2001 — Steve Clements (33-13)
1995-1997 — Chad Wilson (23-9)
1989-1994 — Jeff Kilts (27-30)
1975-1988 — Lou Andrus (57-78)
1971-1974 — Lloyd Jacobsen (12-24)
1967-1970 — unknown (18-19)
1960-1966 — Jim Crittenden (42-21-1)
1956-1959 — unknown (14-15-3)
1955 — Joe Crammer (2-5-1)
2
comments on this story
1951-1954 — unknown (14-15-3)
1944-1950 — Dean Prior (25-26)
1929-1943 — unknown (36-54-9)
1928 — Ross Nielson (2-4)
1925-1927 — unknown (3-11)
1921 — Wallace West (0-2)
1919 — unknown (1-4)
....
Deseret News First Team all-staters the past 10 years
(None)
To view second team and honorable mention All-Staters through the years, check out the Deseret News All-State Archives.
High school football: Lehi Pioneers 2014 preview
Brackin Stringham talks about the coming season.
Email: bgurney@desnews.com
Twitter: @BrandonCGurney