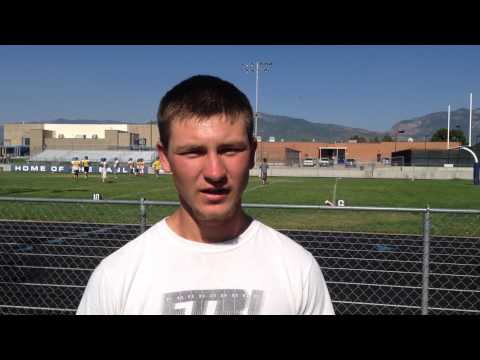 View 33 Items

We always felt we were this close from being a great football team, but for some reason we could never put it all together. It just seemed like the bigger the game, the worse we played. Because that happened they're really motivated to work hard and play hard, and we're a little more family-oriented and closer.

—Millard head football coach Marshall Sheriff
Note: Millard finished with a 5-5 overall record in 2013 and was third in 2A North with a 4-2 record. It lost to South Sevier 27-26 in the 2A first round.
FILLMORE — During almost every workout, weightlifting session or practice since January, Millard's coaches have reminded their players about the disappointment of 2013.
They're reminded about being shut out by rival Delta, about losing at home to American Leadership, about getting crushed by South Summit 43-0 and as a result of all of that, failing to advance to the 2A quarterfinals for the first time in 19 years.
"We've had long discussions of why this happened, what causes it. What we need to do is fix it. Everything we thought was broken is an emphasis to fix right now," said Millard coach Marshall Sheriff.
Millard went into last season with region title expectations, and despite some early lumps everyone involved with the program was feeling good heading into Week 9 against South Summit riding a four-game winning streak.
The Wildcats, however, provided a massive wake-up call that's still serving as motivation.
"We always felt we were this close from being a great football team, but for some reason we could never put it all together. It just seemed like the bigger the game, the worse we played," said Sheriff. "Because that happened they're really motivated to work hard and play hard, and we're a little more family-oriented and closer."
Over half of last year's starters are back this season, and they're hungry to make amends.
"It was definitely a disappointing year last year. All the seniors that we have returning this year we've been working really hard in the offseason. We plan to come back and have a lot stronger year," said Millard quarterback Skyler Cranney.
There's still a lot of work that needs to be done, particularly offensively.
With only one starter returning on the offensive line, not surprisingly this year's group has been very inconsistent.
Sheriff likes to recount a sequence at team camp in mid-July in which he called the same play four times in a row. The line blocked it incorrectly the first three times, but when it finally executed it correctly the fourth time, Millard's running back ran for 30 yards.
"I keep telling my kids, when we do our assignments right good things happen," said Sheriff. "Even though they were good JV linemen, it's going to take them time to get the speed of varsity."
It's going to be trial by fire the first two weeks of the season as Millard travels to 3A programs Juab and Delta. The Eagles may be 0-2 after those two games, but if they're trending in the right direction those early challenges may prove to be a good thing.
The experience that Millard lacks on the offensive line, it makes up for with its skill position players.
Along with Cranney, Gerardo Ruvalcaba returns at fullback, Derek Brunson is back at running back, Paco Alcala is back at receiver, and Austin Wardle returns as a dual-threat player at receiver or running back.
Sheriff wants to see Cranney take a big step offensively in his second year under center.
"He's kind of a double threat, which we haven't had for a couple years. He has decent speed and can get to the edge and we want him to become a run threat," said Sheriff.
Sheriff believes Cranney is the best running threat Millard's had at quarterback since Grant Barber back in 2007. Barber only ran for 319 yards that season, but he was a threat to run that defenses had to respect.
On the other side of the ball, Millard must prove it can stop the run. South Summit torched Millard for 411 rushing yards in the 43-0 victory last season.
Millard's secondary wasn't blameless. It surrendered its share of big plays throughout the season.
"We've got to be better at pass defense. It's been our downfall defensively for a while. We have good kids back there, they're good athletes," said Sheriff. "I think part of that is we run the ball. I think great passing teams are great pass defense teams."
At the end of the day, Sheriff believes last season was a blip on the radar. He's optimistic that if the offensive line pans out like it can, Millard will be back in the 2A hunt.
Millard Eagles at a glance
Coach: Marshall Sheriff is entering his 15th season as Millard's head coach, and he's amassed a 115-44 record along the way. The Delta High graduate led Millard to the 2A state title in 2001.
Offense
(7 returning starters; Inverted wishbone offense)
Millard scored 10 or fewer points — including two shutouts — in five of 10 games last season. It was a shocking output for a program that's routinely scored in the 30s over the past decade. Kaden Carter is the lone returning starter from last year's offensive line, but a strong group of JV linemen are anxious to take over and get Millard's ground game back on track. Skyler Cranney returns at QB, a dual-threat option the Eagles hope to take advantage of more this season. Collectively, Millard's running game woefully underachieved a year ago, and whether it's Derek Brunson, Gerardo Ruvalcaba or someone else picking up the slack, it's got to be better.
Defense
(6 returning starters)
Even though the South Summit loss was the black eye for the defense, there were games in which Millard was actually pretty good — specifically the 10-0 win over North Summit. Developing some consistency from week to week is going to be key for the Eagles. Tyler Gamble and Carter are returning starters on the defensive line, while Ruvalcaba and Pierce Whitaker are back at linebacker. In the secondary Brunson and Austin Wardle are both returning starters.
Coaches preseason 2A North straw poll: Third
Deseret News 2A North prediction: Third
Bottom line: For as many things that went wrong last year, Millard still finished with a 5-5 record and has far too much tradition and talent to expect a similar disappointing season. However, last year's group didn't handle the big stage well at all, and over half of those players return. Was that a fluke, or a pattern destined to repeat itself? Weeks 3 and 4 could be the make-or-break stretch of the season. Millard could easily be 0-2 after facing Juab and Delta to open the season, but how it responds against 2A foes Enterprise and American Leadership will ultimately be more revealing about this team's potential.
2014 Schedule
Aug. 22 — at Juab, 7 p.m.
Aug. 29 — at Delta., 7 p.m.
Sept. 5 — ENTERPRISE, 7 p.m.
Sept. 12 — at American Leadership, 7 p.m.
Sept. 19 — NORTH SUMMIT, 7 p.m.
Sept. 26 — at Summit Academy, 7 p.m.
Oct. 3 — GUNNISON, 7 p.m.
Oct. 10 — LAYTON CHRISTIAN, 4 p.m.
Oct. 15 — at South Summit, 7 p.m.
Oct. 24 — 2A PLAYOFFS, TBD
….
Felt's Facts for Millard High School
All-time record: 550-244-22 (88 years)
Region championships: 40 (1933, 1937, 1944, 1945, 1946, 1947 co, 1949, 1950, 1951, 1952, 1953, 1954, 1955, 1956, 1957, 1958, 1959, 1960, 1962, 1963, 1967 co, 1969, 1978, 1979, 1980, 1981, 1983 co, 1988 co, 1989 co, 1997, 1998, 1999 co, 2001, 2002 co, 2003, 2004 co, 2006, 2007, 2009 co, 2010)
Playoff appearances: 65
All-time playoff record: 78-48
State championships: 13 (1950, 1951, 1952, 1953, 1958, 1960, 1976, 1978, 1981, 1982, 1988, 1995, 2001)
State championship record: 13-8
Most played rivalry: 90 meetings with Delta dating back to 1926. Millard leads 48-38-4.
Felt's Factoid(s): Millard's 40 region championships are the most in state history, as are its 12 consecutive region titles (1949-60). ... Millard also has the most undefeated, untied regular seasons — 18, including four consecutive on two occasions (1957-60 and 1978-81). ... The Eagles have appeared in a state-record 21 championship games (won 13).
….
Millard coaching history
2000-current — Marshall Sheriff (124-44)
1999 — Dennis Alldredge (7-4)
1995-1998 — Franklin Bramall (36-9)
1992-1994 — Al Marshall (12-17)
1984-1991 — Dennis Alldredge (50-32)
1973-1983 — Lew Monsen (99-27)
1967-1972 — Nyle Norris (40-22)
1965-1966 — Lynn Foxley (10-7-1)
1964 — Rex Lilly (3-5)
1943-1963 — Taft Watts (149-33-10)
1942 — Sam Gordon (1-3-1)
1941 — Meldon Walker (2-3)
1938-1940 — Stan Watts (8-6-1)
1936-1937 — "Riff" Kimball (6-4)
1935 — unknown (1-3-1)
1934 — F.G. Richards (0-2-1)
1933 — Dunn Taylor (6-2)
1931-1932 — Leo Probert (0-6)
1930 — Phil Baker (0-4)
1927-1929 — Royal Chamberlain (2-8)
1926 — Eddie Kimball (0-3-1)
.....
Deseret News First Team all-staters the past 10 years
2013 — Eric Alcala, OL/LB
2012 — Jesse Rhodes, RB/DB
2011 —Pancho Alcala, RB/DB
2011 — Jesse Rhodes, RB/DB
2011 — Keith Kesler, OL/DL
2010 — Nate Robison, QB/DB
2010 — Jesse Rhodes, RB/DL
2010 — Pancho Alcala, RB/DB
2009 — Rendon Shields, RB/LB
2009 — Thomas Kesler, OL/DL
2009 — Kade Wilcox, RB/DE
2008 — Clancy Mortensen, RB/LB
2007 — Freddy Alcala, OL/LB
2007 — Grant Barber, QB/DB
2007 — Clancy Mortensen, RB/DB
2007 — Josh Robinson, WR/DB
2007 — Zack Wilcox, RB/LB
2006 — Tyrel Beckstrand, WR/DE
2006 — Daniel Freeman, OL/DL
2006 — T.J. Robbins, RB/LB
2006 — Kyle Tuttle, QB
2006 — Scott Whitaker, OL/LB
2005 — John Monsen, WR/DB
2005 — Ty Ashton, OL/DL
2004 — Maben Larsen, QB
2004 — Slade Turner, DL
To view second team and honorable mention all-staters through the years, check out the Deseret News All-State Archives.
High school football: Millard Eagles 2014 preview
Millard's Skyler Cranney
Deseret News prep editor and Real Salt Lake beat writer.