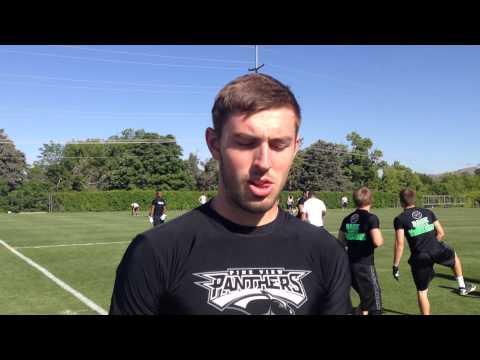 View 13 Items

We just need to play and execute and do the things we do. We don't need to do anything special. That's the first time this group had been there for a few years, and kids think they need to do something extraordinary to compete and win a state championship, when the reality is all you need to do is execute and focus on the things you've been taught.

—Pine View head football coach Ray Hosner
Note: Pine View finished with a 9-3 overall record in 2013 and a 5-1 record in Region 9. It lost to Desert Hills 27-21 in the 3AA state championship.
ST. GEORGE — The postgame chatter was all about Kody Wilstead's struggles.
On the biggest stage last November, the Pine View junior threw four interceptions — three in Desert Hills territory — as the Panthers came up painstakingly short to rival Desert Hills in the 3AA state championship at Rice-Eccles Stadium.
Pine View coach Ray Hosner made sure there was no casting blame.
"None of them blamed anybody else, and that was a big thing we talked about. Everyone took responsibility. It wasn't Kody's fault, it wasn't our running back's fault, it wasn't our defense's fault, it's all of our fault. We need to play better as a team and make sure we're behind each other 100 percent," said Hosner.
The last interception near midfield with 2:58 remaining in the game proved the most costly. Desert Hills took advantage of the shorter field and ultimately scored on a 2-yard TD run on the final play of the game for the 28-21 win.
For a program with a frustrating 0-5 history in state title games, that final TD was a dagger.
With tremendous talent returning on offense, and a potentially better defense, Hosner believes Pine View will be back again this year. This time around, the Panthers will be more prepared.
"We just need to play and execute and do the things we do. We don't need to do anything special. That's the first time this group had been there for a few years, and kids think they need to do something extraordinary to compete and win a state championship, when the reality is all you need to do is execute and focus on the things you've been taught," said Hosner.
That was particularly the case for Wilstead, who threw three interceptions on Pine View's first four drives. He eventually settled down and threw for 332 yards in cold and windy conditions.
The BYU commit finished the season with 4,390 passing yards, the second-most in state history behind only Jordan's Alex Hart in 2009.
With three of his primary skill position players returning Wilstead could be in store for another banner year, but that's not driving him this year.
"Kody, he's grown a ton in his leadership, and just his relationships with the players. The kid is just willing to serve everybody. He walked in today carrying the water bottles," said Hosner. "He's at the point where he's grown up, and understands that this is a team sport, and he loves his teammates and he wants what's best with them."
If that means Pano Tiatia runs for 1,500 yards this season after rushing for 729 yards in just eight games — which included seven TDs in the final four games — so be it.
If he needs to sling it around to returning starters Colton Miller (63 catches, 964 yards, five TDs) or Bladen Hosner (46 catches, 703 yards, eight TDs), Wilstead's just fine with that too.
"The truth is they've been together since third grade, and I've been coaching them since seventh grade," said Hosner. "They just know each other so well. They just know what pace to row at. They all know how to read a defense, they all know without verbal communication where they should be, and that takes a lot of time with each other and a lot of practice, and they've been able to do that."
No matter how good the offense is, though, defense will ultimately define whether or not this team finally gets over that championship hump. A year ago the Panthers gave up 24-plus points in seven of 12 games, including all three playoff games.
Pine View was a few yards from overcoming those shortcomings, but Hosner is optimistic it won't be an issue in 2014.
"Our defense is fast. We're a lot quicker than we were last year, we have a lot of kids back from last year," said Hosner.
Pine View Panthers at a glance
Coach: Ray Hosner is entering his 14th season as Pine View's head coach with a career record of 110-40. He's a graduate of Jamison Madison High in New York.
Offense
(5 returning starters; Spread offense)
A year after passing for 4,390 yards and 36 touchdowns, Kody Wilstead verbally committed to BYU this summer. With Colton Miller and Bladen Hosner back, along with a healthy Blake Ence — who missed the final seven games of the season with a broken collarbone — there are no shortage of weapons for Wilstead to throw to. The bigger concern is on the offensive line. Left tackle Harrison Goebel is the only returning starter from last year's championship game, while Tyson Tupea and Conner Harris played occasionally a year ago. If the line develops how Coach Hosner believes it can, Wilstead should have plenty of time to pick defenses apart again.
Defense
(2 returning starters)
With just two returning starters back from last year's title game, there's a bit of a learning curve for the Panthers this year, but Hosner likes what he has to work with — speed. Pine View's lone starters are both returning on the defensive front, Gage Afatasi and Goebels. Afatasi led the Panthers with 12 tackles in the title game. Even though the experience drops off a bit after that, Hosner believes that part-time contributors Dylan Robertson, Tyler Heaton, CJ Bratton, Brooks Barney and Michael Long from a year ago should all make big contributions.
Coaches preseason 3AA South straw poll: Second
Deseret News 3AA South prediction: First
Bottom line: Wilstead is a good ol' fashioned gunslinger in the pocket, a Jay Cutler-esque quarterback with a huge arm. It's been feast or famine with his touchdown-interception ratio the past few years, but despite his early struggles in the title game a year ago, all signs point to a much more disciplined Wilstead in 2014. With Tiatia focused exclusively on football this fall instead of boxing in major tournaments in Europe, he should emerge as the Prentiss Miller-type back that can alleviate pressure from Wilstead. That one-two punch should make the Panthers the team to beat in southern Utah this fall.
….
Pine View coaching history
2001-current — Ray Hosner (110-40)
1998-2000 — Sark Arslanian (16-12)
1994-1997 — Wade Turley (14-22)
1992-1993 — Bill Jacobsen (7-10)
1989-1991 — Chris Brockman (11-16)
1985-1988 — Jim Johnson (26-13)
1983-1984 — Wes Christiansen (5-13)
.....
Deseret News MVPs the past 10 years
2005 — James Lark, QB
2013 — Kody Wilstead, QB
Deseret News First Team all-staters the past 10 years
2013 — Jack Bangerter, WR
2013 — Guillermo Fierro, OL
2013 — Liahona Tia Tia, DL
2013 — Thor Katoa, LB
2013 — Jaden Ahquin, DB
2012 — Prentiss Miller, RB
2012 — Logan Stott, OL
2012 — Wesley Moeai, DL
2011 — Jake Arslanian, WR
2010 — Will Bangerter LB
2009 — Kaden Hosner,DB
2008 — Kevin Moss, OL
2008 — Adam Bangerter, LB
2008 — Justin Ence, DB
2007 — Nick Marinko, QB
2007 — Robert Evans, WR
2007 — Riley Dias, Specialist
2005 — Jesse Ence, RB
2005 — David Foote, WR
2005 — Derek Buchanan, TE
2005 — Mic Snyder, DL
2005 — Nate Harris, LB
2005 — Carter Mees, DB
2005 — Riley Stephenson, K
2004 — James Lark, QB
2004 — Carson Seegmiller, WR
2004 — Riley Stephenson, K
To view second team and honorable mention all-staters through the years, check out the Deseret News All-State Archives.
Follow Deseret News prep editor James Edward on Twitter @DNewsPreps