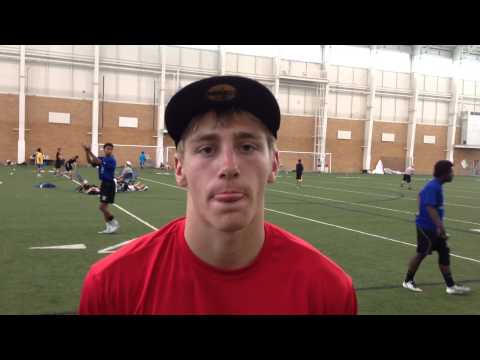 View 29 Items

Last year we won three games, but 23 points separated us from going 7-2 instead of 3-6. The kids realize it's right there. We just got to keep pushing.

—Uintah head football coach Cody Reutzel
Note: Uintah finished with a 3-7 overall record in 2013 and was sixth in 3AA North with a 1-5 record. It lost to Desert Hills 40-7 in the 3AA first round.
VERNAL — It may not look like it, but the Uintah Utes are close to relevancy.
Even though last year they came up well short of securing their first winning season since 2008, or winning their first playoff game since 2001, the subtle signs were there that the program is on the brink.
"Last year we won three games, but 23 points separated us from going 7-2 instead of 3-6," said Uintah coach Cody Reutzel. "The kids realize it's right there. We just got to keep pushing."
The four games that ultimately defined Uintah's season were a 28-21 loss to Ogden, a 21-13 loss to Park City, a 20-18 loss to Tooele and a 32-27 loss to Bear River.
Had the Utes closed out some of those games, they could've easily finished with a winning record and hosted a first-round playoff game.
With eight returning starters, the pieces are there for Uintah to take the next step in 2014, but it won't be easy because it must replace several fantastic seniors. Players like Dylan Hanks, Jed Rich, Braxton Coonis and Caleb Birchell provided such great senior leadership a year ago.
"We lost some seniors last year that were the real core to our program. We're kind of trying to figure out who we are again and who's going to step up and really start to lead us again," said Reutzel, who's entering his third season at Uintah.
The biggest area that needs to happen is quarterback. Coonis was a decent QB last year, but just as important was the confidence he carried himself with. It was infectious to his teammates, and they played better as a result.
This year's QB situation is much more fluid as Hayden Bunderson, Brendon Ryan and Kedric Coonis all compete for the starting job.
"No one has taken it and run with it yet. It's a little disconcerting, but we'll figure something out. We'll just have to be a little bit different style this year," said Reutzel.
None of the three throws the ball as well as Braxton Coonis — who passed for 2,364 yards last year — which means the Utes may run the ball out of the spread formation more.
That presents a great opportunity for senior running back Tyson Colton, who rushed for 514 yards and five TDs a year ago.
Seniors Bunderson and Ryan will still be an integral part of the offense if they don't get the QB job. Bunderson was an explosive receiver and a huge deep threat for Uintah last year, leading the team in both receiving yards (681) and touchdowns (seven). Ryan added 239 receiving yards and three touchdowns.
Numerous other skill position players are itching for their opportunity too.
"It's a totally different picture when I got here skill position-wise. We're pretty deep there. We have good competition at all of our skill positions, that's exciting for our program," said Reutzel.
The competition at quarterback isn't necessarily a bad thing either. The coaching staff just hopes someone rises up and wins the job soon.
With the uncertainty at QB, and the reality that it probably won't ever be a strength, Reutzel admits defense might need to carry the Utes this year.
"Defensively, I feel we should be extremely tough. We return a lot of guys," said Reutzel. "The kids understand our defensive system. We had some breakdowns at times, but I think we're going to have to lean on our defense this year for sure."
That defense wasn't good enough a year ago, particularly during region losses to Juan Diego and Stansbury, opponents that Reutzel said everyone is chasing in the 3AA North region.
"In the past we didn't play with those teams close at all. My first year (at Uintah) it wasn't even close," said Reutzel. "Last year they beat us squarely, but we gave them a good fight. Now it's time for, we don't want to just give them a fight anymore, we want to come out of one of those games with a win."
It would be a significant upset if Uintah upset either of those teams this season, but that's the type of program Reutzel is trying to build in Vernal.
Uintah Utes at a glance
Coach: Cody Reutzel is entering his third season at Uintah and has put together a 4-15 record during that stretch. He's a graduate of Cedar High.
Offense
(8 returning starters; Spread offense)
Quarterback isn't the only position Uintah has an important hole to fill. Two talented offensive linemen graduated from last year, and finding quality starters to fill in around Vaisa Maile, Trenton Atwood and Treygan Daniels is extremely important. Tyson Colton is the primary running back heading into the season, but Trevor Lofthouse has emerged this summer as someone who needs to get his carries as well.
Defense
(8 returning starters)
All signs point to a strong defensive season for Uintah. Daniels finished second on the team in tackles last year at linebacker, but this year he'll play mostly defensive line to toughen up that position. Maile is another player that should strengthen the D-line. Caden Henderson will anchor the linebacking corps, but the strength could be the secondary. Brendon Ryan is back at safety, while Hayden Bunderson, Jurey Beddes and Patrick Massey all return after seeing significant time last year. The lasting image they all have of the 2013 season was giving up 40 points to Desert Hills in the playoffs, something that's motivated them to work harder throughout the offseason.
Coaches preseason 3AA North straw poll: Sixth
Deseret News 3AA North prediction: Fifth
Bottom line: Turning a program around is never easy, and takes years of commitment from the coaching staff and the players. Uintah is now headed into year three under coach Cody Reutzel, but there's still a big hill to climb in 3AA North. Juan Diego and Bear River have a long history of success, while Stansbury is trending down that same path since the school opened five years ago. To crack the top four this year Uintah would likely need to edge out either Tooele or Park City, programs in a similar rebuild who are just as hungry for success. Only time will tell if Uintah has closed the gap in 2014.
….
Uintah coaching history
2012-current — Cody Reutzel (4-15)
2007-2011 — Doug Harding (14-34)
2006 — Kevin Dickson (2-7)
2005 — Mike Petersen (5-5)
2003-2004 — Kevin Dickson (9-13)
1990-2002 — Curg Belcher (72-52)
1988-1989 — Jeff Gustin (2-16)
1985 -1987 — Hank Nawahine (9-19)
1977- 1984 — Curg Belcher (17-46)
1975-1976 — Phil Johnson (4-13)
1972-1974 — Gordon Olsen (4-22)
1968-1971 — Unknown (0-38)
1965-1967 — Ted Taylor (9-15)
1960-1964 — Louis Mele (18-25-2)
1955-1959 — Leo Conk (25-15)
1954 — Unknown (2-2-1)
1951-1953 — Jack Woodbury (6-10-1)
1946-1950 — Frank W. Wright
1942-1945 — LeGrand Tea
1940-1941 — Unknown
1939 — Frank W. Wright
1932-1938 — Unknown (1-4-1)
1931 — Carl Davis (4-1-1)
1929-1930 — Unknown (8-2)
Deseret News First Team all-staters the past 10 years
(None)
To view second team and honorable mention all-staters through the years, check out the Deseret News All-State Archives.