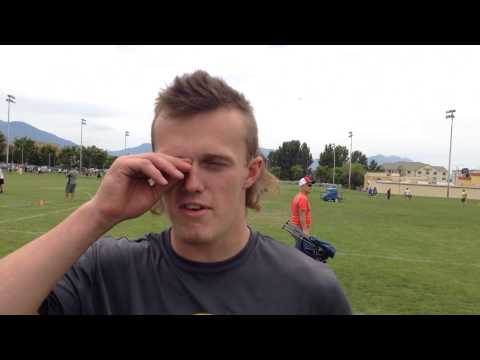 View 11 Items

Note: Union finished with a 4-6 overall record in 2013 and was fifth in 3A North with a 1-4 record. It did not qualify for the playoffs.
ROOSEVELT — Union football coach Matt Labrum has just one wish this season — simplicity.
Labrum made national news last year for suspending the entire Cougars football team, and as a result spent more time dealing with discipline issues and media requests than simply coaching football.
As mentally draining as it was, Labrum doesn't regret one bit how he dealt with the off-field issues that were plaguing his team.
"Our biggest thing was being good kids on the field and off, and it all contributes. I think kids are starting to get that. Are we perfect? No. I think a lot of people thought it would change in a week and never have a problem again, and that's not true. I think the kids understand what we value, what we want to be, and what we want to be doing, and I think it's been a huge positive carryover," he said.
It took suspending the entire team for several days and forcing them to earn their jerseys back for that message to start to sink in, and a year later it could pay dividends on the football field.
"Going through that, kids having to grind through the tough things, and coming back and wanting to do those things has brought them closer together," said Labrum.
With eight returning starters on both sides of the ball motivated to make up for a lost season, the Union Cougars are ready to make some noise.
"We're real excited about what we have coming back," said Labrum.
Union was 3-2 with solid victories over North Sanpete and Park City before the suspensions came down last year. Afterward, it went 1-4 and wasn't even competitive in three of the four losses.
Experience alone should help Union close that gap in 2014, but it's going to take more than that. Labrum said his players must continue to get stronger and find a way to raise the intensity in practices and games to shed the "soft" label.
In everything Union does, it will lean on Nic Smith.
A first-team all-stater a year ago, the senior will be counted on to do even more this year.
"We call him slash. He plays a lot of different positions for us. Running back, some wing back. Might see him a little bit at quarterback too," said Labrum.
From his linebacker position, Smith led Union with 84 tackles last year to go along with his three sacks. Offensively, he hauled in 29 passes for 657 yards and eight TDs while adding 350 rushing yards and seven TDs.
Smith is taking the added responsibility in stride.
"I'll to my one-eleventh and everyone will do their one-eleventh," said Smith.
Senior quarterback Tye Winterton is another player that Union is counting on for big things. An injury pushed him into the starting lineup the final month of his sophomore season, and then last year he started all 10 games.
He was prone to interceptions at times, and his completion percentage needs to improve, but Labrum likes what Winterton brings to the table.
"He just has a calmness about him, he has a good demeanor, he keeps the kids calm in the huddle, keeps things in perspective, real positive," said Labrum.
All the skill position guys should feel comfortable with the boatload of experience blocking for them. All five offensive linemen from a year ago return: Jordan Gurr, Kolton Gufey, Calvin Edrington, Hawk LaRose and Korbyn Bertoch.
Bertoch may move to tight end this year, but he'd still be used primarily as a blocker.
Several of those players will contribute on the defensive line, and combined with Sky View transfer Carson Lamb, Labrum believes his defensive front could be pretty good. Considering the way Morgan, Judge and Grantsville ran all over the Cougars last year, anything would be better than last year.
Labrum is the first to admit that everyone is chasing Morgan, Judge and Grantsville in the 3A North region again this year, but he's excited for the challenge.
"I feel like this is a good opportunity for us to take the next step and maybe beat some teams we're not supposed to beat," he said.
Union Cougars at a glance
Coach: Matt Labrum is entering his third year as head coach at Union and eighth overall. He previously coached at Parowan from 2007 to 2011. His overall record as head coach is 31-53, and 11-12 at Union. He's a graduate of Union High.
Offense
(9 returning starters; Run and shoot)
In games against the top three teams in 3A North last year, Union scored 16, 13 and 6 points, respectively. That productivity needs to get better, and the Cougars are banking on five returning starters on the offensive line and another year of experience for quarterback Tye Winterton to help close that gap. Winterton only completed 43 percent of his passes for 1,435 yards, 13 TDs and 13 interceptions last year, but he figures to be better this year with another offseason under his belt. Two of his top three receivers are back — Nic Smith and Vil Lutui. Union's leading rusher from last year graduated, but Smith is expected to pick up much of that slack.
Defense
(8 returning starters)
Union allowed 30-plus points in five of 10 games last year, and 40-plus in three of those. Getting tougher and playing with more intensity has been a big focus this offseason. Smith is the only returning linebacker from last year, but the defensive line and secondary are pretty much all back. Paul Kaufusi — 39 tackles, seven sacks — and Jordan Gurr will help anchor the defensive line, while Zac Rose, Vil Lutui, Henrique Moreira and Everett Henry will all be counted on in the secondary.
Coaches preseason 3A North straw poll: Third
Deseret News 3A North prediction: Fourth
Bottom line: There are two distinct tiers in 3A North, and after last year Union is clearly in the bottom tier. Closing that gap on Judge, Morgan and Grantsville, however, won't be easy no matter how many starters return. For Union's playoff hopes, the most important game of the season will be against Emery on Sept. 26. It lost that game last year 41-21 amid all the suspension hoopla and missed the playoffs by a game. Emery returns very few starters, which gives the Cougars at minimum an inside track at the No. 4 seed.
….
Union coaching history
2012-current — Matt Labrum (9-12)
2008-2011 — Sam Elliott (10-30)
2007 — Doug Bills (9-4)
2004-2006 — Phil Bertoch (15-14)
2001-2003 — Greg Hoagland (11-18)
2000 — Merlin Rasmussen (6-4)
1990-1999 — Don Busenbark (40-55)
1987-1989 — Paul Maggio (10-16)
1983-1986 — Lee Merrett (21-15)
1979-1982 — Jay Omer (13-23)
1978 — Jerry Dyer (4-5)
1976-1977 — Jay Omer (1-16)
1974-1975 — Alan Raddon (3-15)
1971-1973 — Hal Richardson (13-13-3)
1969-1970 — Gale Anderson (10-8)
1967-1968 — Unknown (11-7-2)
1965-1966 — Jack Hannum (16-3-2)
1963-1964 — Scott Edrington (2-14-1)
1962 — Bruce Parry (6-1-1)
1958-1961 — Kenneth Benson (5-25-2)
1956-1957 — Ted Heath (8-8-1)
1954-1955 — Sark Arslanian (11-4)
1951-1953 — Eldon Wright (9-13-2)
.....
Deseret News First Team all-staters the past 10 years
2013 — Nic Smith, WR
2007 — Rhen Richard, QB
2007 — David Gilbert, WR
2007 — Casey Glines, WR
2005 — Chris Carter, OL
2004 — Jason Nelson, DB
To view second team and honorable mention all-staters through the years, check out the Deseret News All-State Archives.