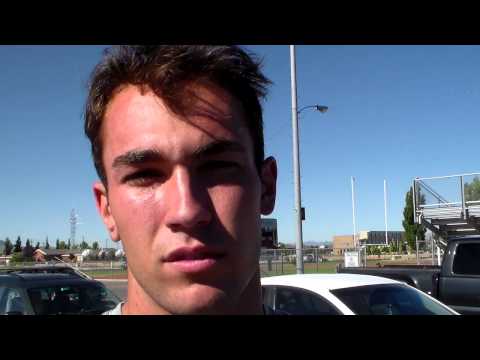 View 7 Items

We definitely learned a lot last year. First off that depth is a tough thing for us here and we really are a 4A team with 3A numbers, but that's OK.

—Spanish Fork coach Kirk Chambers
Note: Spanish Fork finished with a 5-6 overall record in 2013 and was third in Region 8 with a 4-2 record. It lost to Corner Canyon 42-21 in the first round of the 4A playoffs.
SPANISH FORK — It's almost always a big boost for any football team to return its starting quarterback from a season ago. When that quarterback is Jason Money, however, the boost could prove enormous.
That's what Spanish Fork coach Kirk Chambers is hoping for with Money under center again this fall. Heading into his senior season, the star has produced 6,250 yards of total offense and 54 touchdowns during his career.
"He's as good as they come and he's just a stud," Chambers said. "He's been starting here since he was a sophomore and he's going to guide us down the field and make some plays. It's what he's done every year he's been here, so you expect it again."
Money is a true dual-threat quarterback who ran for 1,172 yards last season and threw for 1,619.
"I wouldn't want to defend him as a coach," Chambers said. "So that's a good start — a great start for us on offense having a player that productive entering his third year starting."
The return of someone with Money's credentials is a very welcome thing for a relatively small 4A program such as Spanish Fork.
The Dons were bumped up from 3A prior to last season, and despite taking some lumps, managed to qualify for the state playoffs before losing to Corner Canyon 42-21 in the first round.
"We definitely learned a lot last year. First off that depth is a tough thing for us here and we really are a 4A team with 3A numbers, but that's OK," Chambers said. "It is what it is and we're happy for the competition. I think last year we did a lot of good things and that will certainly help us this year."
A lot of the players that helped do those good things referenced by Chambers return this season, including senior running back Taylor Noles, who rushed for 945 yards and eight touchdowns last season.
"He's a stud and he's going to eat up a lot of yards on the ground for us again this year," Chambers said of Noles.
Other playmakers returning on offense include receivers Joe Anderson and Ryan Golish
Fronting the offense is a line a bit short on depth, but with some good talent and experience led by senior Adrian Rodriguez and junior Tanner Parker.
"Adrian is as good as any lineman in the state from my view," Chambers said. "He's a bit undersized, so he doesn't get the recognition, but he's as strong as any guy out there. And Tanner Parker, he's just a stud. We're piecing some things together on the offensive line, so it's good to have two guys like that you can rely on."
Chambers, who has a wealth of experience playing offensive line at the collegiate and NFL levels, has the full confidence of his offensive linemen to coach them up.
"He definitely knows what he's doing," Rodriguez said of Chambers. "It's great because he's not the type that just yells and yells, but gives you positive feedback. I wouldn't want to play for anyone else."
On defense the team also returns a good share of returning talent starting with defensive end John Leilua, who led the team in sacks last year and made plays all over the field, according to Chambers.
Joining Leilua will be Lofa Funa, who moved to Spanish Fork from Southern California powerhouse Servite.
"We really like our ends and their ability to make plays all over the field," Chambers said.
Other returning starters are Heber Sheperd at linebacker; Devin Argyle, who started at corner last season; and Ionoa Wahinehookae, who also switches from corner to safety.
"We're a little undersized on defense, but I like the guys we have returning," Chambers said. "If we stay healthy there we should be fine."
Staying healthy is always a big thing for a small 4A school like Spanish Fork, but if the Dons can avoid major injuries then Chambers likes his team's chances.
"We're doing some good things here and I think we can go far this year if things go right," he said. "I think we've proven to be a tough team in region and a team you have to be up for. So yeah, I think we'll have a chance to do something good here this season."
Spanish Fork Dons at a glance
Coach: Kirk Chambers is in his third season coaching Spanish Fork. The Provo High alum spent seven years playing in the NFL before coaching the Dons.
Offense
(6 returning starters; Spread offense)
The Don offense will rely heavily on quarterback Jason Money and his ability to read defenses and simply make plays.
"He makes us dangerous with his ability to beat teams with his arm and with his legs," Chambers said. "We rely on him a lot to recognize what defenses are doing and beat them with his calls. We put a lot on him to make the right calls in hopes of making defenses wrong. He's done it many times and it's almost second nature to him."
Defense
(6 returning starters; 4-2-5 defense)
Region 8 is generally full of spread offenses who like to throw the football. In order to combat what his team will see most weeks, Chambers has opted for a 4-2-5 defensive formation.
"It really doesn't make a lot of sense against most teams in this region to stack the box, so we're not going to," Chambers said. "We'll use a sort of hybrid-type player to defend the pass and defend the run and it's going to probably be Devon Argyle. It's just the way you need to defend in this region, I feel."
Coaches preseason 2A North straw poll: Third
Deseret News 2A North prediction: Fourth
Bottom Line: Region 8 appears to be a region on the rise, but Spanish Fork appears to be keeping pace with the rest. Despite losing a lot of good talent the Dons were able to secure a playoff berth with a third-place finish last year and appear poised to improve on that mark.
2014 Schedule:
Aug. 22 — at Westlake
Aug. 29 — TIMPANOGOS
Sept. 5 — at Payson
Sept. 12 — at Springville
Sept. 19 — MAPLE MOUNTAIN
Sept. 26 — LEHI
Oct. 2 — at Timpview
Oct. 10 — at Wasatch
Oct. 15 — PROVO
Oct. 23 — SALEM HILLS
….
Felt's Facts for Spanish Fork High School
All-time record: 352-424-20 (94 years)
Region championships: 7 (1935 co, 1961, 1969, 1970 co, 1973 co 1977 co, 1991 co, 2012)
Playoff appearances: 30
All-time playoff record: 19-30
State championships: 0
State championship record: 0-1
Most played rivalry: 93 meetings with Payson dating back to 1917. Spanish Fork leads 46-43-4.
Felt's Factoid(s): SF's Hayden Nielsen is one of just four Utah high school players to accumulate more than 9,000 career yards of total offense (9,451 from 2009-11).
….
Spanish Fork coaching history
2012-current — Kirk Chambers (17-8)
2006-11 — Matt Christensen (41-28)
2000-05 — Scott Brumfield (29-34)
1995-99 — Everett Kelepolo (25-26)
1987-94 — Doug Snell (26-49)
1981-86 — Dave Clark (21-36)
1965-80 — DelRay "Andy" Anderson (79-74-3)
1956-64 — Don Fuller (42-38-3)
1953-55 — Thayne Stone (3-17-1)
1952 — Gus Black (1-6)
1949-51 — Thayne Stone (6-14-1)
1948 — Gus Black (2-3-1)
1940-47 — Unknown (16-39-1)
1939 — Lloyd Jacobsen (4-2)
1932-38 — Unknown (20-20-4)
1928-31 — Fenton Reeves (12-6-3)
1919-27 — Unknown (2-15-2)
1918 — Mr. Simmons (0-2)
1916-17 — Unknown (6-7-1)
.....
Deseret News First Team All-Staters the past 10 years
2012 — Braxton Argyle, RB
2012 — Colton Olsen, Spanish Fork, WR
2012 — Wyatt Groves, Spanish Fork, DL
2012 — Gunnar Beus, Spanish Fork, LB
2011 — Hayden Nielsen, QB
2011 — Christian Taele. RB
2011 — Sosiua Vaitohi, OL
2011 — Colin Argyle, LB
2010 — Isaac Asiata OL
2009 — Chase Loftin, WR
2009 — Isaac Asiata, OL
2008 — Breck Lewis, QB
2008 — Richard Wilson, TE
2006 — Jordan Smith, WR
2005 — Taft Morley, DB
To view second team and honorable mention All-Staters through the years, check out the Deseret News All-State Archives.
Jason Money talks about the coming season
Spanish Fork's Jason Money
Email: bgurney@desnews.com
Twitter: @BrandonCGurney