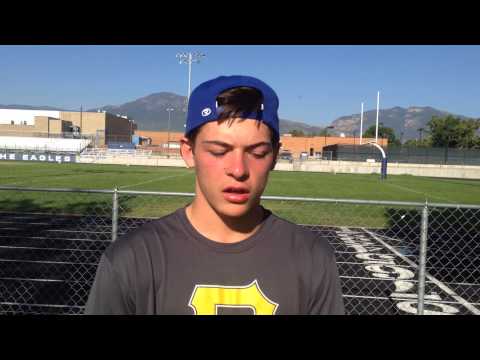 View 17 Items

I've had 60 percent attendance every day in the weight room. It's a night-and-day difference for us.

—Parowan coach Brigham Nielsen
Note: Parowan finished with a 6-5 overall record in 2013 and tied for fifth in 2A South with a 2-4 record. It lost to Beaver 36-10 in the 2A quarterfinals.
PAROWAN — Not all wins are created equal. They all count in the standings the same, but they're labeled many different ways — easy victory, blowout victory, upset victory, marquee victory.
Parowan had six wins in the 2013 season, but none fell into the latter two categories.
The Rams did well to beat the teams they matched up with best on the schedule — Milford, Diamond Ranch, North Sevier, South Sevier, American Leadership and Layton Christian — but when they had to face 2A's big dogs, it wasn't pretty.
In five combined losses to Beaver, Enterprise, San Juan, Grand and Beaver again in the playoffs, Parowan was outscored 170-24.
When coach Brigham Nielsen evaluated the season afterward, it became clear that Parowan just wasn't strong enough to compete with the upper-echelon teams in 2A.
He did some research on ways to get kids to buy into the weight room, and finally settled on his version of the iron man.
In a nutshell, "They have to take a test to get a jersey," said Nielsen.
It's not quite as cut and dry as that. Kids who don't pass the initial iron man test aren't cut from the team, but those who don't probably won't start, get the reps they want, or play the positions they want. It's had a dramatic impact this summer for Parowan.
"I've had 60 percent attendance every day in the weight room. It's a night-and-day difference for us," said Nielsen. "I don't have to yell at them to get in the weight room. They want to pass the test so they get in there themselves."
Parowan's version of the iron man requires the athletes to achieve a certain point quota, and they get points from various lifts in the weight room, mile run, push-ups, etc.
The weight room buy-in has Nielsen excited for this third year as head coach. In his first year in 2012, Parowan went 1-8, with that only win coming against Cedar's JV squad. Last year his team went 6-5, and regardless of the quality of the victory each one built confidence for a program desperate for it.
In 2014 Nielsen is stressing with his players that anything is possible.
"The goal is definitely the region championship, and it's more than that, we want to play in the state game on Nov. 14. I'm not trying to be cocky, that's the goal. That's where you want to be. It's why you play the game," he said.
"I think we have the ability to do that. It's going to take some work, it's going to take some growth. We're not there today, but we hope to be there come Nov. 14."
A big reason for the optimism is experience.
In Nielsen's first year Parowan ran the triple-option offense, but he scraped it last year for the spread offense. The seven offensive starters who return this year all have a year of experience running the offense and should be ready to roll right away. No more three-game shutout streaks.
"It's amazing how much faster the juniors and seniors have been moving," said Nielsen.
It doesn't mean there aren't big question marks.
Despite an abundance of experience returning on the offensive line and in the receiving corps, Parowan's new quarterback has never taken a varsity snap. Nielsen believes junior Brenen Rowley will be just fine, though.
"He has good size, great arm, strong and is very, very athletic," said Nielsen.
His favorite target will likely be Justice Walker. As a junior last year he caught 30 passes for 560 yards and seven touchdowns. However, only one other receiver caught double-digit passes, terrible distribution for a spread team.
Collectively, this year's group of receivers, which includes Braden Mineer, Taylor Harris and Jake Smith, figures to be much more involved in the offense.
If Parowan's offense ever needs an emotional lift, all it needs to do is look at Kade Lister. He broke his femur in Week 6 last year, but he's worked incredibly hard this offseason to be ready for his senior year and he's part of Parowan's three-man rotation at running back.
"It's been awesome to see his recovery and his toughness as he's come back. He's not scared," said Nielsen.
Defensively, graduation took its biggest toll on the defensive line, but the new weightlifting program has eased the loss in a big way. Seven players who saw very little varsity time a year ago have all toughened up and will bring a lot of stability and depth to the defensive front.
Parowan Rams at a glance
Coach: Brigham Nielsen is entering his third season as Parowan head coach after tallying a 7-13 record the first two years. He's a graduate of Highland High.
Offense
(7 returning starters; Spread offense)
With newcomers at quarterback and running back, it's up to an experienced offensive line to lead the Rams this year. Josh Ulrich, Nik Bentley and Graysen Yardley are all returning starters in the trenches and have all bought into the new weightlifting program. Orlando Quezada is moving to offensive line as well. While Brenen Rowley takes over at quarterback, the running back position will be more by committee between Nash Bentley, Kade Lister and Rhett DeGroff.
Defense
(7 returning starters)
In Parowan's biggest games last year against programs like Beaver, San Juan and Grand, Parowan's defense just couldn't get off the field. A stronger, deeper defensive front could make all the difference. Ulrich is the lone returning starter on the D-line after finishing third on the team in tackles last year, while Bentley will anchor the linebacking corps. The secondary will be much improved with Jake Smith and Taylor Harris leading the way.
Coaches preseason 2A South straw poll: Sixth
Deseret News 2A South prediction: Fourth
Bottom line: Last season was definitely a step in the right direction, and all indications are that Parowan is ready to take the next step this year. Those are all internal expectations, which are always high. Outside the program, it's hard to ignore the 170-24 scoring differential in the Rams' five losses last year. Can one quality offseason in the weight room really make up for 146 points in less than a year? The first two tests will come in Week 3 and 4 when Parowan opens region play at home against Beaver and Enterprise.
….
Parowan coaching history
2012-current — Brigham Nielsen (7-13)
2007-2011 — Matt Labrum (17-35)
1999-2006 — Rod Murphy (21-50)
1997-1998 — Joe Hays (7-12)
1994-1996 — Danny Lewis (5-22)
1987-1993 — Scott Henderson (24-44)
1986 — Bob August (1-8)
1985 — Unknown (3-6)
1984 — Kevin Singleton (2-6)
1978-1983 — Scott Doubek (7-44)
1977 — Jery Dyer (1-8)
1976 — Tom Baltzer (1-7)
1972-1975 — Dave Jenson (17-23)
1970-1971 — Don Olson (5-13)
1967-1969 – Unknown (7-16-1)
1962-1966 — Lowell Caldwell (10-30)
1959-1961 — Unknown (2-18-1)
1958 — John Wood (0-7)
1956-1957 — Richard Jones (3-11)
1954-1955 — Bruce Decker (4-8-2)
1952-1953 — William "Twist" Jones (1-10-2)
1950-1951 — Unknown (1-10-1)
1949 — Ray Watters (2-4)
.....
Deseret News First Team all-staters the past 10 years
2013 — Justice Walker, WR/LB
2010 — Zach Wood QB/SS
2009 — Corie Blackham, RB, DB
2008 — Cody Bradley, K
2008 — Nick Wood, QB/DB
2007 — Taggert Smith, OL/DL
2006 — Cole Stanton, WR/DB
2005 — Travis Jones, QB/DB
2004 — Travis Jones, QB
To view second team and honorable mention all-staters through the years, check out the Deseret News All-State Archives.