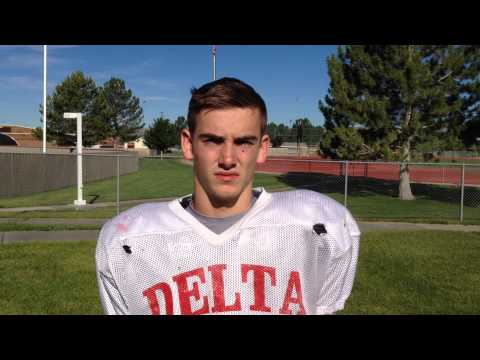 View 19 Items

That's our battle cry this year, that we have unfinished business to attend to, and the kids have responded very well to that.

—Delta coach Russ Fowles
Note: Delta finished with a 4-6 overall record in 2013 and tied for fifth in 3A South with a 1-4 record. It did not qualify for the playoffs

DELTA — The Delta Rabbits have a chip on their shoulders.

Their 38-year playoff appearance streak came to an end last year when North Sanpete's Justin Lee booted a 37-yard field goal on the final play of the regular season.

It's a play Delta coach Russ Fowles insists never should've unfolded the way it did had the refs managed the game correctly in those final seconds.

"We felt we kind of got cheated out of being there. We thought we'd won the game and there was a little controversy at the end of that," said Fowles. "That's our battle cry this year, that we have unfinished business to attend to, and the kids have responded very well to that."

The last time Delta missed the playoffs was 1974, but it responded in 1975 with a 12-0 record and a 2A state championship — one of nine in school history.

Delta is hoping for a similar turnaround 39 years later.

"That left a sour taste in our mouth and I think we're all ready to come back and show them what we can do," said Delta quarterback Bracken Lovell.

Coach Fowles believes that Lovell along with a pair of returning starters on the offensive line will help get Delta back in the playoffs and beyond.

"At end of last year he was really starting to come into his own and starting to make the right reads," said Fowles. "There's that split-second decision he's got to make whether he's going to pitch the ball or whether he's going to carry it. If he makes that decision right then he's a hero and if he doesn't then he's not a hero. He got to where he was making that decision very well."

Most of the time last year Lovell was getting the ball in the hands of running backs Morgan Bogue, Kale Leavitt and Riley Nielson — but all three graduated. This year he needs to take on some of that responsibility himself with a brand new corps of running backs surrounding him.

Fowles still expects big things from the newcomers, particularly Victor Almanza. An all-state defensive back a year ago, Almanza will double dip this year and play an increased role offensively.

"He's going to be a huge part of our offense. We're looking at him to run the ball a lot," said Fowles.

Offensive balance is always important in the inverted wishbone offense, but so is having a go-to guy. Delta finished with a losing record in each of the past two years, and not surprisingly it lacked a 1,000-yard rusher both years.

Delta's last 1,000-yard rusher was Christian Hatch in 2011. He ran for 1,265 yards that season to lead his team to a 10-2 record and a quarterfinal appearance.

Almanza is capable of a similar big season running behind a line that features returning starters David Schena and Mark Denbow.

"We're going to have to find players to fill in around them because we did graduate quite a few seniors last year. But I think we have the tools. I think we'll be a little bigger up front than we were last year," said Fowles.

At the end of the day, though, no matter what Delta does offensively this year, correcting the defensive embarrassment from a year ago is the top priority. Even though it had decent showings against teams like Grantsville and Richfield, three games in particularly stand out as black eyes — 56 points to Judge, 50 to Juab and 45 to Canyon View.

Part of the problem was a porous run defense, and another was poor preparation in the passing game. Strides have been made this summer to correct the problems, according to Fowles.

"Right now we're actually doing pretty good stopping the run," said Fowles earlier this summer.

If all comes together as expected, Delta should be back in the playoffs this fall. Incredibly it would need to make it every year until 2052 to equal the 38-year streak that came to an end last season.

Delta Rabbits at a glance

Coach:

Russ Fowles is entering his second season as head coach at Delta High. He's a graduate of Delta.

Offense

(4 returning starters; Inverted wishbone offense)

Bracken Lovell and Victor Almanza were both state champion wrestlers last season, a winning mentality they hope to bring to the football field. Lovell is a returning starter at quarterback, but improvements need to be made in both the passing game and running game. He only rushed for 75 yards in the wishbone offense, while in the passing game he produced a respectable 880 yards, but just two touchdowns to four interceptions. Almanza shifts from receiver to running back this year, and with his toughness a big season could be in store.

Defense

(3 returning starters)

Almanza will shift from defensive back to middle linebacker this year after finishing second on the team in tackles with 87. Delta's only other returning starters are defensive linemen Schena and Denbow, who combined for a modest 25 total tackles a year ago. Big things are expected from newcomer Bodie Draper on the defensive line.

Coaches preseason 3A South straw poll: Third

Deseret News 3A South prediction: Third

Bottom line:

Delta has too much tradition and too much pride to miss the playoffs for a second-straight year, right? Not if it doesn't get things corrected defensively. That has been the biggest focus this summer, and will likely be the biggest focus all 10 weeks of the season. With home games to start the season against quality offensive opposition Morgan and Millard, it won't take long to find out just how much the Rabbits have improved.

….

Delta coaching history

2013-current — Russ Fowles (4-6)

2005-2012 — Russ Henrie (59-35)

1982-2004 — Dean Fowles (161-78)

1979-1981 — Clark (21-12)

1974-1978 — Unknown (45-13)

1971-1973 — Bill Brown (20-12)

1970 — Jim Porter (7-2)

1968-1969 — Brent Rock (20-6)

1967 — Myers (5-3)

1965-1966 — Jim Porter (24-1)

1957-1964 — Robert Horlacher (48-22)

1956 — Joe Martinez (3-4)

1954-1955 — Jim Durrant (7-9)

1950-1953 — Bruce Osborne (16-13)

1947-1949 — Nephi Schwab (9-12)

1946 — Reginald LeFevere (0-4)

1942-1945 — F.G. "Frosty" Richards (9-13)

1941 — Mr. Anderson (5-2)

1939-1940 — Howard Schaub (10-6)

1936-1938 — Jay Tolman (13-5)

1931-1935 — Unknown (12-8)

1928-1930 — Joe Snow (11-2)

1924-1927 — Unknown (9-7)

.....

Deseret News First Team all-staters the past 10 years

2013 — Hunter Fowles, OL

2013 — Riley Nielson, LB

2013 — Victory Almonza, DB

2011 — Gerry Banda, OL

2011 — Colin Christensen, DB

2010 — Dallin Henrie, OL

2010 — Hadley Myers, LB

2009 — Nick Nissen, OL/DL

2009 — Derek Peterson, RB

2008 — Dayton DeLoach, DB

2007 — Curt Eliason, DB

2006 — Dallin DeLoach, LB

2006 — Jason May, LB

2004 — Jacob George, OL

2004 — K.C. Rawlinson, DB

To view second team and honorable mention all-staters through the years, check out the Deseret News All-State Archives.