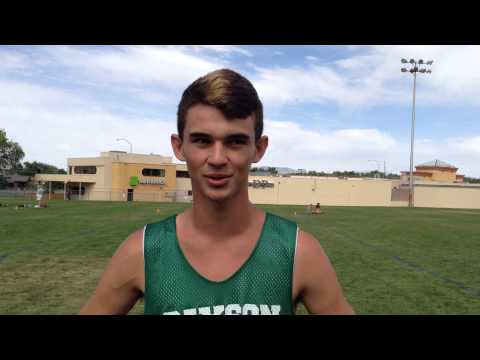 View 16 Items

This group we have this year, the seniors and juniors have been really close. For the past five years, we've all grown up with each other. I bet we'll be more together as a team. I bet we'll do a lot better than we did last year in region.

—Coach Jeremy Chapman
Note: Payson finished with a 1-9 overall record in 2013 and was last in 3AA South with an 0-6 record. It did not qualify for the playoffs.
PAYSON — This fall when the UHSAA finalizes its next wave of realignment using the success-rate formula, some schools seem destined to be moved down.
Payson's football program, which hasn't had a winning season since 1978, certainly seems to fall into that category.
Unfortunately for this year's group, there's nothing that can be done about that now. The Lions have no choice but to forge ahead in the 3AA South region against the likes of Desert Hills, Dixie and Hurricane each week this season.
Coach Jeremy Chapman knows it's an uphill climb, but despite going 0-6 in region last year his kids were mostly competitive with the southern schools.
"Honestly there's only one game we didn't compete in. That was against Desert Hills. We just went down there and laid an egg," he said. "Other than that, the kids played well honestly. We'd have a bad stretch here or there within the game itself. They're quality teams, and if you fall behind or have a bad stretch, they get you. That's what happened to us."
In games against Hurricane, Snow Canyon and Cedar, the outcome was in doubt until the final few minutes.
Those near-misses showed the players what it will take to pull out some victories.
"I think it's a lot better with this group of people. This group we have this year, the seniors and juniors have been really close. For the past five years, we've all grown up with each other. I bet we'll be more together as a team. I bet we'll do a lot better than we did last year in region," said Payson quarterback Easton Smith.
Like last year, and most years for that matter, Payson will be a team that lacks size but features plenty of athletes.
"In our classification and region there's going to be a whole lot of teams who are more athletic," said Chapman.
Payson's coaching staff will try and use that athleticism in creative ways defensively to make up for the lack of size.
"Yes, we're going to be versatile in what we're doing because we do lack size, plain and simple. We're going to try and put our athletes in positions they can use their athleticism. Sometimes it may look a little crazy and look a little funky. There's principles to what we're going to be doing that kids just have to execute," said Chapman.
Senior linebacker John Harmon will be at the heart of that defense for the fourth-straight year. He led Payson in tackles as a sophomore with 129 and then again as a junior last year with 97.
The biggest question mark for Payson defensively — which not surprisingly is the same question offensively — is in the trenches.
Not only does the team lack size in that area, but early this summer there was a lack of commitment in the weight room.
"Collectively there hasn't been the buy-in that we need, that's why it's a big question mark. We have some bodies, we have some kids. If they'd have fully bought in I'd be a lot more confident, but they haven't," said Chapman. "Payson is a smaller school, we have a lot of multisport athletes. It's getting kids to make that extra sacrifice, and not just to football but athletics in general."
If the offensive line in particular can come together, Payson has the talent at quarterback and the skill positions to put up points in bunches.
As a junior last year, Smith completed 49.7 percent of his passes for 2,118 yards, 15 touchdowns and 10 interceptions. He threw seven of those 10 interceptions in the first five games but only had three in the last five.
With a season under his belt and several high-level seven-on-seven camps this summer too, Smith is poised for a big season.
"He understands the game of football. He sees things the way a coach does. He does a good job getting us to where we need to be. It gives kids confidence and us as coaches too that he will make the right decisions," said Chapman.
There's no shortage of weapons to spread the ball around either with Phil Perez, Preston Little, Dannel Brown and Dalton Baker all back this season.
Payson Lions at a glance
Coach: Jeremy Chapman is entering his sixth season as head coach at his alma mater. He's amassed a record of 17-34.
Offense
(5 returning starters; Spread offense)
Offensive line is the biggest question mark this season with just one returning starter, Brian Hoschour. Finding four capable linemen to fill in around Hoschour will ultimately make or break Payson's season. With a decent line, QB Easton Smith is ready for a breakout year with weapons all around. Preston Little is back after leading the team with 497 yards, while two-dimensional back Phil Perez also returns after racking up 611 yards of total offense last year. Dannel Brown is a returning deep threat for Payson after averaging 24.1 yards per catch, while tight end Dalton Baker is also capable of stretching defenses.
Defense
(5 returning starters)
If personnel is any indicator, Payson will be weak against the run — with uncertainty on the defensive front — but strong against the pass — with virtually the entire secondary returning. Little, Riley Loveless, Connor Atkinson and Brown are all returning contributors at defensive back. Atkinson and Loveless were second and third on the team in tackles with 54 and 53, respectively, last year. John Harmon is the lone returning starter at linebacker and the team's leading tackler from last year.
Coaches preseason 3AA South straw poll: Seventh
Deseret News 3AA South prediction: Seventh
Bottom line: The uncertainty in the trenches simply can't be ignored. In another region Payson might be able to overcome those shortcomings and win a few games, but in 3AA South that's simply not realistic — especially when some of the weaker teams from a year ago all appear improved. The one thing Payson has going for it is athleticism. Athletes can make up for a lot of things, and if those guys can make big plays throughout the season both offensively and defensively, perhaps Payson can break through and win a few more games this year.
….
Payson coaching history
2009-current — Jeremy Chapman (17-34)
2007-2008 — Jared Woolstenhulme (6-15)
2003-2006 — Colby Knight (8-33)
2001-2002 — Jamal Willis (3-17)
1997-2000 — Rick Robbins (11-26)
1988-1996 — Bart Peery (26-52)
1984-1987 — David McKee (13-22)
1981-1983 — Bob Cook (6-22)
1956-1980 — Jim Durrant (137-96-8)
1941-1955 — Don Fuller (70-44-12)
1940 — Unknown (1-5-1)
1939 — Vern Waldo (3-5)
1936-1938 — Unknown (6-9-7)
1934-1935 — Stan Wilson (3-8-1)
1928-1933 — Unknown (26-11-4)
1927 — Mr. Wooley (3-2)
1922-1926 — Unknown (12-8-4)
1921 — Hugh Sutton (4-2)
1920 — Unknown (0-2)
1919 — Dixon Kapple (5-1-1)
1918 — Ray Monson (1-1)
1916-1917 — Unknown (9-2)
1915 — Mr. Cole (2-2-1)
1909-1914 — Unknown (6-8)
Deseret News First Team all-staters the past 10 years
(None)
To view second team and honorable mention all-staters through the years, check out the Deseret News All-State Archives.