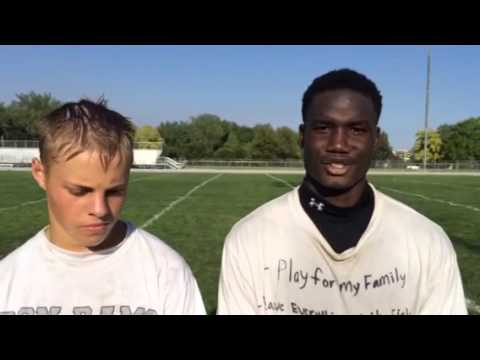 View 17 Items

I expect everyone to think we're the underdogs this year, which I honestly like being.

—Alassane Niang
Note: Highland finished with a 7-4 overall record in 2013 and was third in Region 6 with a 4-2 record. It lost to Sky View in the first round of the 4A playoffs.
SALT LAKE CITY — Senior Alassane Niang feels like the Highland Rams are being underestimated.
But the wide receiver and corner doesn't actually mind. In fact, he said, those doubts about how the Rams will do this season only motivate him.
"I expect everyone to think we're the underdogs this year, which I honestly like being," Niang said. "That way, we come out, hit people in the mouth and shut them up for the rest of the game. I do like being underestimated."
Actually, Niang may be one of the few who actually sees the Rams as underdogs. The perennial contenders were picked to finish second in their region in the coaches poll and third in the Deseret News rankings. So expectations for the Rams are actually pretty high, especially in light of what the team lost to graduation last season.
A year ago, the team had some superstars, including highly recruited Bryan Mone, who earned a scholarship with Michigan. Not having a go-to guy is fine with Rams head coach Brody Benson, however.
"I don't really see a whole lot of standout kids, kids who are getting a lot of publicity," Benson said. "This is just a blue-collar group. … And that's what I've kind of always pictured and always wanted Highland to be. We're going to outwork you, we're going to outhit you, we're going to be more physical than you. It's what I love about Highland, and it's what I love about this group."
So far, Benson has asked a lot of his 2014 team, and so far, players have responded with the kind of enthusiasm that promises to make for a successful season.
"I just love the way the kids are working," Benson said. "I'm loving how they show up, they shut up and they work. There is no whining, no moaning. It's just let's go to work."
The reality is that while a few positions have been earned, most are still up for grabs.
"We don't have a lot of returning players," Benson said. "So I think there are a lot of guys who are hungry. We don't have a lot of positions sewn up. We have a lot of guys fighting for playing time right now, which is always good as far as competition."
Senior running back and strong safety Thomas Pembroke agrees with his coach.
"This is a hungry team," he said. "Going out in the first round last year was not what we expected."
How will the team make up for the talented seniors lost to graduation?
"We'll make up for that with hard work," Pembroke said. "Just everybody doing what's necessary to win the game or fight to be the best team out there."
He said last year's group, especially the team leaders, taught them how to work hard. The one thing he sees in his current teammates is a better ability to finish games.
"I think our problem was more not taking advantage of our opportunity when it presented itself," Pembroke said. "So this year, we're going to try to seize the opportunities more."
Being one of the smallest 4A schools means most of the team's players will compete on both sides of the ball.
Senior Brandon Jones and junior Jayden Palauni will provide experience and athleticism on the defensive line, as well as at tight end.
Benson said Palauni started to show flashes of his potential near the end of his sophomore season.
"He really came on at the end of the year," Benson said. "And I think he's going to do some great things."
He also said he's looking forward to watching senior quarterback John Hunter lead this year's team — on and off the field.
"I don't know if I've had a kid work harder than him," Benson said.
Hunter said that while the team lost a little size last season, this year's team will make up for it with speed and tenacity.
He said opponents should expect, "Four quarters of a grind."
Benson said the expectation of coaches is the same as it is every year. He believes this team can compete with any in the state.
"I think kids will raise or lower their play based on the expectations of their coaches and their teammates," Benson said. "Right now guys are expecting a lot out of each other."
Benson said his players love to compete — whether it's seeing who can cross the line first in conditioning or seeing which of them can push out one more rep or just a little more weight.
"The only way you learn to compete is to compete," he said.
And that competitive drive will be critical to winning games in very competitive Region 6.
"There are great teams and you know you're going to have great competition every week," Benson said. "I like our region. With East, Woods Cross, Bountiful and Kearns, you face just tough, tough opponents every single week. The other thing is great coaches. I like dealing with the coaches we have in our region. That's another reason I think the region is so tough. There are great coaches in this region."
Palauni said whether goals were met or not last season doesn't really matter this fall.
"All that matters is that we work hard, never give up and fight until the last whistle," Palauni said. "Our guys are going to come out and fight to win and get better."
Highland Rams at a glance
Coach: Coach Brody Benson enters his ninth season as a head coach. The Granger and SUU alum owns a 67-31 record.
Offense
(Four returning starters; Triple-option offense)
The team's offense will be led by a new quarterback this season in John Hunter.
"I don't know if I've had a kid work harder than him," Benson said.
He'll have some veteran targets and experienced running backs to help him move the ball. Senior running back Thomas Pembroke, wide receiver Alassane Niang and senior wide receiver and tight end Brandon Jones should give Hunter a lot of options offensively.
Joining the seniors in hoping to make an impact on the offensive side of the ball is junior tight end Jayden Palauni.
This year's team is a bit smaller than last year's, and the line is one of the unknowns for the Rams. Senior offensive tackle Tanner Perkins should be one of the anchors in the trenches for the team.
Defense
(Six returning starters)
All four of the returning offensive starters will help the Rams on defense. Highland's defense has traditionally set the tone for the team's success.
Calvin Keyes at cornerback and Talo Latu at linebacker should complement those other starters nicely. The team has speed and confidence, two ingredients for a standout defense.
Coaches preseason Region 6 straw poll: Second
Deseret News Region 6 prediction: Third
Bottom line
The names on the jerseys may change, but most people who follow high school football know the Rams will compete for top honors every year. The difference this year is that there is no superstar — at least not yet — who can carry the team as the program has had the last five or six seasons.
There are a lot of unknowns and questions about this team, including exactly where each young man will play. The athletes are quick and athletic, and they are, as a group, very committed to the grueling work that is required for on-field success.
There may be a lot of questions yet to be answered about this year's Highland football team, but one thing is certain: The Rams possess the kind of mentality that serves a team well on the football field.
Highland coaching history
2006-current — Brody Benson (67-31)
2001-2005 — Ray Groth (40-21)
1996-2000 — Larry Wilson (43-14)
1986-1995 — Tom Kingsford (76-36)
1977-1985 — Roger DuPaix (55-38)
1974-1976 — Dennis McLaughlin (7-20)
1971-1973 — Tony Polychronis (10-17)
1966-1970 — Jerry Simons (24-24)
1961-1965 — Bill Fickinger (40-10)
1957-1960 — Larry Palmer (24-9)
.....
Deseret News Mr. Football recipients
1997 — Morgan Scalley, QB
Deseret News MVPs the past 10 years
2010 — Nate Orchard, WR/DL
Deseret News First Team all-staters the past 10 years
2013 — Bryan Mone, DL
2012 — Luti Nonu, OL
2012 — Bryan Mone, DL
2012 — Adam Webber, LB
2011 — Quincy Clark, DL
2010 — Sione Houma, RB
2010 — Ono Tafisi, OL
2010 — Desmond Collins, DL
2010— Hayes Hicken, K
2009 — Toi Tafua
2009 — Ono Tafisi, OL
2008 — Latu Heimuli, DL
2007 — Latu Heimuli, DL
2006 — Sean Swenson, QB
2006 — Liam McNally, RB
2006 — Braden Brown, TE
2006 — Tim Bickmore, OL
2005 — Thomas Bradley, QB
2005 — Jake Orchard, WR
2005 — David Nafe, DL
2005 — Brett Smith, DB
2004 — Bo McNally, QB
2004 — Marcus Mailei, RB
2004 — David Fainu, OL
To view second team and honorable mention all-staters through the years, check out the Deseret News All-State Archives.
Twitter: adonsports EMAIL: adonaldson@deseretnews.com