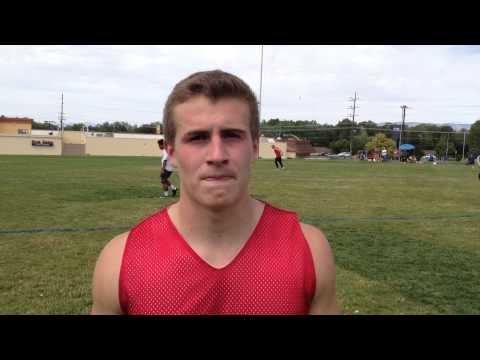 View 11 Items

I think we've turned that corner, and I think we're going to be competitive every year regardless of who comes and goes. I really believe that.

—Grantsville coach Tony Cloward
Note: Grantsville finished with a 7-4 overall record in 2013 and was third in 3A North with a 3-2 record. It lost to Juab, 28-21, in the 3A quarterfinals.
GRANTSVILLE — A few years ago, Grantsville coach Tony Cloward might've shuddered at the thought of having only a handful of returning starters. Now, he doesn't bat an eye.
It's taken a decade to get the program to this point, but after several hurdles — most notably the opening of Stansbury High — Cloward believes Grantsville has arrived.
"Even though we did graduate a lot of talented kids over the last two years, I really think we've got the program to where the kids in the program understand and believe. I couldn't say that five years ago. I think we've turned that corner, and I think we're going to be competitive every year regardless of who comes and goes. I really believe that," said Cloward.
That doesn't just go for football either. The boys basketball team won the Region 11 title last season, while the baseball team surprised all the favored southern Utah schools by capturing the 3A state championship. A portion of that collective confidence began to take shape last fall as Grantsville vaulted to the top spot in the 3A football rankings midway through the season.
"I think as a school in general and athletics in general, I think we've turned that corner. I think our kids truly believe we can win any sport if we just put our effort in," said Cloward.
The challenge for Grantsville is to take that next step.
After starting 5-0 and surging to the No. 1 ranking in the Deseret News last season, Grantsville blew a 14-point halftime lead to Judge in Week 6 and never really recovered. It lost two more close games to Morgan and Delta in the final month and then bowed out in the 3A quarterfinals with a 28-21 loss at Juab.
Three-year starting quarterback Nephi Meono said everyone is reloaded and ready to go.
"Our team is always competitive. Every day in practice we're competitive. In morning workouts we're competitive. Everyone is pushing each other. I feel like we're better this year. I feel like we have a lot more speed than we did last year," said Meono.
That speed can certainly make a difference against teams like Judge and Morgan, teams Grantsville needs to beat if it wants to host a playoff game.
Meono is one of just three returning starters on offense this year, and someone who needs to take on a much larger role. He took a back seat to senior running backs Ky Fisher and Wyatt Smith most of last season, but that must change this year.
"He's a great running threat. He's going to have to make teams stop him more so this year," said Cloward. "In years past he was the younger guy and he got it to the Ky Fishers and the other kids to run the ball. This year I think you'll see him be a bit more selfish with it and keep it more, which will be a great addition to the offense."
Meono is a very tough runner who rushed for 369 yards and seven TDs last year to go along with his 803 passing yards.
Lorenzo Silva and Wyatt Barrus only had seven combined carries a year ago, but by committee they're charged with filling Fisher's role. Fisher scored 14 touchdowns and was a beast at the goal line, and Cloward believes Barrus — the 3A baseball MVP — can be that guy this year.
"He's really strong mentally and physically. Ky wasn't going to be denied, especially on the goal-line situations. Wyatt is that way. He's a proven athlete," said Cloward.
Barrus spent most of the summer playing baseball, but Cloward said once it's time to strap on the pads and get ready for football season, he expects Barrus to emerge as an important leader.
Barrus is also the top returning defensive contributor after racking up 38 tackles, four sacks and three interceptions last year.
….
Felts Facts for Grantsville High School
All-time record: 372-427-21 (97 years)
Region championships: 9 (1960, 1967 co, 1973, 1978, 1984 co, 1985, 1986, 1991 co, 1998)
Playoff appearances: 37
All-time playoff record: 39-34
State championships: 3 (1992, 1996, 1997)
State championship record: 3-5
Most played rivalry: 77 meetings with Morgan dating back to 1945. Morgan leads 47-28-2.
Felt's Factoid(s): Grantsville holds the state record (tied with Clearfield) for season interceptions with 33 set in 1997. ... Cowboy Alan Mouritsen holds the season all-purpose yardage record, 3,287, set in 1997, and the career rushing TD record, 70, set from 1996-98. He also holds the record for career TDs, 77, and season TDs, 42 (1997).
….
Grantsville coaching history
2005-current — Tony Cloward (43-60)
2003-2004 — Les Hamilton (14-11)
1987-2002 — Kevin Butler (119-67)
1983-1986 — Bill Mikelson (33-10)
1966-1981 — Larry Harrison (65-85)
1964-1965 — Evan Crowther (9-6)
1957-1963 — Glen Rupp (21-30)
1953-1956 — Don Sandburg (4-22)
1951-1952 — unknown (4-5)
1949-1950 — Ken Linsday (7-7)
1934-1948 — unknown (18-90)
1933 — Sterling Anderson (0-6)
1915-1932 — unknown (42-46)
.....
Deseret News First Team all-staters the past 10 years
2013 — Jake Riding, DL
2013 — Ky Fisher, LB
2012 — Skyler Cloward, OL
2011 — Skyler Cloward, LB
2008 — Austin Gumucio, LB
2005 — Jared Thompson, DL
2004 — Derek Erickson, TE
To view second team and honorable mention all-staters through the years, check out the Deseret News All-State Archives.
Follow Deseret News prep editor James Edward on Twitter @DNewsPreps