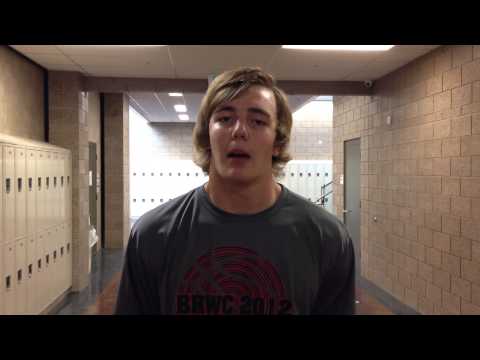 View 16 Items

You really get what you emphasize. We're really emphasizing defense because last year offensively we did really well for us and we were able to move the ball extremely well because that's what we focused on

—Bear River coach Chris Wise
Note: Bear River finished with a 7-4 overall record in 2013 and was third in 3AA North with a 4-2 record. It lost to Hurricane 38-26 in the 3AA first round.
GARLAND — A funny thing's happened over the past 10 years at Bear River High. Kids no longer feel that championship mystique.
From 2003 to 2006, the Bears won three of four state championships and were the it-team in 3A before Juan Diego came into the picture and the southern Utah schools emerged. Everyone knew the 3A title went through Bear River.
Little by little, the aura has disappeared. This year's defensive leader, McKade Mitton, vaguely remembers listening to the championship game on the radio when he was in fourth grade, but that was half his life ago.
Bear River coach Chris Wise, who's now entering his 13th season at his alma mater, can remember those three titles like they were yesterday, but every season his players know less and less about that tradition.
"It was really kind of an eye-opener to me. They don't care what happened last year, and they really don't care what happened 10 years ago. They can't see past the end of their nose," joked Wise.
Wise occasionally reminds his players about the state championships and the tradition some of their predecessors set. More importantly though, he's trying to convince them they can enjoy that feeling too.
While it's become easy in 3A — and now 3AA — for a program like Bear River to have a defeatist attitude toward Juan Diego or the southern Utah teams, Wise has eliminated those negative thoughts from his daily vernacular and stresses to his players, "Why not you?"
Sure, last season ended with a shocking first-round loss to one-win Hurricane, but that game is in the past.
"We lost a lot of seniors, so this group has their own identity. I think they're looking at it more as it's our turn now rather than we have to avenge what happened last year," said Wise.
With an aggressive defense, a talented offensive line and an intelligent quarterback who doesn't try to do too much, the Bears are cautiously optimistic about their potential in 2014.
A big reason for the excitement is a recommitment defensively under new coordinator Paul Lish.
Based on personnel last year, Bear River put a greater emphasis on offense from the beginning of the summer and not surprisingly found itself in a lot of shootouts. It averaged 37.1 ppg while allowing 29.9.
It was great when the Bears were beating Tooele 62-48 or Payson 44-34, but not so great when it lost to Juan Diego 45-13 or Hurricane 38-26 in the playoffs.
"You really get what you emphasize. We're really emphasizing defense because last year offensively we did really well for us and we were able to move the ball extremely well because that's what we focused on," said Wise.
So far this summer the reverse has been true.
"At team camp in the first week of June the defense was looking as good as ever," said Wise. "They're playing as aggressively as I've seen."
At the heart of that defense is Mitton. The senior linebacker recorded a staggering 157 total tackles a year ago, and he's getting recruiting interest from Utah State, Utah and Weber State.
Fellow linebackers Carson Gibbs and Kurtis Wronkowski are also back after combining for 80 tackles a year ago.
Offensively, there will be a noticeable shift in style at quarterback. Last season Jardee Neesen threw for over 2,800 yards and 27 touchdowns, but he could also improvise on busted plays and get out and scramble.
This season senior Walker Riley takes over, but don't expect him to scramble much.
"He's not going to get himself out of trouble, but he's a very intelligent kid. He's shown he can make the right decisions," said Wise. "He knows what his strengths are, he's not going to be something he's not. He trusts the offensive line, which is a major thing."
At least early in the season, the coaching staff will keep the playbook very simple for Riley with the game plan, "take what they give you." The playbook will gradually expand, but with what should be a stronger defense, it's important Riley doesn't make mistakes.
At running back, Mitton will take on increased role this season with Kelton Williams expected to get a bunch of carries too.
….
Felt's Facts for Bear River High School
All-time record: 368-420-19 (92 years)
Region championships: 13 (1937, 1959, 1983, 1984, 1985 co, 1986 co, 1987, 1990, 1998, 1999, 2003, 2004, 2006)
Playoff appearances: 33
All-time playoff record: 36-30
State championships: 3 (2003, 2004, 2006)
State championship record: 3-5
Most played rivalry: 93 meetings with Box Elder dating back to 1923. Box Elder leads 66-25-2. Meet Sept. 5.
Felt's Factoid(s): Bear River's 93 meetings with Box Elder makes the game the longest uninterrupted active rivalry in state history, having been played every season since 1923. The winner has taken home a traveling trophy, the Golden Spike, since 1959. ... BR recovered 10 fumbles — a state record — against Jordan in a 1981 Class 3A playoff game.
….
Bear River coaching history
2002-current — Chris Wise (75-60)
2001 — Jay Graft (5-4)
1998-2000 — Ryan Bishop (23-10)
1997 — Jeff Kilts (2-8)
1992-1996 — Doug Parry (34-22)
1988-1991 — Mike Rosky (26-16)
1981-1987 — Dan Cox (58-21)
1979-1980 — Mark Pierce (4-14)
1978 — Hal Lewis (2-7)
1976-1977 — Bill Jacobson (7-13)
1968-1975 — Don Peterson (20-50)
1959-1967 — Gerald Simmons (38-39)
1957-1958 — Donald Smith (8-10)
1955-1956 — Hess Peterson (6-11)
1954 — Wendell Hess (6-3)
1952-1953 — Howard "Tuff" Linford (7-9)
1946-1947 — Floyd Rasmussen (4-10)
1944-1945 — Moyle Knudson (2-9)
1943 — Mr. Leavitt (0-6)
1940-1942 — Carl Smith (0-19)
1937-1939 — Lyle Tripp (9-11)
1932-1936 — Vern Harris (7-17)
1927-1931 — Leo Walker (10-14)
1922-1926 — Unknown (6-12)
….
Deseret News Mr. Football recipients
2004 — Jason Zundel, QB
Deseret News MVPs the past 10 years
2006 — Garland Munns, RB
Deseret News First Team all-staters the past 10 years
2013 — Justus Wise, OL
2012 — Justus Wise, OL
2009 — Hunter Payne, LB
2007 — Jake Miller, DL
2006 — Tyson Rasmussen, QB
2006 — Tyler Hess, OL
2006 — Jake Miller, DL
2004 — Tony Martinez, RB
2004 — Dallas Miller, WR
2004 — Travis Harris, OL
2004 — Isaac Williams, OL
2004 — Brady Robbins, DL
2004 — Devin Gibbs, LB
To view second team and honorable mention all-staters through the years, check out the Deseret News All-State Archives.