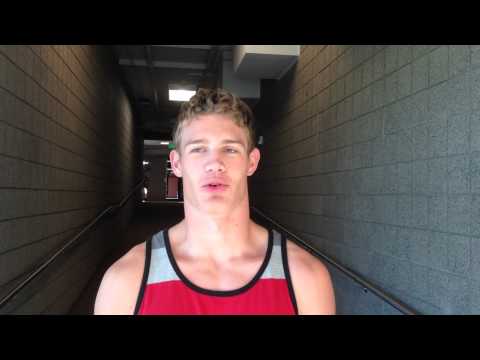 View 14 Items

Last year we were a little shellshocked in the semifinals, but I know this year that's not going to be the case. We have a lot of hungry seniors out here.

—Senior quarterback Ryan McMichael
Note: North Summit finished with an 8-3 overall record in 2013 and tied for first in 2A North with a 5-1 record. It lost to Grand 34-13 in the 2A semifinals.
COALVILLE — Coming off a two-win season and with very few returning starters, North Summit coach Devin Smith had no idea what to expect heading into last year.
The Braves surprised everyone by earning a share of the 2A North region title and advancing to the 2A semifinals.
With numerous key starters returning from last season's eight-win squad — the only team to beat eventual state champ South Summit — expectations are vastly different a year later.
"I think we could be really good," said Smith, who's entering his fourth year as North Summit's head coach.
A big reason for the excitement is the mentality the team approached the offseason with. Despite exceeding expectations in 2013, things ended pretty disappointingly with a 34-13 semifinal loss to Grand.
"Grand was a good team and they kind of jumped on us early and we never recovered. Hopefully getting that far we can build on that for this year," said Smith.
"A lot of those kids that we have back were playing in that game. For them to know what it's like playing in that game, and hopefully want more, has driven them. These kids want to get back there. That wasn't good enough."
Senior quarterback Ryan McMichael is as hungry as anyone.
"Last year we were a little shellshocked in the semifinals, but I know this year that's not going to be the case. We have a lot of hungry seniors out here," said McMichael.
The three-year starter led North Summit in rushing yards (867) and touchdowns (15) last season, and was a big reason the Braves enjoyed such a strong season.
McMichael will be the top running threat in the triple option again this season, but he'll occasionally try and beat teams with the pass.
Because North Summit uses such a run-heavy offense, through the years the coaching staff has viewed seven-on-seven tournaments as a waste of time. That changed this year. Because McMichael and several of the running backs already have a great understanding of the option offense, Smith thought it would be time well spent to attend a few seven-on-seven camps.
"We're going to run some variations in the offense that allows us to throw it a little bit. We've spent a fair amount of time this summer to fine-tune that and get that ready," said Smith.
A year ago McMichael completed 55 percent of his passes for 691 yards and seven touchdowns, but those numbers should all go up based on the experienced gained this summer. His rushing numbers should go up too.
"He's a great athlete, he's a kid that all the other kids like, works hard. This will be his third year starting. He knows how to respond to every situation now," said Smith. "As a coaching staff we're going to try and use that to our advantage and enjoy it. They don't come around all the time."
North Summit's other two leading rushers graduated last season, but Smith believes Carson Richins, Jason Lowe and Corben Ruf can pick up the slack with strong seasons.
All of that hinges on a brand-new offensive line. Matt Boyer and Zac Simister rotated at offensive line last season, but all of the main starting cogs graduated.
"We have some coaching to do with them and maybe a few growing pains, but they're going to be good," said Smith.
Defensively, there aren't a ton of question marks with eight returning starters. Among them are a quartet of standout linebackers, Carson Richins, Ruf, Lowe and Baltazar Martinez.
All four came up big in North Summit's 26-24 upset of South Summit in Week 8 last season, and that's the game all the Braves have circled on their calendar again this year.
"Our kids are motivated by it. I think it's one of the best rivalries in the state 1A through 5A. We have a lot of football to play before that day comes, though," said Smith.
Among the contests is a very interesting Week 2 game at Duchesne. The four-time 1A state champs have won a state-record 47 straight games, and have won five straight against North Summit dating back to 2008.
….
Felt's Facts for North Summit High School
All-time record: 416-361-23 (88 years)
Region championships: 22 (1928, 1929, 1930 co, 1937, 1955, 1965, 1969, 1971, 1972, 1973, 1974, 1975, 1976, 1977 co, 1978, 1983 co, 1989, 1990, 1991 co, 2006, 2007, 2013)
Playoff appearances: 46
All-time playoff record: 48-39
State championships: 7 (1964, 1972, 1989, 1990, 1991, 2007, 2008)
State championship record: 7-4
Most played rivalry: 92 meetings with Park City dating back to 1926. North Summit leads 47-42-3. Last met in 2004.
Felt's Factoid(s): North Summit is tied with two other teams for the most shutouts in one season with 10 (1974). ... Brave Andy Carlsen set the state record for season rushes with 323 in 2002.
….
North Summit coaching history
2011-current — Devin Smith (16-16)
2000-2010 — Jerre Holmes (74-53)
1999 — Steve Carlsen (1-8)
1995-1998 — Earl Blonquist (13-27)
1994 — Travis Crittenden (3-6)
1993 — Van Hutchinson (8-3)
1987-1992 — Rick Harrison (48-20)
1985-1986 — Earl Blonquist (5-15)
1983-1984 — Bill Brown (10-11)
1982 — Scott Summers (2-7)
1969-1981 — Earl Blonquist (99-44-3)
1962-1968 — Ernest Jacklin (37-26-5)
1958-1961 — Raynor Pearce (12-18)
1957 — Bob Sanchez (5-2-1)
1953-1956 — Benny Kilpack (20-13-3)
1952 — Ken Bearden (1-6)
1951 — unknown (1-6)
1950 — Don Snow (1-5-2)
1949 — Ralph Olsen (1-7)
1948 — Floyd Biddolph (0-6)
1946-1947 — unknown (5-6-1)
1945 — Ed Jensen (5-3)
1931-1947 — unknown (41-49)
1930 — "Silky" Knudsen (4-2-1)
1926-1929 — unknown (13-14-2)
.....
Deseret News MVPs the past 10 years
2008 — Deven Holmes, QB
2007 — Dallin Donaldson, RB/DB
Deseret News First Team all-staters the past 10 years
2013 — Ryan McMichael, QB/DB
2013 — Josh Birk, RB/DB
2013 — Trevor Hale, RB/LB
2013 — Austin Simister, OL/DL
2012 — Ben Stephsn, RB/DB
2011 — Braden Brown, RB/DB
2010 — Courtney Orgill, RB/LB
2008 — Caden Richins, TE/DE
2008 — Colby Richins, RB/DE
2008 — Wyatt Richins, OL/DL
2008 — Stevin Sommerville, RB/LB
2008 — Bryer Trussell, WR/DB
2007 — Caleb Adams, FB/DL
2007 — Deven Holmes, QB
2007 — Colby Richins, LB
2007 — Drew Robinson, TE/DE
2007 — Chandler Woolstenhulme, LB/OT
2006 — Dallin Donaldson, RB/DB
2006 — Kamren Garfield, QB/DB
2006 — Nathaniel Richins, RB/DB
2004 — Curtis Louder, RB
2004 — Grant Stoddard, OL
2004 — Justin Bagnell, LB
To view second team and honorable mention all-staters through the years, check out the Deseret News All-State Archives.