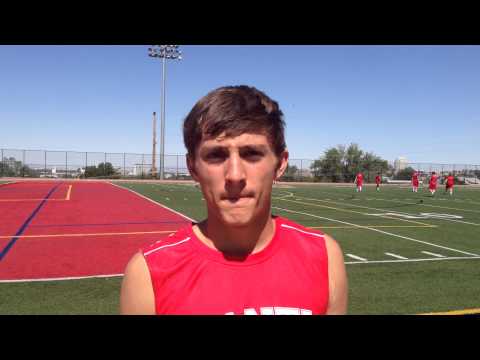 View 17 Items

We're feeling pretty good. We've got some room to improve, but we've got good stuff to work with.

—Manti coach Cole Meacham
Note: Manti finished with a 10-3 overall record in 2013 and was first in the 3A South region with a 5-0 record. It lost to Judge 36-22 in the 3A championship.
MANTI — It's one of those what-if moments Manti fans won't soon forget.
In blizzard-like conditions in last year's 3A championship, Manti was standing toe-to-toe with heavily favored Judge thanks in large part to the strong running of Kamren Fowles. The senior, however, suffered a concussion returning a kickoff very early in the second half and never returned.
The game was tied 14-14 when he left, but without Fowles the Templars only mustered 18 yards of total offense in the second half and had two turnovers.
Who knows what might've happened had the fluke injury not occurred? Manti coach Cole Meacham doesn't want his players dwelling on the 36-22 loss.
"We try and tell them, 'This is your season. You're going to do with it what you do,'" said Meacham.
And with that, Manti is looking only forward in 2014 — and don't be surprised if it's playing on the last day of the season again.
"We're feeling pretty good. We've got some room to improve, but we've got good stuff to work with," said Meacham.
Those newcomers will get tested right away as Meacham continues the tradition of playing difficult competition in the preseason. In 2011 and 2012 when Manti was still in 2A, Meacham went out of his way to schedule 3A's Juan Diego in the preseason.
After getting bumped up to 3A last year, Manti played 4A programs Mountain View and Provo the first two weeks of the season — winning easily. It opens with both 4A teams again this year, and Meacham is excited to see how his kids respond knowing Mountain View and Provo should each be immensely improved under the direction of Louis Wong and Tony McGeary, respectively.
"They're going to have good athletes. Probably at any one time there's going to be five, six, seven kids on the field that are better athletes than what we've got on the field," said Meacham. "I think right away it puts in kids' heads we have to play hard. We're not going to accept any excuses for anything. If we win, great job let's get better. If we lose, we know what we've got to fix."
One of the most interesting storylines of the 2014 season for Manti is at quarterback.
For the first time since the 2005 season, an Aste brother won't be under center leading the Templars. From 2006 to 2008 it was Griffin Aste, from 2009 to 2011 it was Brady, and the past two seasons it was Connor.
Junior Derek Wright — a slot receiver last year — takes over at QB this season, and he brings a different athletic dimension to the table.
"We'll do some things differently with him. Connor did some great things, but we'll do things a little different with Derek," said Meacham.
Wright is hungry to win and has no problem embracing the inevitable learning curve that comes with his position.
"On or off the field if he does something dumb, you can chew his butt up one side and down the other one, and he'll take it and say, 'I know I screwed up,' and won't bat an eye," said Meacham.
While Wright tries to fill the shoes vacated by Connor Aste, Bradly Sego will do the same at running back for Fowles. As a junior last year he rushed for 450 yards and three TDs, but this year he'll be counted on to replace Fowles' 1,479 yards and 23 TDs.
Realistically, in Manti's fly offense, numerous kids get touches at running back — which is again the case with Caleb Harris, Tristan Daniels and Douglas Schiess — but Manti is historically better when it has a go-to guy.
Offensively, Manti's personnel seems ready for a big season, but defense is realistically the question mark with this team. Despite winning its region and advancing to the championship, Manti surrendered 22.7 ppg last year, including 28 in the semifinals against Morgan and 36 in the championship against Judge.
….
Felt's Facts for Manti High School
All-time record: 227-223 (46 years)
Region championships: 9 (1994, 1999, 2001, 2002, 2005 co, 2009 co, 2011, 2012, 2013)
Playoff appearances: 28
All-time playoff record: 30-24
State championships: 4 (1999, 2003, 2011, 2012)
State championship record: 4-3
Most played rivalry: 45 meetings with Juab dating back to 1969. Manti leads 23-22.
Felt's Factoid(s): Manti is the only team — high school or college — in the United States (or anywhere else) whose mascot is the Templar.
…..
Manti coaching history
2000-current — Cole Meacham (110-45)
1992-1999 — Brennan Jackson (50-33)
1988-1991 — Bill Sullivan (13-24)
1985-1987 — Robert Gent (16-13)
1982-1984 — Cliff Hughes (1-24)
1980-1981 — Dewey Brundage (3-15)
1977-1979 — Ken Van Tasell (5-23)
1976 — Phil Hall (2-8)
1972-1975 — Russ Felt (17-18)
1971 — David Jensen (3-7)
1969-1970 — Bill Brown (7-11)
.....
Deseret News MVPs the past 10 years
2012 — Austin Jackson, RB/LB
2011 — Aaron Austad, DL
Deseret News First Team all-staters the past 10 years
2013 — Kamren Fowles, RB
2013 — Connor Aste, QB
2013 — Tristan Olsen, OL
2013 — Jared Schiess, DL
2012 — Zane Stevens, RB/LB
2012 — Jamen Miller, RB/DB
2012 — Koleton Moon, OL/DL
2012 — Carlo Garcia, K
2011 — Brady Aste, QB/DB
2011 — Austin Jackson, RB/LB
2011 — Landon Carter, OL/DL
2011 — Chris Lauti, OL/DL
2008 — Griffin Aste, QB/DL
2008 — Nick Brown, WR/DB
2008 — Seth Gergetz, OL/DL
2008 — Mathew Olson, RB/LB
2008 — Chase Stevens, RB/LB
2007 — Saula Taufa, OL/DL
2005 — Brandon Puett, TE/LB
2005 — Tim Dalene, TE/DE
2005 — Russell Petersen, OL/DL
2005 — Jace Moore, RB/LB
2004 — Taylor Salanoa, QB
2004 — Devin Frischknecht, WR
To view second team and honorable mention all-staters through the years, check out the Deseret News All-State Archives.