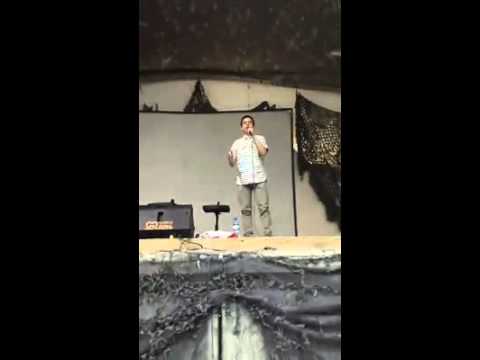 View 5 Items

David Archuleta joined motivational speaker and contributing author of "Chicken Soup for the Soul" Dan Clark on a tour throughout the Middle East from July 8-25.
Archuleta and Clark, along with celebrity impressionist Jason Hewlett, performed for American soldiers on bases throughout Afghanistan, Kuwait, Bahrain, Ethiopia and Djbouti, according to a press release.
The show the three entertainers put on was titled "An Evening of Music, Comedy and Motivational Theater" and was performed 18 times throughout the tour. During the show, Archuleta performed "Bridge Over Troubled Water," "Imagine" and "Crush."
A YouTube video was posted July 20 capturing Archuleta performing "Bring Him Home."
After returning to the United States, Archuleta wrote about his experience on his website.
"It's been unforgettable," Archuleta wrote.
"I am taking so many memories with me from these past few weeks. I just want to thank again these men and women in the military for serving and doing what they do," he said. "I am so grateful that they took us in and allowed us to experience a little bit of their experiences. It means so much to me, and to everyone on our tour. We appreciate you and your time you shared with us."
Archuleta also expressed appreciation for the opportunities he had to hold firesides for members of The Church of Jesus Christ of Latter-day Saints throughout the trip.
"At the end of the trip, we were able to go to Addis Ababa, Ethiopia. We did a faith-based meeting (also known as a fireside) with stories and music similar to what we were doing on the tour, only more faith-focused," Archuleta, who is an LDS Church member, wrote.
"I really loved getting to do these firesides throughout our trip when time permitted, and to feel the hearts and spirits of these strong-spirited youth in these parts of the world," he said.
After returning, Clark also blogged about his experience and how the soldiers responded to the messages he shared.
"In every show I had stated that if we can think, laugh and cry all in the same day, that is a heck of a day." Clark wrote. "And if we can think and laugh and cry in the same show, that is a heck of a show! In humility, I believe we delivered on this promise in every performance!
"There are a lot of superstars who can sing and many headlining comedians who can make us laugh. But with all due respect, our mix of music, laughter and the inspirational spoken word brought a special spirit to each performance that allowed the service men and women and contractors in attendance to connect with us in a deeper, more long-lasting, meaningful, memorable way!"
Clark continued to explain that while he had hoped to go on the trip to inspire the men and women that serve our country, he, in turn, had been inspired by them.
"In every audience, at every location there was at least one person who had missed a significant event in a family member's life," he wrote. "The sacrifices our troops are willing to make on our behalf are mind-boggling. Let us never forget the price of freedom!"