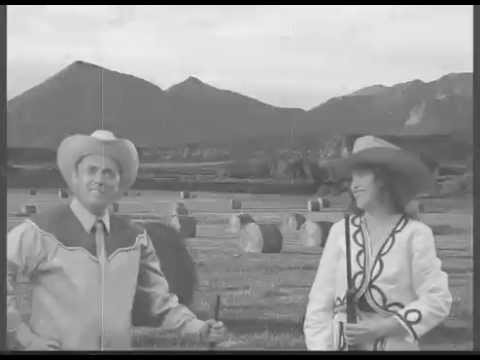 View 4 Items
YouTube

FARMINGTON — With a reference to the lyrics to "Anything You Can Do (I Can Do Better)," actress Shannon Wilson was asked what she can do better than Johnny Hebda.
"Around these parts, I am known for my amazing chocolate chip cookies," said Wilson, who plays Annie Oakley in the Farmington Parks & Recreation-sponsored production of "Annie Get Your Gun," the show for which the song referenced above was written. "I think I could beat Johnny (Hebda) in cookie-making!"
And in response, Hebda, who plays Frank Butler, said, "I can tan better than Shannon any day."
The two popular singer-actors will take on the lead roles in the production, which runs from July 29-Aug. 4 at the Farmington Community Art Center — roles they are anxious to play.
"I always have loved this musical, but when I saw Bernadette Peters play Annie in the (1999 Broadway) revival, I fell in love all over again," Wilson said. "Since then, I have learned more about Annie Oakley's life, and I admire her tremendously. I admire her will to survive and develop her talents in very difficult circumstances."
Previous lead characters Wilson has played include Lily in "The Secret Garden," Maria in "The Sound of Music" and the Witch in "Into the Woods."
Of his role, Hebda said, "Frank Butler is an iconic character with some fantastic classic songs in musical theater, and Frank has been a bucket-list role. I was excited when auditions posted, to have a chance at this part."
Hebda has performed in more than 80 theater productions, and his past roles include Clyde Barrow in the Utah premiere of "Bonnie & Clyde" and Joseph Smith in the LDS Conference Center Theater production of "A Voice from the Dust," along with the dual roles of Miles Glorious and Hero in Farmington's "A Funny Thing Happened on the Way to the Forum" last year.
The "fantastic classic songs" Hebda was referring to were composed by Irving Berlin and include "I Got Lost in His Arms," "There's No Business Like Show Business," "I Got the Sun in the Morning" and "Anything You Can Do."
At the original production's opening, the New York Post proclaimed, "Irving Berlin, who has never been a slouch when it comes to writing scores, has outdone himself this time. No use trying to pick a hit tune, for all the tunes are hits."
Contemporary Broadway composer Stephen Sondheim also reflected on the brilliance of the show's enchanting songs in an interview with The New York Times. "What distinguishes Berlin is the brilliance of his lyrics," he said. " 'You Can't Get a Man With a Gun' — that's as good a comic song as has ever been written by anybody. You look at the jokes and how quickly they're told, and it still has a plot to it. It's sophisticated and very underrated."
"Annie Get Your Gun" is based on the tempestuous courtship of Oakley, a backwoods tomboy (who became one of America's first women superstars), and the conceited city slicker Butler as they vie for the title of "champ-een" shooting ace in Buffalo Bill's Wild West Show.
"Their real-life love story is very romantic," Wilson said. "Frank fell in love with Annie at their first shooting match and began to court her. Frank died 18 days after her from a broken heart. While I love the sweetness of their real story, I also love the conflict and banter between Annie and Frank in the show. It is that conflict between love and ambition that drives the show and is very applicable to modern relationships."
Hebda has a personal connection to the character of Frank Butler.
"I find Annie and Frank to be very true to real life, and the back-and-forth tug for power — and almost like a shifting game of cat and mouse — is similar to relationships I have had," he said. "There is a sense of competition, jealousy, connection and instant attraction, and this allows for a lot of variety in the interactions in these characters as they explore and grow in their relationship. Ultimately, sacrifice and compromise become necessary for the relationship to succeed, and this only occurs when they each drop their pride and put each other's needs first."
If you go ...
What: "Annie Get Your Gun"
When: July 29-Aug. 4, 7 p.m.
Where: Farmington Community Art Center, 120 S. Main, Farmington
How much: $5 in advance, $6 day of show
Website: farmington.utah.gov/leisure_services.upcomingshows.html