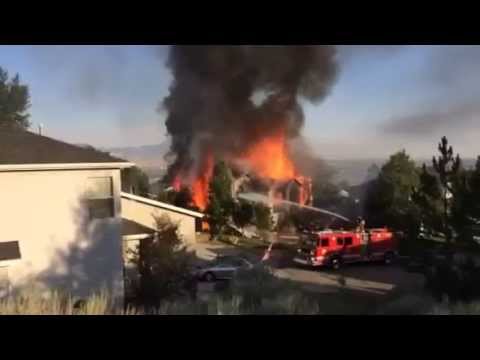 View 29 Items
Alan Clayton

You hear booms and whatnot from either Camp Williams or the mine, but this was clearly something different. This was something that got you out the door, came running this way to actually see … if you could help because you knew there was something going on.

—Robert Myrick
DRAPER — Sean Miner heard a loud boom and debris hitting the side of his house and windows Friday morning.
It didn't take long before realized that a home had exploded into flames, leaving his neighbor critically injured with burns and the family's belongings scattered across lawns in the neighborhood.
"We looked out and saw the gentleman who's living there stumble to his screen door," Miner said. "The screen door actually fell over as he came out onto the patio and the actual patio collapsed and he fell two stories down."
The homeowner was covered in soot and his arms were injured and bloodied.
"A few minutes later the fire departments (were) here. Helicopters were flying all over the place,' Miner said.
Firefighters were first dispatched to the Draper home at 15091 S. Junction Circle (235 East) about 7:30 a.m.
Even late Friday, Unified Fire Authority spokesman Chris Atkins still wouldn't confirm that an explosion had occurred, even though several neighbors reported hearing and feeling one. An early tweet from Draper City said the house fire was caused by a gas explosion.
Atkins said the cause is under investigation and he expects it to be a lengthy investigation. The house is a total loss. He also declined to release the injured man's name, but neighbors identified him as Paul Broadhurst. He was alone in the house when it exploded. His wife and two children were with family in Idaho, according to friends.
Broadhurst was flown by helicopter to University Hospital's burn unit in critical condition.
"It's heartbreaking," Miner said. "It's just somebody's life. It's just, all their possessions are gone. I don't have words for it at this time. I'm kind of in shock right now."
Insulation, siding, toys, and glass littered Miner's lawn. Siding on his home and other nearby houses melted from the heat. He said his windows also cracked, but he was more worried about his neighbor's life than his house, which he said is "just monetary."
"I've seen some crazy stuff but nothing like this," he said.
Some nearby residents were evacuated for a time as a precaution.
Robert Myrick was enjoying a peaceful morning and coffee with his wife when the explosion occurred. He described it as "a sound that you felt. It wasn't just something that you heard."
"You hear booms and whatnot from either Camp Williams or the mine, but this was clearly something different," he said. "This was something that got you out the door, came running this way to actually see … if you could help because you knew there was something going on."
As Myrick looked outside, he saw a big plume of smoke over the burning home, the garage door in the middle of the driveway and then heard smaller blasts. The home was gone in just 10 minutes, he said.
"There was a man that was brought out that looked like he was in nothing but his underwear — burned," he said.
A couple of neighbors brought Broadhurst out of the backyard along with a dog. Denise Cassidy described her neighbor as looking horrible — stunned and ashen.
She said she is grateful his wife and two kids, ages 12 and 3, weren't home at the time.
"The sound — it exactly sounded like the shuttle landing," Cassidy said. "It was a sonic boom. It rattled the house. The windows rattled. The dogs went crazy. You know it was just amazingly crazy."
"The owner of the house literally was able to break a downstairs window and literally fell out of the home," said Dennis Dunsmore, who lives next door. "The neighbors to the west were able to help him out and he was in terrible shape."
Dunsmore said he couldn't guess what caused the explosion he felt and described it as something you see in a Hollywood movie.
"Our hearts go out to Sara and Paul," he said. "It appears as though everybody is safe, and that's what matters the most."
Neighbors have set up an account in the family's name for donations at Wells Fargo Bank.