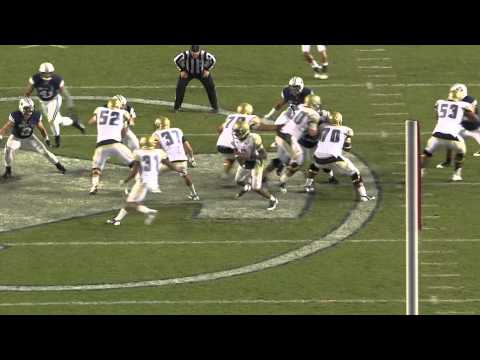 View 13 Items

PROVO — Detroit Lions defensive end Ezekiel Ansah led all NFL rookies with eight sacks in 2013, in spite of injuries that hampered his first pro season. That fact helped Yahoo Sports writer Frank Schwab to recently quip, "If Ansah stays healthy, he should put up numbers at a Pro Bowl level."
The expectations for Kyle Van Noy are piling up, even before he has a chance to suit up for his first NFL game. It's anticipated the 2014 second-round pick of the Lions will start this season as a rookie, sooner rather than later.
These two have left big shoes to fill at BYU. But Ansah and Van Noy have also forged a path of success to the pros for Cougars to follow.
Who may be the next in line to transition from a college pass rushing star in Provo to a NFL draftee full of potential?
Alani Fua, with plenty of speed and coming off a strong 2013 season, appears primed to take on the challenge. Another strong possibility is junior Bronson Kaufusi, though he would need to leave BYU a year early to be in the same draft class as Fua.
Focusing on the pros isn't quite here yet for Fua, with his senior year on the horizon. He has the opportunity this season to fulfill a role as a teacher with Kaufusi, who is transitioning from defensive end to outside linebacker to replace Van Noy.
"I think (Fua) and Bronson, for definite sure, are NFL players. Those kids will play on Sunday," BYU defensive coordinator Nick Howell said during the football team's media day in June. "Alani's kind of quiet, a lead-by-example guy. He's pretty wise; he's not a big, vocal leader. He just tries to show it in his example. Bronson's a little more vocal, a little more personality. It'll be interesting to see what happens."
BYU has had four linebackers selected in the NFL draft since 2004 — that's the most from any position group for the Cougars over that span. The school has also had two defensive ends drafted during that time, meaning that half of BYU's 12 players selected in the NFL draft the past 10 years are pass rushers.
"As a pass rusher, that is one of the most important positions in the NFL these days. Just like Jadeveon Clowney, who just got drafted No. 1, he's a pass rusher," Ansah said. The second-year pro also mentioned he'd talk to Fua and Kaufusi about the pros, at the request of Cougar outside linebackers coach Kelly Poppinga.
"Obviously you learn a lot in the NFL. … There has to be that one variable that distinguishes you from the other person. That is how smart the people are. You've got to have that extra, know what stand a tackle is in, you've got to check the formation. How many receivers are on each side of the ball? It's that little, little information that if you pay attention to, (and then) you'll be a great player in the NFL."
One former Cougar, someone who has plenty of experience with the rigors of NFL life, offered some sage advice for Fua and Kaufusi.
"You have to make it a year-round commitment nowadays. That's what I did," former linebacker Leon White said. White played eight seasons in the NFL, and he was one of three Cougar linebackers taken in the 1986 NFL draft, along with Kurt Gouveia and Cary Whittingham.
"Staying healthy is one of the most important things in the NFL; if you're injured, you're not going to be able to play at your best ability. To do that, you've got to train year-round almost. If in the offseason, that means taking a week off and getting back into training, that's what you do. That's the important part."
Both Ansah and Van Noy will report to training camp soon in preparation for the 2014 season: the Lions' rookies report on July 22, the veterans five days later. Fua and the Cougars hit the practice field at the start of August.
When it comes time to focus on a professional career, Fua also can lean on family. He's a cousin to Van Noy, and his older brother Sione Fua is a three-year NFL veteran currently with the Denver Broncos. Sione Fua was selected in the third round of the 2011 NFL draft by the Carolina Panthers.
Alani Fua has an uphill climb to battle to become recognized as a NFL prospect. He's ranked No. 69 among CBS Sports' top outside linebacker prospects for the 2015 NFL draft. He's also rated No. 70 among outside linebacker prospects by NFL Draft Scout.
But he is getting noticed. Over the past several weeks, Fua has been named to several college football award watch lists. They include the Bronko Nagurski Trophy (given to college football's most outstanding defensive player), the Butkus Award (top linebacker), the Rotary Lombardi Award (top lineman or linebacker) and the CFPA Linebacker Trophy.
Kaufusi joined Fua on the Rotary Lombari Award watch list.
Fua's speed is appealing. During the Cougars' 38-20 win over Georgia Tech last season, he made an interception near midfield in the fourth quarter and used his speed to get past Yellow Jacket quarterback Vad Lee to take the interception 51 yards for the pick-six.
"He has so much potential just because he's so fast," Kaufusi said about Fua. "He has everything you really can't teach. For him, they probably would want him bigger. But you can do that. You can't teach speed, you can't teach the natural ability to rush and pass coverage, those instincts. I feel like he has a lot of potential."
Fua got his chance to shine last year after two seasons of backup play, and he started 10 games in 2013 at the SAM (strongside) linebacker position. Fua ended the year with 63 tackles, 10 pass breakups, five tackles for loss, three sacks, two interceptions and two quarterback hurries.
While none of these statistics were team-leading, a closer look reveals that he displayed playmaking ability with several strong individual game performances.
One week after the Georgia Tech interception, Fua's pick on Houston's final drive with just over a minute to play clinched BYU's narrow 47-46 victory in the Lone Star State.
He also put up solid numbers against big-name opponents: Fua had two sacks in 2013 against Texas. His season-high 12 tackles came vs. Boise State. And even in a loss at Wisconsin, Fua had six tackles and a sack.
Kaufusi, who at 6-foot-7 and 263 pounds has an NFL-type build, recorded 37 tackles, four sacks, a forced fumble and his first career interception — which he returned for a touchdown — in 2013. He's leaning on the experience of Fua as he transitions to life as a linebacker.
"Alani's been doing it for a long time," Kaufusi said. "He's been doing the drills, doing the scheme and he knows this really well. For me, I love learning from him. I love learning what he sees in certain situations with the way the offense lines up, what his reads are. I really love playing with that guy."
BYU safety Craig Bills highlighted several defensive players — the Cougars have seven seniors listed as starters in the post-spring depth chart — who could make a run at a pro career after the 2014 season. In addition to the linebackers, Bills mentioned himself and cornerbacks Jordan Johnson and Robertson Daniel.
"I think we have a lot of talent and guys that potentially could make a professional team," Bills said.
White also suggested another vital component for those Cougars looking to pursue a professional career: being a student of the game.
"A lot of people don't realize how much film you need to watch in the NFL to stay on top of the offenses and defenses," he said. "Peyton Manning is a perfect example; he is a student of the game and it shows on the field. He probably watches more film than anybody in the league and it shows in the game time."