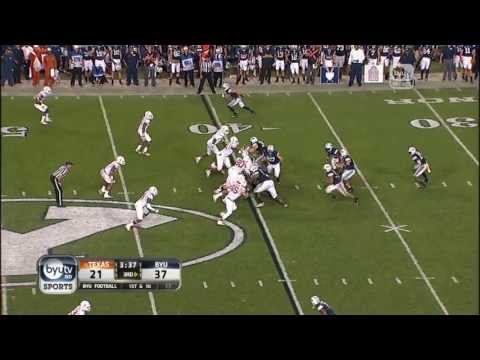 View 12 Items


Strategically set in America's heartland, the Big 12 Conference isn't realigning its boundaries or expanding anytime soon. But how would BYU fit into that league featuring legacy programs Texas and Oklahoma if one day the college landscape went crazy again?
BYU football coach Bronco Mendenhall made it clear the Cougars would make a great Big 12 addition when on June 5 he told a reporter from the Austin American Statesman that BYU could bring a national brand and a worldwide following to the league.
The reporter, Brian Davis, working on a routine Longhorn opponent roundup, ended up making national headlines with Mendenhall's quotes, which were a bold inclusion sales pitch for BYU to the Big 12 by the coach of a team outside Power 5 blue bloods.
Later in June, during BYU's football media day, Mendenhall was unapologetic in pushing BYU's case. "I'd do it again," he said. Officially, BYU athletic director Tom Holmoe said the Cougars like the freedom of independence but they are in launch mode if a Power 5 conference like the Big 12 came calling.
This week, the Big 12 football media days kick off in Dallas, and expansion is not expected to be a hot topic. But what if it were?
BYU ranks No. 4 behind No. 1 Nebraska, Oklahoma and Ohio State in Division I-A wins (504 wins, .703) since 1974. During Mendenhall's tenure at BYU, Cougar wins rank No. 12 the past nine years behind No. 1 Boise State and just ahead of No. 13 West Virginia. But how does it sell?
As with a golf swing and late-night comedy, it's all about timing.
BYU may have run for 679 yards in last year's 40-21 win over No. 15 Texas; upset No. 2 Oklahoma in 2009 in Cowboy Stadium; beat Kansas State in the 1997 Cotton Bowl and handed Texas its worst loss in 47 years in a 47-6 Sean Covey/Ty Detmer-led win in Provo in 1988, but being competitive with the Big 12 for a third of a century doesn't matter in 2014.
Expansion would pinch the payout for 10 members of the Big 12 who cut larger checks per team than the 14-team SEC in 2013. But with college football's new four-team playoff set to kick off this season, the Big 12 might be at a disadvantage with the SEC, Big Ten, ACC and Pac-12 because it doesn't have a conference championship game. From a competitive standpoint, that could be held against the league when a committee picks the four teams for a playoff, and they could use a BYU.
"If it's a close decision between them and a conference champion from a conference with a championship game, I think the selection committee will give the edge to the non-Big 12 team," said former BYU offensive lineman and ESPN analyst Trevor Matich. "Ultimately, I think it's better for the Big 12 to expand and play that championship game in order to get into the top four."
Back in 2010 when the Big 12 invited TCU and West Virginia to join the league, the Big 12 and BYU were a hot topic. CBSsports.com college football analyst Dennis Dodd said BYU to the Big 12 never moved out of the discussion stage.
"I know there was no formal vote. There were concerns about proximity even before West Virginia was added," said Dodd. "The league had just lost Colorado, and BYU is a farther commute. BYU is kind of the same as Cincinnati and Connecticut and probably any other team you can name below the Mendoza Line. There is no school out there that brings the equity of the current Big 12 schools, and that is $20-$21 million per year. I'm told BYU can't bring that, no one can."
Dodd agrees that to get the Big 12 to expand again, it would take "external pressures" such as being left out of the playoffs several years in a row.
"Then the league may re-evaluate. Simple math tells you that one of the Power 5 is going to be left out of the playoff each year. The league believes it is stronger schedule-strength-wise with 10. It's motto this year, "one true champion."
BYU has the Big 12 payload if a launch code is needed. The Cougars sponsor more varsity sports than any Big 12 program with 21.
BYU's enrollment (34,123) would be third in the league in total enrollment behind Texas and Oklahoma State. BYU's average student GPA would be No. 1 in the league; its law school and business school are ranked second only to Texas. BYU's university endowment of $957 million would rank No. 5 in the Big 12. LaVell Edwards Stadium (63,725 capacity) would be the third-largest in the league behind Texas and Oklahoma.
Geography does work against BYU in Provo, but it is only 55 added flight minutes for Big 12 teams that had to fly into Denver when Colorado was a founding member in 1994. And charter flights land in Provo these days, eliminating the 45-minute bus ride from Salt Lake International Airport.
After two seasons in the Big 12, West Virginia is finding it burdensome for its teams to travel into Big 12 territory, according to many league observers. It would be a 30-hour drive from Morgantown to Provo.
Two veteran sportswriters in Oklahoma, one from Tulsa and the other in Oklahoma City, have heard all the expansion arguments and agree BYU's main hurdle is geography if the Big 12 expanded.
Jimmie Tramel has covered college sports for the Tulsa World for 25 years and wrote a book on Sooner legend Barry Switzer. Berry Tramel is a veteran columnist for The Oklahoman and a popular opinion provider on Big 12 issues.
Jimmie Tramel on geography: "Adding BYU would extend the Big 12's borders from West Virginia to Utah. That's a haul. Was geography one of the reasons the old 16-team WAC failed?
"I think it's interesting that people draw a distinction between east-west geography and north-south geography. Folks seem to complain when a conference stretches east and west, like the 16-team WAC experiment. But nobody ever viewed it as problematic that the old Big East stretched from the southern tip of Florida all the way north to Syracuse. Travel has been harder on West Virginia than other Big 12 schools because the Mountaineers are taking long flights for every road game. That's got to be grueling and it's a lot to ask of student-athletes. BYU, if asked to join, would need to decide if that's worth accepting the offer."
Berry Tramel also cites miles as a bigger challenge than any other BYU issue.
"In some ways, BYU fits in the Big 12. And in some ways not," he said.
"Competitively, BYU clearly would be fine. The Cougars would fit nicely with the Big 12's newfound parity in football — five schools have won the last five Big 12 titles — and BYU would be in the large bunch chasing Kansas in basketball.
"Financially, I think BYU would work. BYU probably is the only school outside the Power 5 conferences that would bring as much to the television pie as it would take. So that's a very important piece," said Berry.
"But geographically, BYU doesn't work as well as it would have in 2010. The addition of West Virginia stretches the Big 12 so far to the east, it's difficult to imagine the Big 12 stretching just as far to the west. From Oklahoma City, it's closer to Morgantown than it is to Provo.
"Culturally, I think BYU would be fine," Berry added. "The Sunday issue would have to be addressed, but if BYU worked in all the other areas, the no-play Sunday thing is no big deal. Nobody plays [college] football on Sundays. The Big 12 basketball tournament ends on Saturday now; the Big 12 women's tournament could easily be changed.
"Perhaps BYU's biggest detriment is the lack of a partner. The Big 12 doesn't want to go to 11 schools. So who's the 12th? The likely candidates are east. Which is more of a problem for BYU.
"So I'd say BYU should hold tight, keep its athletic program strong and see what develops. The landscape could, and probably will, change in the next few years. BYU is definitely on the radar."
Jimmie Tramel believes the Big 12 will only add other members if newcomers add value to the inventory for things like TV coverage.
"If you enlist a new member which does not bring added value, you're just splitting the same old pie among more mouths. And that's not going to go over well in the selfish money-trumps-everything world that college football has become.
"But there is no question in my mind that BYU is on the short list of schools (Louisville would be another) which would absolutely bring added value to the Big 12. BYU is a school with a national following, like Notre Dame, and name brand recognition. Why not BYU? This reminds me of when you hear about an attractive gal who spends weekends alone because boys are too intimidated to ask her out. A major conference needs to ask BYU to the prom."
From his perch in Tulsa, having covered BYU in Provo many times, Jimmie Tramel knows BYU is used to being the alpha dog of the WAC and MWC. Big 12 inclusion would take that away.
"The Big 12 already has an alpha dog in Texas (Big 12 defectors chose to go to other kennels) and another alpha dog in Oklahoma. Alpha dogs are used to getting their way. When push comes to shove, could BYU be comfortable or problematic in a role other than being the alpha dog of a conference? If BYU wielded the most clout in other neighborhoods, will the Cougars accept wielding lesser clout in a different neighborhood?"
A big part of BYU's venture into independence was added exposure and the freedom to use its TV rights to partner with ESPN for another four years.
BYU's ESPN partnership, which extends to 2018, has exclusive broadcast rights for games on ABC, ESPN, ESPN2 and ESPNU. In the past three seasons, BYU played 30 of its 39 football games and 34 men's basketball games on ABC/ESPN.
BYU ranks 15th with 24 games on the major national TV channels (ESPN, ESPN2, ABC, NBC, CBS, Fox) over the past three seasons. The 14 ahead of BYU in order are Notre Dame, LSU, Wisconsin, Ohio State, Alabama, Clemson, Florida State, South Carolina, Stanford, Michigan, Nebraska, Florida, Georgia and Texas.
In the Big 12, the Longhorn Network caused some issues with departing Missouri (SEC), Nebraska (Big Ten) and other members. But it is a Big 12 asset if not a gem for the Texas program that boasts the largest athletic budget in the NCAA.
But in BYUtv, with its different digital and Internet platforms and distribution on both major satellite companies and most cable outlets, BYU may have both a technological and numbers edge over Texas, and that could parlay into an attraction for the Big 12. An example is the WCC utilizing BYUtv to broadcast programming including postseason basketball tournament action.
BYUtv is available on Dish, DirecTV and more than 600 cable stations in North America. It currently reaches 56 million homes. It is also available in South America and other countries around the globe. BYUtv currently broadcasts approximately 90 live BYU athletic competitions each year (football, basketball, soccer, volleyball, baseball, softball and gymnastics).
BYU Radio reaches approximately 20 million subscribers on SiriusXM (24/7 Internet streaming) and broadcasts more than 100 live events each year (football, basketball, soccer, volleyball, baseball, softball).
If the Big 12 tapped into BYU's broadcasting abilities, within the umbrella of existing or renegotiated rights, it would definitely be an asset no other expansion candidate, including Louisville, UConn, Cincinnati or Central Florida, could bring to the party.
BYU's athletic programs have an average ranking of 28 in the National Association of Collegiate Directors of Athletics' comprehensive account of athletic program success with 30 top finishes, 11 in 19 seasons.
ESPN's Brett McMurphy, who is an Oklahoma State graduate, brings things full circle with a reminder: no matter what BYU brings to the table, the Big 12 isn't hungry right now.
"I want to be clear that I've been told multiple times by multiple sources the Big 12 isn't interested in BYU or adding any other non-Power 5 schools for that matter," he said.
"Adding any non-Power 5 league school to the Big 12 would reduce the league's revenue per school. John Currie of Kansas State and Oliver Luck of West Virginia told me last month there has been 'zero conversation' about expansion."
Concluded the ESPN college football expert, "If the Big 12 was forced to add schools, BYU would be attractive because of the quality of the football program. BYU would be very competitive in the league. Unfortunately unless the Big Ten expands to 16 and subsequently forces the other Power 5 leagues to expand (SEC, ACC, Big 12, Pac-12), I don't believe BYU will get that opportunity."
In the meantime, BYU is acting like a Power 5 program. This week Arizona athletic director Greg Bryne said the Wildcats signed a three-game deal with BYU and considered it a contract with a Power 5 team. BYU's brand and tradition is Power 5, but it rolls without a Power 5 tribe. It is ready to meet any standard of NCAA autonomy that Power 5 conferences expect to vote on in August. It is also a free agent, unhindered by any huge monetary defection penalties imposed by a conference.
In other words, the school is an independent in launch mode and must be undefeated to get any sniff of a playoff berth or national title in football.
And that's how it's been in Provo forever.
Brandon Gurney contributed research to this analysis.
Dick Harmon, Deseret News sports columnist, can be found on Twitter as Harmonwrites and can be contacted at [email protected].