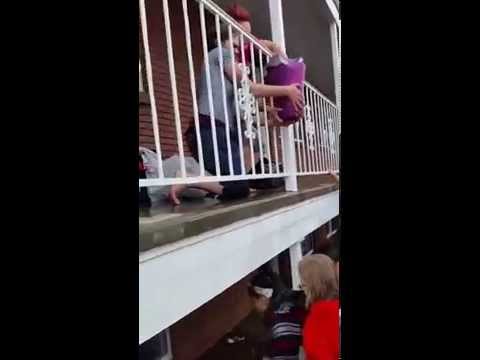 View 10 Items


REXBURG, Idaho — A severe rainstorm caused flooding in Madison County Tuesday, leaving parts of Rexburg under several inches of water.
The Brigham Young University-Idaho campus was closed at 6 p.m., except for the BYU-Idaho Center, which was used as an emergency shelter for students and community members whose homes were flooded.
According to Marc Stevens, the media relations and campus communication manager for the university, BYU-Idaho officials were prepared for the situation.
Stevens said the housing office on campus and the local leaders for The Church of Jesus Christ of Latter-day Saints contributed to the smooth resolution of apartment flooding.
"The housing office got in touch with housing managers, and they began to work with those complexes to make other arrangements for students," Stevens said. "And bishops went door-to-door checking on every member of their wards. The natural structure of the church really sets us up well to deal with things like this."
According to Stevens, two-thirds of the buildings on campus were affected, but three took the majority of the hit: the Hyrum Manwaring Center, the Oscar A. Kirkham Building and the Joseph Fielding Smith Building.
Those buildings will house dehumidifier machines for the next few days to extricate water.
After contracting crews and emergency staff members worked through the night to remove standing water, campus was able to open Wednesday morning, apart from the Smith Building.
The testing center, which is located in the Manwaring Center, is also open, just in time for finals week.
Stevens said there are no structural failures, but there are possible electrical issues and carpet damage.
There were also several apartment complexes affected by the storm, and Stevens said students whose apartments are uninhabitable would be taken care of.
When BYU-Idaho students saw the storm taking effect, they responded by serving, Stevens said.
"The students serving is by far the key take-away of this experience," he said. "Buildings can be repaired and dried out, but the important thing is people and how they've been affected. Our students got that. We're seeing videos of students literally rolling up their sleeves, jumping in and getting each other out. We couldn't be prouder."
Zachary Lee, a senior at BYU-Idaho, participated in some of the service.
Lee was doing homework when he saw the storm rolling in and didn't think much of it until he walked outside and saw flooding 10 feet outside his apartment.
After the storm ended, he decided to walk around and see where he could help.
At first, he helped people navigate the flooded streets, and then he stopped at an apartment complex where more than 100 students were bailing out water.
"We helped for about an hour and a half, and I was really inspired," Lee said. "Everyone started singing (LDS) Church hymns and we were happy to do it."
Lee said he's continued to ask people what he can do to help.
"It's amazing how many people want to help. There have been too many volunteers some places, which is a great problem to have," Lee said. "Disasters never happen at convenient times, but people lived 'the spirit of Ricks' to a tee yesterday, making sure to serve their fellow brothers and sisters."
Lee Warnick, a BYU-Idaho communication professor and weather enthusiast, said it was the biggest storm Rexburg has seen in 31 years.
Warnick's surprise mirrored that of community members, especially because the weather was clear just an hour before the storm began, and the forecast predicted only a 20 percent chance of rain.
"It hailed four different times," Warnick said. "I would say about one-third of the houses in my neighborhood got water in their basements."
The National Weather Service reported 1.15 inches of rain within approximately 45 minutes.
Some areas even got two inches, according to the Doppler radar.
"There are easily hundreds of thousands of dollars of damage because of all the remodeling people have to do," Warnick said.
Although many residential areas were water-logged, Warnick said the selflessness he saw in the surrounding neighborhoods made him proud to be a part of the service-oriented community.
"A young man who lives four doors up from us came and knocked on our door and asked if we were OK. Come to find out, his home and his grandparents home were flooded, but he was immediately looking out for others," Warnick said. "Also, one of my other neighbors who is a farmer lost two-thirds of his crops, but he still went around seeing what he could do for other people."
Despite the property damage, Zachary Lee said Rexburg is in good shape.
"Even though there's still clean up to do, I can tell the city is going to get back up on its feet really quick," Lee said.
Megan Marsden Christensen writes for the Faith and Family sections. She recently graduated from BYU-Idaho with a bachelor's degree in communication.