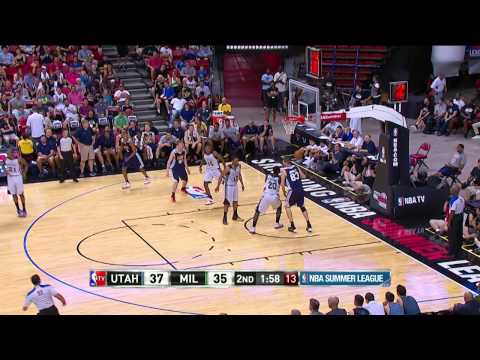 View 12 Items

He's always around the rim. He can protect the rim. He was able to do that last year, but he's gotten much better on the offensive end. He knows how to relocate off the pick-and-roll. That's something we're going to need from him. He's going to help us out a lot this year.

—Trey Burke
LAS VEGAS — Sporting khaki shorts and a light polo shirt, Rudy Gobert sat on the Utah Jazz bench next to assistant coach Alex Jensen during Tuesday's NBA Summer League game against Denver.
Gobert, a bright spot for the Jazz this week, tweaked his left shoulder Monday night against Milwaukee and had to sit this one out.
It isn't certain if Gobert will play Thursday for Utah (2-1), which earned the fifth seed and a first-round bye for the upcoming Vegas tournament. The Jazz, who earned an 87-69 win over the Nuggets on Tuesday, will take on Wednesday's winner of the Bucks-Spurs game after a needed day of rest.
"Hopefully, he'll have a chance to play," Jazz coach Quin Snyder said of Gobert. "He changes the game a little bit back there."
It was clear, especially early on Tuesday, that the Jazz missed the second-year center and his 7-foot-9 wing span in the paint. A lot even.
Utah fell behind by as many as seven points in the first quarter, when the Nuggets scored 16 of their 24 points in the paint with 6-foot-9 Malcolm Thomas (14 points, 10 rebounds) and 6-10 Erik Murphy (17 points, nine rebounds) trying to fill Gobert's void down low.
"He protects the rim, obviously. You could begin to rely on him too much. I thought that showed up today," Snyder pointed out. "I didn't think we were as aggressive in our pick-and-roll defense, but we did get back. We didn't give them any easy baskets.
"When Rudy's back there, whether it's consciously or not, people kind of think you can make a mistake and he'll clean it up. We've just got to be solid."
Absence hasn't been the only thing that's made the Jazz hearts grow fonder. Gobert's game-altering presence was much appreciated in the first two Summer League games when he averaged 12 points on 91 percent shooting, nine rebounds and 3.5 blocks.
Gobert said he gained 10 pounds between the end of his rookie season and the summer mini-camp, and it's apparent that extra muscle isn't the only thing he's carrying around this year compared to last.
"I think he's gotten stronger. He's a little more confident," said Jazz point guard Trey Burke, who's taken it upon himself to help Gobert improve on the court this season.
"He's always around the rim. He can protect the rim. He was able to do that last year, but he's gotten much better on the offensive end. He knows how to relocate off the pick-and-roll. That's something we're going to need from him. He's going to help us out a lot this year."
Snyder wasn't around last year when Gobert was sporadically used, and seemingly for good reason. The 7-foot-1 big man at times seemed lost and struggled to handle the ball offensively. Jazz coach Tyrone Corbin spoke highly of Gobert's potential, but believed he needed a lot of behind-the-scenes work before getting an opportunity to get a lot of actual playing time. As a result, Gobert, a late first-round pick whom the Jazz traded for on draft night 2013, only appeared in 45 games, averaging 2.3 points, 3.4 rebounds and 0.9 blocks.
"I was under pressure," the 22-year-old said. "But I was a rookie so that was a big part of it."
Gobert, who showed his feistiness with a technical after slamming the ball on the court Saturday night, could see a significant bump in minutes from his rookie campaign to his sophomore season.
"If he plays like that and defends like that, he's got the opportunity to help our team," Snyder said after Monday's win over the Bucks. "We've got a number of guys that we want to rely on. We want to have a bench. We want to have a good bench. I want to trust the bench, and I think Rudy can be a part of that."
Gobert's offseason was hampered for a little while in June because of an appendectomy, but he bounced back quickly and returned to 100 percent before Monday's injury sidelined him again.
The French player has enjoyed the fresh start with Snyder.
"I really like the coach's philosophy, the way he wants us to play defense and the way he wants us to play the ball," Gobert said. "He's already helped me and gives me confidence. It's great for me."
Snyder likes the way Gobert is working on defensive positioning, something that's essential even for an enormous player who's sometimes referred to as The Stifle Tower.
"He's putting himself in position to make more plays defensively," Snyder said. "I think when the ball's been in front of him, he's long and tall and he'll block some shots. I think he's doing a better job protecting his teammates.
"Hopefully he's got confidence that when he leaves to come over and block the shot, his teammates are going to crack down on his man and help rebound."
Gobert, whose Twitter bio claims he's from "Swat Lake City" and Paris, takes pride in sending shots into the stands. Jazz supporters in Sin City have soaked up his efforts this week, vocally supporting him as a clear fan favorite.
"I just think that it's my role to protect the basket," Gobert said. "I like to block shots, so when I see a player coming I just go and I know I have help from my teammates. I just block shots."
Gobert really made fans go bonkers earlier this tournament when he grabbed an offensive rebound, made an athletic spinning move and scored an easy bucket.
"On the offensive end, you have to guard him because he can finish," Burke said. "He's getting much better."
TWITTER: DJJazzyJody