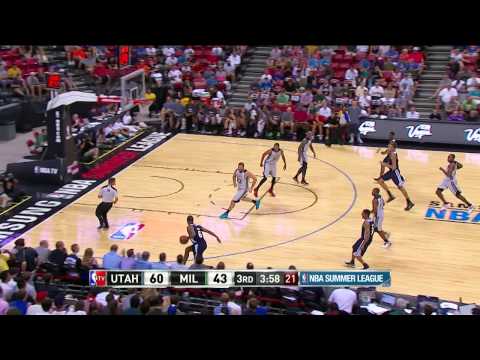 View 10 Items




Today I just felt way more relaxed. I got open shots from Trey (Burke), Dante (Exum), and especially with Rudy (Gobert) playing how he is playing. The floor opened up.

—Rodney Hood
LAS VEGAS — That Duke rookie is something else.
Jabari Parker? No, not that Duke rookie.
Try Rodney Hood, the Utah Jazz's first-year Blue Devil.
Two days after a frustrating 1-for-10 shooting night from 3-point range in his NBA Summer League debut, the Jazz small forward put on a shooting clinic at the Thomas & Mack Center.
Hood, the ACC's leading 3-point shooter last season, drained 7 of 9 3-pointers with his silky smooth southpaw stroke and finished with a game-high 29 points in the Jazz's 87-71 blowout win over the Milwaukee Bucks.
The much more highly touted Parker showed some flashes of exciting offensive potential, but the second pick missed eight of 14 shots and scored 14 points.
On this night, Parker, a player the Jazz were hoping to bring into the fold leading up to the draft, was outplayed by his old Duke teammate.
Hood also had five assists and three rebounds to go with his offensive explosion, which included an 11-for-16 overall shooting performance.
"The first game I was kind of antsy. All of the shots felt good, but I wasn't holding my follow-through. I was just shooting," Hood said. "Today I just felt way more relaxed. I got open shots from Trey (Burke), Dante (Exum), and especially with Rudy (Gobert) playing how he is playing. The floor opened up."
Asked about Hood's shooting, Jazz coach Quin Snyder first complimented his forward's defensive efforts.
"We want to play both ends of the floor. I think when guys throw themselves into the defense collectively the shots come," Snyder said. "I'm happy with Rodney for his shot going down. I was just as happy with him the other night because he took the same shots. The next time he takes them hopefully they all go, but he's going to have up and down nights shooting."
The Jazz were thrilled on June 26 when Hood plummeted from where he was projected to go in the draft. Utah had the 6-foot-9 forward slotted at No. 15 on its war room draft board, and it was a no-brainer to snatch him up when their turn came to pick at No. 23 (via the Golden State trade).
That gave the Jazz two first-round picks who were selected lower than Utah thought they should be. Exum, the mysterious Australian point guard, was taken at No. 5 even though the Jazz had him as their third-best option after Parker and Andrew Wiggins.
Hood said he didn't take any extra pride in having such a big night against an old teammate whom he continues to talk to on a near-daily basis.
"Nah, me and Jabari, we're cracking jokes at each other on the court and stuff like that," Hood said. "At the same time, we're both trying to compete and trying to help our team win."
Considering how he played second fiddle to Parker at Duke last season, it had to feel good, though.
Parker had somewhat mixed emotions about watching a player he called "my big brother" go off.
"It was real fun, real fun, just seeing my teammate doing real well," he said. Parker then added, "I got a little bit heated because he was shooting so many 3s, but at the same time that's my friend. I'm just really glad that he came out on fire."
So were Jazz fans, who gave him several big ovations, including after his particularly hot third quarter when he scored 12 points on four 3s.
"I thought he did a good job playing defense, staying in front of his man," Snyder said. "We want him to shoot when he's open. I thought the best thing about him is he didn't hunt his shot."
Gobert finished with 13 points, nine rebounds and five blocked shots, while Australian big Brock Motum had 16 points off the bench.
"I was really, really pleased with Trey, the way the ball moved. He set an example," Snyder said. "When the ball moves, it finds people. Tonight it found Rodney."
TWITTER: DJJazzyJody