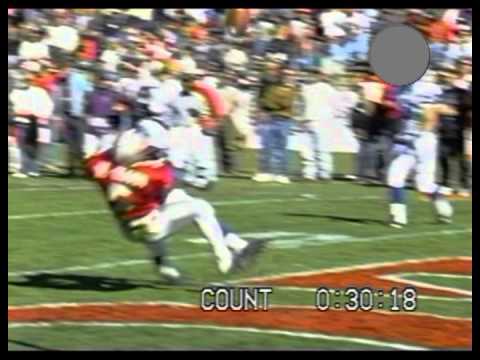 View 5 Items

I've always said that Tim McTyer and Omarr Morgan were the best DBs in the history of BYU football, no question. Tim, with his ability to do so many things, is probably the best we've ever had. … I told Tim that he was the best. If not for Tim and Omarr as a package, there's no way we would have gone 14-1.

—Chad Lewis
Editor's note:This is the fourth of an occasional series spotlighting former athletes with ties to the state of Utah.
Among other things, Chad Lewis remembers former BYU cornerback Tim McTyer wearing No. 21, and making big plays — just like NFL Hall of Famer Deion Sanders, who was known as "Prime Time."
"Tim had a great career at BYU, and he wore No. 21. He looked like Prime Time," said Lewis, an All-America tight end for the Cougars in the mid-1990s. "He played like Prime Time at BYU. When I think of his big hits and his interceptions, he was such a nice football player for us."
In 1996, McTyer and Lewis helped the Cougars finish with a 14-1 record, win the Cotton Bowl, and secure a No. 5 final ranking in the polls.
McTyer's heady play late in the Cotton Bowl against Kansas State helped preserve the school's only New Year's Day bowl game victory.
Lewis, and others, call McTyer the best cornerback in BYU history.
After his BYU career, McTyer, a Los Angeles native, had a four-year NFL career with the Indianapolis Colts, Philadelphia Eagles and Cleveland Browns.
Since his retirement from the NFL, McTyer has been keeping busy in a variety of pursuits.
He was the head coach at Banning High in the Los Angeles area for three seasons. He earned a degree from American Intercontinental University in media production, and completed graduate school at the University of Central Missouri in athletic sports and business administration. He also enjoys being a father, having played a big role in developing his son, Torry, a defensive back who now plays at UNLV.
Meanwhile, he launched a career in the entertainment industry — making him another type of Prime Time performer.
In 1999, McTyer started a record label, then put out a rap album (by the way, Sanders produced a rap album in 1994 titled "Prime Time") in 2006. Now, he's a stand-up comedian. McTyer has done some stand-up comedy in Los Angeles and he recently finished a play in Hollywood's Fringe Festival called "I Laugh At My Own Jokes." Currently, he has a pilot for a comedy show with Scorpio Studios that will be available on iTunes and Google Play.
McTyer would like to tour the country and perform comedy shows for NFL and college teams, a routine based on his experiences in football.
"My goal as an entertainer is, I would love to have a stand-up comedy show on TV," McTyer said. "I would love to have a song on the radio. And I would love to be in some kind of show on TV or in the movies, all at the same time."
While growing up, McTyer liked to joke around and was known as a class clown. McTyer took a comedy class in 2013, and he learned how to incorporate his own experiences into his humor. One day, he and a friend were at the Comedy Store in L.A. while comedian Guy Torry was performing.
"He dissed me not knowing who I was. There was another football player in the audience and they were cordial," McTyer said. "I spoke up. He said, 'Who are you?' After I told him my name, he remembered me playing in Philadelphia. Afterward we talked and I told him what I wanted to do. The next week, he gave me five minutes on his show. That's where I started doing comedy."
When BYU played at the Cotton Bowl in 1996, the entertainer Sinbad performed as part of the bowl festivities, and McTyer remembers Sinbad doing some BYU jokes.
As part of his stand-up routine, McTyer explains that he grew up in Watts. "It's not quite a jungle, but close enough," he says, adding with deadpan delivery, "Then I went to BYU." Just by saying those words, he gets a big laugh, McTyer said, because of the stark contrast between L.A. and Provo.
Then he talks about his BYU experience. Some of his material is "a little bit R-rated," he said.
But McTyer doesn't want to be defined by his hobbies and interests.
"I'm an ex-football player," McTyer said. "Even when I was a football player, I didn't consider myself a football player. It was just something I was good at. I knew how to do it. Now, I can do it. I'm not a rapper, but I can rap. I don't even listen to rap. I'm not Jay-Z or Lil Wayne. I'm not Kevin Hart. I'm an ex-football player with some talent."
McTyer enjoyed his two seasons in Provo after transferring from Los Angeles Southwest junior college.
"BYU was amazing. There was no adjustment for me," he recalled. "There was more of an adjustment coming back to California — and I'm from here — than it was moving to Utah. It was a breath of fresh air for me. I got away from the violence, gunshots and color wars, all of that. I liked it in Provo. There were a lot of guys that helped me feel at home when I got there. (Former Cougar) James Dye and I got there at about the same time. I was able to stay with him and his wife. I know Trey Dye (James' son, who is joining BYU's team this season). He was a baby then. Chad Lewis and (former BYU quarterback and current USC coach) Steve Sarkisian helped me out as well. Everyone was family."
Lewis said McTyer "had the perfect attitude for BYU. He was easy to get along with. I don't remember him once having a negative attitude. He was totally fun-loving. But when he got to practice he knew how to work. He always worked with a smile. Off the field, I could talk to Tim about anything. I talked to him once about the movie, 'Mississippi Burning.' I told him how difficult it would be if I were born black, knowing that my family or myself was treated as poorly as people in our history, specifically in that movie.
"I asked him he felt about that. He said, 'It's tough sometimes when you're treated like that, but I just don't dwell on that.' I thought that was so awesome. I could tell how he treated us that he didn't dwell on that stuff or harbor any anger. I thought it was mature, and positive that he acted that way. I remember thinking that he was a great example to me. I always loved talking with him and doing stuff with him."
McTyer is planning to attend the BYU-UNLV game in Provo on Nov. 15 to watch his son, Torry, who will be a sophomore this season, face his alma mater.
"It's going to be interesting," McTyer said. "I told my son that I'm probably going to cry that day. That's going to be a great game to see. I haven't been back to BYU in ages. To go back in this situation, I don't know if it can get any better than that."
McTyer said his son "has a great attitude, he's a good kid, and he can play. He's a scrappy little guy," McTyer said. "He's faster and bigger than I was. ... I think he'll be a great player and will probably play longer than I did."
During his time at BYU, McTyer was known for delivering bone-crushing hits.
"He not only had the ability to cover and compete and contest balls, but he had the ability to lay the wood on any receiver, tight end, or running back, anyone who ran in his direction," Lewis said. "He had some of the biggest hits in BYU football history."
One play that stands out in Lewis' mind occurred in the Cotton Bowl. Kansas State's quarterback fired a pass in the back of the end zone to star wide receiver Kevin Lockett late in the game.
"Lockett reached up to catch the ball and was stretching his toes — all he needed was one foot in — he was 3 inches away from the grass when Tim pushed him out of bounds to save the game with less than a minute left," Lewis said. "It was such an incredible play by Tim. Instead of selling out to try to block a pass, he had such field presence to know that all he needed to do was push Kevin out of bounds. If Kevin comes down 3 inches and touches the grass, the game's over and we lose."
Moments later, BYU's other standout corner, Omarr Morgan, another Los Angeles native, intercepted a pass to clinch the Cotton Bowl win.
"I've always said that Tim McTyer and Omarr Morgan were the best DBs in the history of BYU football, no question," Lewis said. "Tim, with his ability to do so many things, is probably the best we've ever had. … I told Tim that he was the best. If not for Tim and Omarr as a package, there's no way we would have gone 14-1."
Now, after being a Prime Time performer for two years at BYU, McTyer is hoping his star shines brightly in Hollywood.