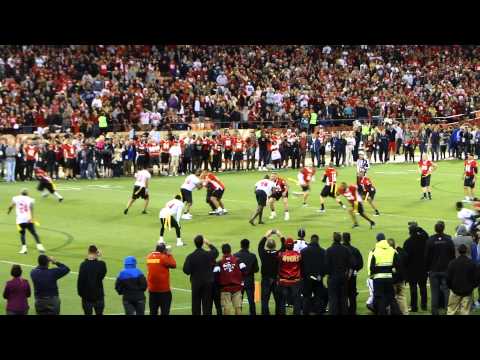 View 36 Items


The San Francisco 49ers gave their fans some old-fashioned, late-game magic on Saturday.
During the 'Legends of Candlestick' flag football game, which pitted former 49ers standouts against past NFL stars in a sendoff to the team's legendary home, three San Francisco quarterbacks of old combined for a unique play.
With the 49ers team trailing 40-39 and 58 seconds left on the clock, according to a video of the play, former BYU and San Francisco quarterback Steve Young came in motion from the right as fellow Hall of Famer Joe Montana took the snap.
Montana pitched the ball to Young, who danced around in the pocket for a few seconds looking for an open receiver. After not finding an available option, Young lateraled the ball back to Montana, who found another former 49ers quarterback, Jeff Garcia, open for a short gain.
First time all together, last time in The Stick, #LegendsOfCandlestick #SteveYoung @JoeMontana in the tunnel #JGF pic.twitter.com/jj3CjEK96o

— Jeff Garcia Football (@JeffGarciaJGFA) July 13, 2014
Later in the final drive, Montana hit former 49ers owner Eddie DeBartolo — who snuck onto the field of play — for the game-winning touchdown, as the San Francisco all-stars won, 45-40.
According to the San Francisco Chronicle, Montana finished with three touchdown passes, Garcia with two and Young rushed for a touchdown. Dolphins Hall of Fame quarterback Dan Marino captained the NFL all-stars and had a solid game.
Young threw two pick-sixes to former Vikings safety Robert Griffith, the Chronicle reported, and it prompted fans to chant, "We want Joe!"
Candlestick Park, which opened in 1960, will be demolished in 2015, according to the Chronicle. San Francisco will play its first season at new home Levi's Stadium, in Santa Clara, California, in 2014.
The Chronicle said roughly 25,000 fans were in attendance at the 70,000-capacity stadium, while the San Jose Mercury News reported a crowd near 30,000 showed up. But on this night, at least, the 49ers fans there were given the chance to revel in their team's glory days.
"A great old stadium,'' Montana told the Mercury News. "There are a lot of great memories here."
Email: [email protected]; Twitter: @brandonljudd