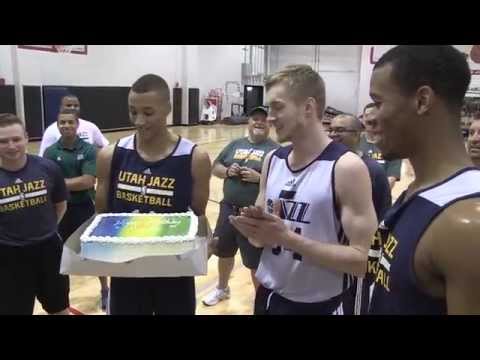 He did a lot of really nice things with the ball in his hands, in particular. To me it's important he really tried defensively.

—Brad Jones, Jazz assistant coach
LAS VEGAS — At the end of Sunday's practice, Dante Exum got introduced to one of the Utah Jazz's time-honored traditions.
As so many other rookies have done in past years, he had to sing "Happy Birthday" to a Jazz player.
It just so happened that he was the rookie having the birthday.
While holding a cake with frosting in Jazz colors, the 19-year-old joined fellow rookies Rodney Hood and Niels Giffey in a trio performance that teammates and staff thoroughly enjoyed.
"I had Rodney and Niels, and I had to sing it to myself as well," Exum said, smiling. "It's a rookie tradition, so there. I sung with them."
Judging the off-key chorus — the Utah Jazz put a video up on their website — Donny and Marie Osmond need not worry about having their Vegas show get replaced by these Jazz musicians anytime soon.
Exum planned on having dinner Sunday night with his twin sister, Tierra, but then it's back to business for the fifth pick. He scored 10 points on 4-of-10 shooting with three assists in his NBA Summer League debut this weekend at Thomas & Mack Center.
"Looking at (Saturday) night," he said, "I came to the game a bit nervous."
Jazz assistant Brad Jones, Utah's summer league bench boss, noticed the 6-foot-6 guard got tired after playing well early on. The fatigue, which especially affected his pick-and-roll defense, might be understandable for a player who hasn't competed in organized basketball for almost a year.
But the Jazz are optimistic after Exum's first taste of professional hoops, which included an alley-oop dunk, a late-game 3-pointer, a steal that led to a dunk and a few sweet passes in 27 minutes.
"(He was a) 19-year-old kid in his first game," Jones said. "He did a lot of really nice things with the ball in his hands, in particular. To me it's important he really tried defensively. … I'm very excited the way he played in his first performance."
Jones liked that Exum experienced how physical NBA basketball can be, and he noted that Sixers wing Elijah Millsap, the younger brother of former Jazz forward Paul Millsap, "just beat him up." And the coach loved it. That tough treatment can be good for a young player to figure out how to fight through adversity.
"What a learning opportunity," Jones said. "Dante now knows what to expect (Monday) night."
The Jazz's other 2014 first-round draft pick said he also had a valuable learning opportunity in Saturday's 74-70 loss.
Hood, drafted 23rd overall, missed nine of 10 3-pointers en route to a 3-for-13 shooting performance in his first game in a Jazz uniform. The former Duke small forward, who started with Exum, Trey Burke, Malcolm Thomas and Rudy Gobert, spent time shooting (and hitting) corner 3s after Sunday's practice.
"I'm just getting back to the drawing board, fixing my shot. I was too antsy yesterday," Hood said. "I wasn't patient. I was trying to hit a home run every shot. I'll hit those shots next game."
Moments after giving Exum a birthday serenade, the 21-year-old Hood, who'll get his tune on Oct. 20, complimented his younger teammate.
"I think he did great. I was talking to him before the game. He was probably a little nervous," Hood said. "But once he got out there, he got that first dunk. Every move was an 'ooh' and 'aah' from the crowd. He's very quick with the ball. He sees different things now that will help him in the next game."
While a lot has been made about Exum's shot needing help, the Australian playmaker said he feels it's fine. He was happy to hit the fourth 3-pointer late in the game after missing his first three beyond the arc.
"My shot's there. I just think the main thing for me I just have to stay confident," Exum said. "It's been a big issue for me. I shot that fourth shot (with) confidence, and I think that's what I need."
One thing he doesn't need?
More nickname suggestions.
When that topic came up in Sunday's interview, Exum listed a few names people have suggested for him, including D, DX and X-Man.
The birthday boy's preferred nickname?
He smiled and said, "Dante."
TWITTER: DJJazzyJody