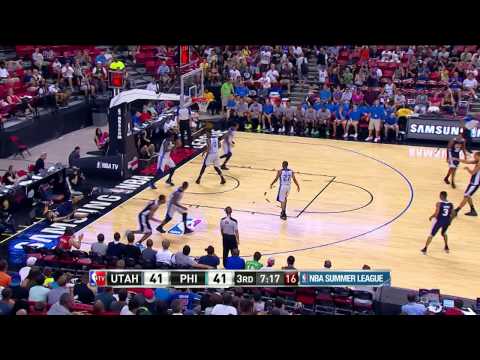 View 10 Items




LAS VEGAS — It was easy to tell which NBA city is closer to the Thomas & Mack Center when the Utah Jazz and Philadelphia 76ers played their NBA Summer League game Saturday night.
Hundreds of Jazz fans — loud Jazz fans — cheered, booed, bellowed out "RUUU!" when center Rudy Gobert made his presence known and, yes, even participated in an "Aussie! Aussie! Aussie! … Oi! Oi! Oi!" cheer.
The latter, not surprisingly, involved Australian rookie Dante Exum, the International Man of Mystery so many are curious to see play, while the new Jazzman was on the free-throw line.
Exum gave fans even more to cheer about a few minutes later when he hit a game-tying 3-pointer in the final two minutes.
Utah ended up falling 74-70 to the Sixers in their summer debut, but there was a mixture of things the team could be encouraged and discouraged about.
"We turned the ball over (19 times). They were really aggressive," said Jazz coach Quin Snyder, who observed the game while sitting next to Hall of Fame coach Jerry Sloan on the front row across the court from Utah's bench.
Snyder, who handed coaching duties to lead assistant Brad Jones, added, "It was good to see us defend as well. It's nice to see."
Philadelphia, led by 20 points apiece from Sean Kilpatrick and Jordan McRae, was limited to 34.3 percent shooting but still overcame Utah's eight-point lead in the second half to win.
The Jazz, topped by forward Malcolm Thomas' 13 points and eight rebounds, shot just 36.1 percent. Utah had an extremely rough night from outside: 3-for-30 from 3-point range.
The game's highlight for the Jazz came early on when All-Rookie point guard Trey Burke lobbed up a pass from well beyond the arc to a soaring Exum for an impressive Aussie-oop dunk.
Exum, who turns 19 years old Sunday, finished with 10 points on 4-of-10 shooting. The fifth pick also had three rebounds and three assists.
Burke, who struggled with 1-of-19 shooting from 3-point land last summer in Orlando, had 11 points (4 for 12), four rebounds and four assists.
Gobert gave fans a good show, ending with 11 points, nine rebounds and two blocked shots. The 7-foot-1 second-year player also got a technical foul after showing some emotion by slamming the ball on the floor.
Former BYU big man Brandon Davies, who's hoping to make Philly's roster again, started but finished with just four points, two rebounds and seven personal fouls (no fouling out in Summer League).
The Jazz play again Monday (8:30 p.m. MDT) when they get their first look at Milwaukee rookie Jabari Parker.
Some other highlights:
— Exum had a nice drive and dish early on to Gobert and then lost a defender with a cross-over dribble that resulted in free throws for the Jazz center.
— Rookie Rodney Hood (nine points) showed his potential as a serious corner 3 threat. The Duke product, who led the ACC in 3-point shooting last season, hit one trey in the first half and has a smooth stroke.
— Guard Ian Clark, the MVP of the Las Vegas championship game last summer, finished off a nice give-and-go fast break with Exum with a layup. Clark also made a nice play by stealing an inbounds pass and hitting a floater.
— Utah showed some mettle by rallying back to take the lead for a while after falling behind by 12 points in the first half.
— Gobert had a terrific sequence when he swatted a shot on one end and then grabbed a rebound, made a deft spin move and scored on a layup on the other side.
TWITTER: DJJazzyJody