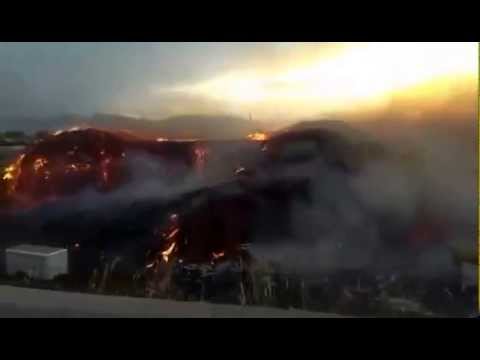 View 23 Items
Megan Renstrom

There's so much heat that's generated in that compost pile ... and then with the wind and everything else and the temperatures ... it just creates a lot of heat in there.

—South Salt Lake Deputy Fire Chief Kevin Bowman
SOUTH SALT LAKE — Spontaneous combustion caused a mulch fire that burned through Thursday night, then reignited Friday morning and sent one firefighter to the hospital, investigators said.
The Diamond Tree Experts Green Waste Disposal Facility was where the 50- to 60-foot-high mulch pile first caught on fire at 3600 S. 500 West. It's the same place where a compost pile went up in flames on July 3.
About 65 firefighters and crew members employed bulldozers and backhoes to pull the pile apart and squelch the heat source. Crews battled the blaze throughout the night.
Heavy winds blew burning mulch around, igniting the roofs of two nearby businesses after the fire began Thursday evening and burned for nearly 12 additional hours, causing hundreds of thousands of dollars in damage.
American West Analytical Laboratories was one of the businesses that caught fire. According to Kyle Gross, the facility's lab director, damages could total anywhere from $500,000 to $1 million. He hopes that the mulch pile is completely moved by the end of the week.
As of late Friday afternoon, 50 percent of the mulch pile had been relocated. But South Salt Lake Fire Marshal Boyd Johnson said a portion of the pile will remain.
"There are plans for them to expand their business, not necessarily in our town … but we are still going to have an element of their company here," Johnson said.
The city's community development director, Mike Florence, said South Salt Lake issued the Diamond Tree Experts a business license in 2006, which took into account the mulch pile but did not include height regulations.
"On June 30, I went over and spoke with them about the pile height and let them know that it was too high and that it needed to be reduced," said John Hoggan, environmental health scientist at the Salt Lake Valley Health Department.
Although South Salt Lake Mayor Cherie Wood recognizes that surrounding businesses have been unhappy with the closeness and height of the pile, she said the city couldn't have done anything about the issue in the past.
"We've heard the complaints of the surrounding businesses, and each time we've responded by sending out the appropriate agency to do the investigation. Each time they've come back and said that the business was in compliance," Wood said.
The two fires are not going unnoticed by city officials, who say that they are reviewing a fire code ordinance that will supersede previous existing codes.
"It's actually a whole new game because now we have the fire code. … Up until that it has only been complaints of dust and so there are new tools that the city does have that we can use," Wood said.
Owners of Broken Arrow Communications and Camp Bow Wow & Home Buddies, two of the surrounding businesses, both said they plan to take legal action if serious changes are not made in the area.
Sharon Opfermann, owner of Camp Bow Wow, had 53 dogs housed at her business on the night of the fire.
"All of my employees came in as soon as they heard about it. We had an evacuation plan in place. We've always made those arrangements ahead of time, and we were ready to go out the door with those dogs if we needed to," Opfermann said.
"We are waiting to see what the city says. … If their intention is for the business to stay here and keep operating, then we will find legal counsel and move forward," she said.
Craig Rhodes, who has owned American West Analytical Laboratories for the past 28 years, also hopes to see the wood pile moved. He said his insurance will cover the cost of damage to the roof of his business.
"In my mind, that big pile of wood that's maybe 40 to 50 miles high of wood chips, on a hot, wet August day is a can of gasoline. Someone should've said this is not safe in this type of environment," he said.
"I'm hoping now they finally make a resolution and remove the piles next to us. It's just not acceptable," Gross added.
Workers contracted from the Rocky Mountain Power company were installing a new pole Friday morning and noticed the fire had reignited Gross' laboratory building around 7 a.m. Crews quickly put that fire out.
Thick smoke from the fire caused officials to shut down nearby I-15 for more than an hour Thursday. A firefighter was also hospitalized Thursday after inhaling smoke from the fire. He was released Friday morning, Deputy Fire Chief Kevin Bowman said.
"There's so much heat that's generated in that compost pile … and then with the wind and everything else and the temperatures … it just creates a lot of heat in there," Bowman said, explaining how spontaneous combustion led to the fires ignition.
Florence said South Salt Lake officials and the fire marshal will continue to work together to review the situation to move forward with the necessary actions.
"We are taking it one step at a time. We are working through the fire marshal first and reviewing an ordinance so that the piles are significantly reduced in size," Florence said.
Contributing: Haley Smith
Email: mcollette@deseretnews.com; wevans@deseretnews.com, Twitter: @MirandaCollette