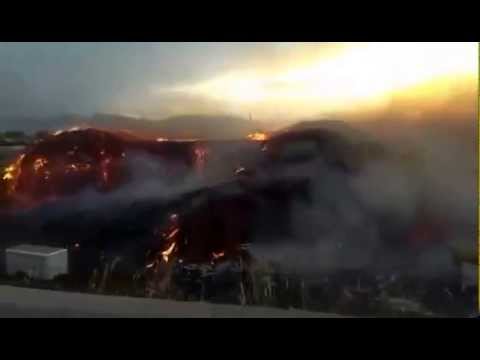 View 13 Items
Megan Renstrom

SOUTH SALT LAKE — A fire at a compost pile near I-15 Thursday closed nearby freeways and roads and kept firefighters working through the night to protect nearby businesses.
The fire kicked up at the same Diamond Tree Experts compost pile that ignited July 3.
Roads near the fire, 3645 S. 500 West, were closed about 7:30 p.m as smoke hampered visibility and crews responded to the scene. The closures impacted I-15, I-80 and state Route 201.
Lanes re-opened shortly before 9 p.m. and light rain shortly after 10 p.m. helped knock down smoke. But drivers were warned about limited visibility into the night.
Nearby 500 West remained closed and firefighters from several agencies were expected to fight the blaze through the night. The compost pile is more than 50 feet deep and an acre in size, causing concern about possible hotspots hidden below the surface.
Nearby businesses like Camp Bow Wow, which housed more than 50 dogs at the time of the fire, were warned they might be asked to evacuate. Meanwhile, crews searched nearby roofs for spot fires.
Surrounding businesses have complained to South Salt Lake City about Diamond Tree Experts and its compost pile.
8
comments on this story
"I just don't understand why South Salt Lake, first of all, would allow those people to have a business permit that does that type of business in this area where there are literally thousands upon thousands of warehouses and retail," said Bill Archer, who owns a nearby warehouse.
South Salt Lake Deputy Fire Chief Kevin Bowman said the problem is being considered.
"We need to get it down, it's definitely creating a problem," Bowman said. "Our fire marshal is working with them, as a matter of fact we talked about it just this morning, and I know that pile is in the process of being reduced, it's just going to take a little bit of time."
The cause of the fire was unknown Thursday night as crews focused first on containing the blaze.
Email: mromero@deseretnews.com, Twitter: McKenzieRomero