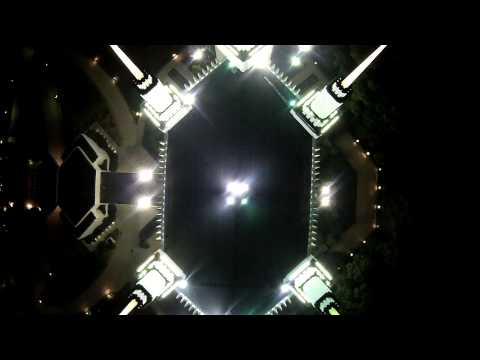 View 2 Items

A video of the Washington D.C. Temple is attracting the attention of thousands this week thanks to the unique footage one man captured using a drone.
Tony Collins, who is not a member of The Church of Jesus Christ of Latter-day Saints, owns an IT consulting firm in Washington, D.C., and sees the temple as a beautiful piece of art.
Collins said he's always wanted to own a drone, and when his friend got married in Mexico, he seized the opportunity to purchase one to capture footage of the special day.
After he returned from Mexico, he set his sights on filming the exterior of the Washington D.C. Temple.
He then got in contact with the temple recorder, Wes Andersen, and received permission to film with his drone.
"I told him they could have the footage, and he said they'd love to see what I came up with," Collins said.
Collins took a few friends up to the temple grounds on July 7, and they spent two and a half hours flying the drone around the temple.
"When I first did it, I was super nervous. I didn't want to do anything that would disrespect the church," Collins said.
When Collins edited the video, he thought about adding choral music in the background, but then decided to go with something different to make it accessible for a variety of audiences.
The day after he added his video to YouTube, Fox 5 requested permission to post it, and from there, it went viral.
"(The video) moved a lot of people," Collins said. "Ninety-nine percent of the feedback has been crazy-positive."
Collins said he'd never had videography or photography classes, so he had a two-week learning curve to fly the drone.
"The drone is easy to fly, and it has a GPS lock," Collins said. "So if you get it to where you want it to go, it'll stop in the spot you want and you're free to control the camera."
Before he took the video, he didn't know much about the LDS Church, though he did attend a few meetings as a teenager with his aunt and uncle, who are LDS Church members.
"I didn't really understand the church when I was (a teenager), but I still loved going," Collins said. "I've never not liked it."
Collins said he does not belong to a denomination, but he is a spiritual person.
"I like to live by my own commandments, which means I try to do the best I can and cause no harm to others and do the right thing," Collins said.
Collins said when he returned to the temple grounds to give Andersen the footage, he saw the temple differently than he ever had before.
"When I went on Monday, it was just a building, and when I went today and looked at it, I felt like I loved it," Collins said. "I looked at it and felt nothing but awe and love for it. It changed me a little bit."
If he gets the opportunity, Collins said he'd love to take the drone to more of the LDS temples, specifically Salt Lake, Los Angeles and San Diego.
"If I'm allowed to shoot a few more of the temples I would find it the biggest honor, and I'd be more than happy to do it," Collins said. "I will definitely take it upon myself to learn more about the Mormon religion. I think it's a beautiful religion."
Megan Marsden Christensen writes for the Faith and Family sections. She recently graduated from BYU-Idaho with a bachelor's degree in communication.