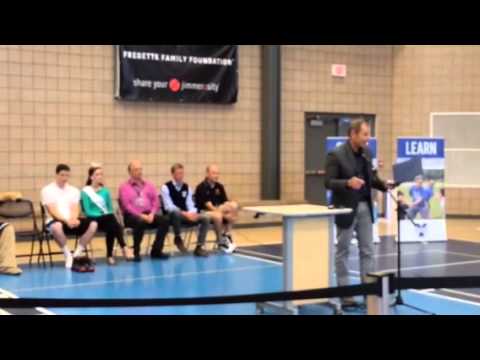 View 2 Items

I'm positive I'll be on a team next year, and I'm just looking forward to seeing which team that is, just trying to find the best fit for me, and hopefully we'll find out some news within the next week or two and get things going.

—Jimmer Fredette, on his free agency
PROVO — Former BYU star and NBA free agent Jimmer Fredette has no idea what uniform he'll wear next season, but he's certain it will be that of an NBA team.
Like many other free agents, he's waiting for the league's biggest stars to sign so teams can move forward with specific offers.
"I think a lot of guys are waiting on those big guys that are trying to find their place first," he said during a press conference that followed a short Q&A session with the nearly 300 young basketball players competing in the Jimmerosity Jam three-on-three tournament. "But I have good interest, which is great. I'm positive I'll be on a team next year, and I'm just looking forward to seeing which team that is, just trying to find the best fit for me, and hopefully we'll find out some news within the next week or two and get things going."
The 25-year-old New York native holds his Jimmerosity camps, which support anti-bullying campaigns while teaching basketball skills to young players, in his hometown of Glens Falls, New York, and in the city where he attended college, Provo. The first two days of the camp are limited to 100 elementary- and junior high-age players. The final day is a tournament open to any three-on-three teams of the same age divisions. This year it attracted a record 63 teams.
The kids were treated to a short pep talk from BYU men's basketball coach Dave Rose, who talked to them about why he looks for kindness in the players he recruits, before Fredette addressed the need to be proactive about bullying.
The solution, he told the children who gathered around him on the floor of a gymnasium at the Provo Recreation Center, is to look for those who might be unintentionally left out.
"In today's world it's a huge issue," he said. "In schools, people don't realize how big an issue it is. ... I hope these kids ... will include other kids, whether it be at a lunch table or in classes — just include all the kids around them. They can make them feel comfortable, and that's kind of the initiative we want to take."
He also cautioned them about the dangers of social media, admonishing them to ignore negative people and surround themselves with positive people.
"Always be nice and respectful to everyone," he said.
Provo Mayor John Curtis presented Fredette with a proclamation that declared July 9, 2014 "Share your Jimmerosity Day."
He "encouraged everyone in Provo and Utah County to share their Jimmerosity by giving back to the community, just like Jimmer, and help strengthen the family and youth with strong moral character."
Fredette enjoyed immense success and accolades in his senior season (2010-11) at BYU. He was named the NCAA's consenous national player of the year while becoming the Cougars' all-time leading scorer.
He has struggled, however, to find the same kind of success in the NBA. His three years with the Sacramento Kings came to an end when the team bought out his contract in February 2014. A few weeks later, he signed with the Chicago Bulls but had very little opportunity to get out on the floor.
Wednesday he said that was disappointing — but not discouraging.
"Sometimes that happens," he said of not being able to crack the rotation. "But they did like me. The GM, the owners, everybody really loved me and respected my game, and you know, they felt it was too bad I wasn't able to play more and help the team out. Sometimes you just have to push forward."
He said he's working hard in the offseason to improve his game.
"I'm working really hard this offseason on everything — ballhandling, explosion and different moves," he said. "I feel like I'm ready and prepared to play a big role on a team. I just hope I can find a place where I'm able to showcase that."
The first question about whether he'd be playing in Europe this fall came from one of the camp athletes. He said that while he wasn't opposed to playing in Europe, he would only consider it if he had no other options in the NBA, and that's not the case at this point.
"I'm excited to get to a team that wants me to be there, and I want to be there," he said. "And I'll work as hard as I can to help them. I ready for a big role."
One of the aspects of his fame that he is grateful for is the opportunity to influence young people. In addition to being a positive role model, he said he likes being an example of how hard work can break the mold.
"I just want to hopefully have all the kids out there see that you can do it being from a small town, not being a real athletic white kid, and make it in the big leagues," he said. "I'd like to have an impact on people's lives."
Twitter: adonsports EMAIL: [email protected]