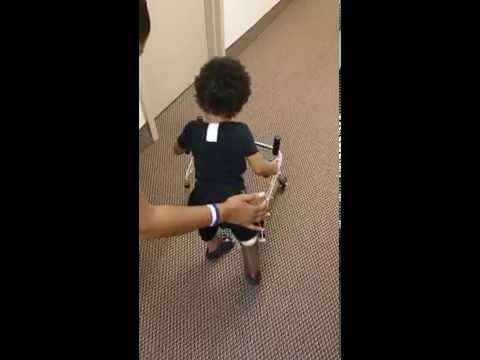 Kayden Elijah Kinckle of New Jersey wasn't expected to live, but thanks to his parents' faith and his own optimism, the 2-year-old is inspiring thousands.
Due to complications in utero, Kayden's right foot and left leg had to be amputated following his birth, but a YouTube video posted Friday capturing his first attempts at walking proves he's up to the challenge.
One minute into the video, Kayden proclaims, "I got it," and he repeats his hopeful refrain again and again.
Hope runs in Kayden's family. His mother, Nikki Sessoms, explained in the video's description that because of problems with the umbilical cord (which resulted in Kayden's amputations) and omphalocele, a condition in which intestines and other organs remain outside the abdominal wall, Sessoms was advised to terminate her pregnancy.
But Sessoms proceeded with faith because "God said everything would be alright," she wrote.
New York Jets quarterback Michael Vick said he saw the hand of God in Kayden's life, too. He posted the video to his Facebook page Sunday along with a reference to Luke 1:37, "For with God nothing shall be impossible."
The video was also posted to a GoFundMe page where Kayden's family is raising money for medical bills. The video had more than 100,000 views at the time of publication.
The Clean Cut is a daily feature that highlights family friendly videos.