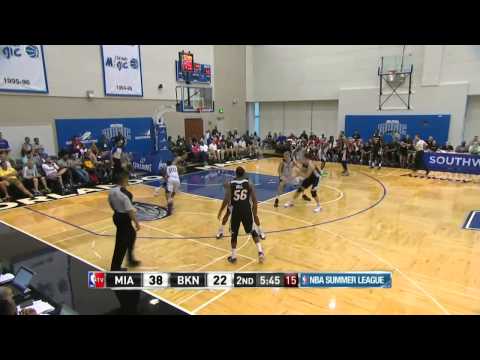 View 2 Items

Justin Hamilton never came off the bench during the Miami Heat's playoff run, but he is getting his chance to shine during the NBA's Orlando summer league tournament that began Saturday.
The former Lone Peak basketball star, a member of the Miami Heat's summer league team who signed with the team in March, has scored in double figures in both of Miami's games in Orlando thus far, starting at center in both games. He also showed good chemistry with Heat first-round draft pick Shabazz Napier vs. the Brooklyn Nets.
During the Heat's 110-91 victory over the Nets on Sunday, Hamilton scored 15 points on 6-of-12 shooting and added nine rebounds, an assist and a blocked shot in almost 25 minutes of game action.
He dunked off an alley-oop from point guard Napier in the first quarter, scored off an assist from Napier in the second quarter on a pass that went between defender Mason Plumlee's legs, then fed Napier for a layup with a little under six minutes to go in the half.
The Heat led by as many as 24 points in the victory.
In the Heat's tournament opener on Saturday, an 85-77 loss to Boston, Hamilton was second on the team with 13 points; he also had nine rebounds, an assist and a steal in 31 minutes of game time. But Hamilton contributed to the Heat's 32-percent shooting struggles, as he hit 4-of-15 from the field.
Comment on this story
Miami and Hamilton will play two more games in the Orlando tournament, starting with a Tuesday matchup against the Detroit Pistons, before heading West to participate in the Las Vegas summer league tournament.
There is uncertainty about Hamilton's future. According to a report Saturday from the South Florida Sun-Sentinel, Hamilton, who has a non-guaranteed contract with the Heat in 2014-15, has a guaranteed two-year contract offer from a team in Zagreb, Croatia. The Sun-Sentinel reported a week before that Hamilton was expected to be waived by Miami, in an effort to create more salary cap room.
Email: bjudd@deseretnews.com; Twitter: @brandonljudd