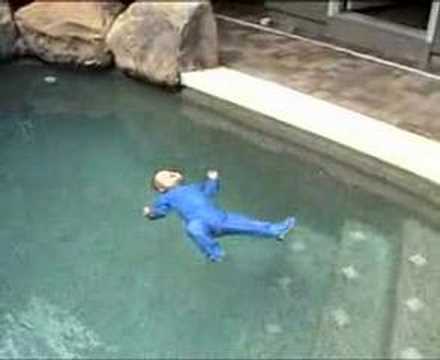 View 11 Items
YouTube

They're crafty. They can get away from you really quickly, and even the most vigilant parent can lose track of their child in an instant. A small child can drown in very little water. They don't need to be in the deep end of a pool. It can be just above their head, or if they're even younger and can't walk, it can be in only several inches of water.

—Elizabeth Nicholson
MIDVALE — Ripley Nicholson splashed her hands in the water and then leaned her head back, as her swim instructor guided her to a float and then let go.
"One, two, three, four," instructor Erin O'Connor counted in a Midvale pool before grabbing the 18-month-old.
O'Connor teaches Infant Swimming Resource lessons designed to teach children from 6 months to 6 years old how to survive if they find themselves alone in the water. The method has grown in popularity since a YouTube video showing a toddler survival floating for several minutes went viral.
Ripley is one of 12 children O'Connor teaches privately five days a week in 10-minute sessions. Stickers, a dip in the hot tub, snuggles, hugs and praise are all used to reward children for their hard work.
On this day, Ripley sported a ruffle-bottomed, white-flowered baby blue swim bottom and a temporary seal tattoo on her belly.
"This is my first child, yes, and I'd like to keep her," quipped Elizabeth Nicholson, Ripley's mother. "Enjoying the water is good, but not dying is better."
Nicholson admits she and her husband are being "ultra vigilant" to make sure their daughter has a good experience. They have been happy with O'Connor, who they say is "intuitive" and can tell when Ripley "has had too much," adjusting the speed of the lessons accordingly.
"It's really nice to see (children) going from completely unskilled and not sure what to do in the water to being able to save themselves if they should find the water by themselves," O'Connor said.
Drowning is the second-most common cause of death for children between the ages of 1 and 4 in the United States, next to birth defects, and second behind motor vehicle accidents between 1999 and 2011, according to the Centers for Disease Control and Prevention.
As an emergency room doctor, Nicholson has seen the danger water poses for small children and wants to protect Ripley from harm.
"They're crafty. They can get away from you really quickly, and even the most vigilant parent can lose track of their child in an instant," she said. "A small child can drown in very little water. They don't need to be in the deep end of a pool. It can be just above their head, or if they're even younger and can't walk, it can be in only several inches of water."
Sue Mackie, executive director of the United States Swim School Association, said the Infant Swimming Resource method is a "totally different method of teaching" from those used in most schools, and she cautions that some children could develop "psychological issues" if they are pushed to learn skills they are not ready to learn.
Because every child is different, some will thrive in the infant swimming program while others may not, Mackie said. Parents should figure out the goals they have for their child's lessons and be open to finding instructors that fit their child's temperament and needs.
"If there's something that doesn't feel right or doesn't feel like the way you want your child taught, then you maybe should look at something else," Mackie said.
Liz Walker, a former Infant Swimming Resource instructor, began her own school in 1989 after teaching ISR for six years, becoming a master instructor and training other instructors in the method.
Walker said some parents would come to her with concerns that their children were waking up in the middle of the night or throwing up on the way to the pool.
This does not seem to be the case for Ripley, who splashed her way through her lessons, or for DeWitt Ayers, 23 months, who was enrolled in his first ISR course at 9 months and has come back for a second round. In his first lessons, he learned survival floating on his back. Now that he is older, O'Connor is teaching him how to flip from his stomach to his back.
(ISR is) just not the program for every parent," Walker said.
Walker decided to create a school that would combine the survival skills the program teaches but allow for a less intense structure and schedule. From this, Swim Kids, based in Holladay, was born.
She tailors the program to a child's individual pace and to each family's parenting style, using training from her degree in human development and behavioral psychology as a guide.
Walker interviews parents at the beginning of a session to find out how much they want her to push the child, and she adjusts accordingly. Her instructors also invite parents of younger children in the water to smooth the transition into some of the skills.
The program accepts students from 4 months old to adults. Lessons at Swim Kids are 15 to 30 minutes and may be spread out over several months. But the results are similar.
"We have lots of 2-year-olds who can jump off the diving board in the 12-foot (area), come to the surface unassisted, roll to their back and backstroke to the side. So that is what we are capable of teaching," Walker said. "We can teach anything that ISR teaches. We just may take it a little slower because that's the parent's desire."
Regardless of the method of teaching, it is common for children to cry when they begin lessons because that is often how they communicate, she said.
"We want to balance that. We don't want it to be this hysterical, screeching and kids who are waking up in the middle of the night," Walker said.
Both programs have students float and swim in clothing, gradually adding pieces as the student progresses to train students for the possibility that they may enter the water fully clothed. They also create simulations so students will instinctively know how to rescue themselves and float until help arrives if they end up in water alone.
Because children are learning new skills constantly, it is important for students to be involved in lessons regularly to help them remember what they've learned.
Back in the Midvale pool, DeWitt swam face down toward a bar in the pool. He blew a raspberry of water out when he lifted his head from the water.
Wearing a rash guard shirt with piranhas on the front and matching swim shorts, he would point to what he wanted to do next throughout the lesson.
"Steps, steps," he said with a lisp while pointing, indicating that he wanted to swim face down toward the steps and lift himself up.
"The best part is watching children who are hesitant around water at first, and then when they complete the program, they're just extremely confident and proud of the skills that they've learned," O'Connor said.
Those interested in Infant Swimming Resource lessons with O'Connor can visit isrsuperstars.com; for Swim Kids lessons with Walker visit swimkids.biz and place a registration request.
Email: wevans@deseretnews.com, Twitter: whitevs7