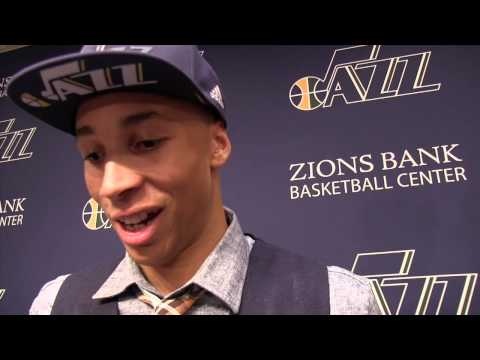 View 17 Items



... When I step on the court at summer league, I'm just going to play hard and show them the Australian type of basketball that we like to play.

—Dante Exum
SALT LAKE CITY — He didn't play college basketball. He has limited high-level hoops experience and highlight videos. And, yes mate, he speaks with an Australian accent for a good reason.
It's not surprising that Dante Exum was dubbed as "The International Man of Mystery" leading up to the NBA draft.
Exum arrived in Utah on Friday afternoon, a half-hour before his introductory press conference and less than 24 hours after being selected fifth overall by the Jazz, eager to begin shedding some light on the subjects he knows best. Himself. And his enigmatic and enthralling basketball game.
"Being a mystery, I'm looking forward to putting that to a rest," Exum said during a Q&A session with his new teammate, 23rd pick Rodney Hood from Duke.
"People obviously haven't seen me play a lot," Exum added, "but when I step on the court at summer league, I'm just going to play hard and show them the Australian type of basketball that we like to play."
That's one revelation Jazz fans can take away from Exum's debut in Utah. Not only does he say things with a charming voice that evokes fond memories of Crocodile Dundee (don't call him Crocodile Dante, by the way), but this soon-to-be 19-year-old has a knack for saying the right things.
During Friday's interviews, Exum went through the checklist of things to say to impress his new fans.
Compliment the Salt Lake scenery?
Check.
"We just got here, but the drive over here is beautiful," he said. "The flight in, you see the mountains. I can't wait to get to see Salt Lake. … I'm really excited to get a feel for the city."
Show appreciation for the local NBA team's cherished history?
Double-check.
"I couldn't be happier to be drafted by the Utah Jazz," he said. "They have a rich tradition in the way they play. John Stockton and Karl Malone. Now to be named to be part of that is truly an honor."
Talk about going to work, becoming a leader, trying to improve and adapt, and living up to the high hopes of an unfamiliar athlete who was considered a top-pick candidate and a potential franchise player?
Check all that, too.
"I've got a lot of expectations being from Australia. I would say there's a lot of pressure. The way you deal with pressure is you get out on the court and you work hard," Exum said. "I've prepared for this moment. I'm going to keep working hard and come to the gym every day."
While that all sounds good, it certainly remains a mystery as to whether his natural skill and enhanced basketball gifts will translate from Down Under to being under the bright spotlight of the NBA. His sense of humor is not a secret anymore now that Foot Locker is playing a series of funny commercials featuring this up-and-comer whose future could be as bright as his past is enigmatic.
The Jazz happily used the No. 5 pick they acquired after a rough 25-57 season with the belief that eventually Exum will become known for all the right reasons.
Although it took some fortunate events ahead of them in the draft for Exum to fall into their laps — namely the Sixers gambling on injured Joel Embiid at No. 3 and Orlando taking a flyer on Aaron Gordon at No. 4 — Utah has done its due diligence on learning all it could about this intriguing prospect. Lead scouts Walt Perrin and Rich Sheubrooks saw him play with the Australian junior team in Prague. Utah interviewed him at the NBA draft combine in Chicago and watched hours of tape.
Sheubrooks, the team's retiring global director, got it started by inviting the guard to participate in the prestigious Nike Hoop Summit that he helps run. It was that week playing against top American competition, including Jabari Parker, that really helped Exum make a leap into the top of the lottery for this loaded draft.
"We knew if there was an opportunity that he had the right character and he has the right kind of tools," Jazz general manager Dennis Lindsey said. "We think his game will move forward because of those things."
The Jazz also believe Exum, a 6-foot-6 point guard who has dazzling speed and athleticism, can co-exist nicely in the backcourt with both Trey Burke, Utah's starting playmaker, and shooting guard Alec Burks.
Speaking of point guards, the fact that his new coach used to be one at Duke was an added bonus for having his dream of being drafted into the NBA get realized while he was at Barclays Center on Thursday night. Coach Quin Snyder briefly chatted with Exum right before the Jazz's first choice was announced and told him "how he was happy to have me."
Added Exum: "His background, being a point guard from Duke, made me feel good."
Exum's family (his parents are American) accompanied him to Utah from New York, and he showed his good sense of humor when joking that his support group will always be there for him even though they live in Melbourne and he's moving to the Beehive State.
"If I want them here," he said, "they'll be over in 20 hours."
Because of time zone differences, they'd at least arrive the same day his request was made.
Exum, who's trained at the Australian Institute of Sport as a teenager, spent the past five months training in Southern California, occasionally being sighted at Lakers games. He considered attending college in the U.S. after graduating from high school, but opted to focus on working out and preparing for the NBA instead.
Even before Exum's rise to pre-draft prominence, his family name wasn't a mystery to some in American basketball circles. His father, Cecil Exum, was on the 1982 North Carolina championship team with Michael Jordan. The elder Exum was drafted by the Denver Nuggets in 1984, but established his roots in Australia while playing professionally there.
Exum credited his dad for helping him rebound after being cut from a team in his teens. They attended a basketball camp in the States, an experience that he claimed "gave me the confidence that I could do it."
The fact that he did do it will settle in, he believes, this fall when Exum dons his No. 11 Jazz jersey in a real game for the first time.
Exum smiled thinking back to when he began playing his dad's sport back when he was about 4 years old. For years, games against his brother, Jamaar, who's got two years on him, ended up with the littler Exum having soggier eyes and fewer points than his opponent.
"He always used to beat me and I'd always cry and run into the house and tell my mom and dad," Exum said. "They said, 'One day, you'll beat him.'"
He did. It wasn't revealed whether he could beat his twin sister, Tierra.
Eventually, Exum even came out on top against his dad, who was his mentor and old coach.
"I finally beat him a couple of years back," Exum said, smiling. "And we haven't played since."
No tears were shed.
And Exum wasn't bragging.
"I always say you're only as good as your last game," he added, "and that's what I'm going to hold on to."
Not to mention excitement for his next game.
"I'd just like to say it's an honor to be here (in Utah). It's been a dream of mine to be drafted," Exum said. "... I don't think until I play my first game it's going to be real. Just the realization I'm going to play in this stadium or going on the road for a road trip, I think that's when it will start to sink in."
Until then, some things about this new Jazzman will remain mysterious.
EMAIL: jody@desnews.com
TWITTER: DJJazzyJody