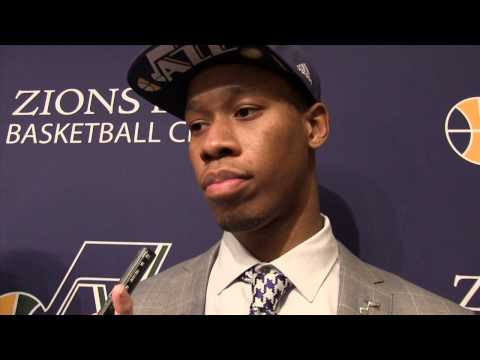 View 8 Items



Everybody roots for him to do well because he wants to represent and be the best player he can be and the best person he can be. He's a good student who never got in any trouble. He stayed in the gym most of the time and when he wasn't at the gym he was at the Boys & Girls Club.

—Vicky Hood
SALT LAKE CITY — For Rodney Hood, it's a long way from Meridian, Mississippi, to Salt Lake City, Utah, where he'd never set foot before Friday afternoon when he flew in from New York after being drafted by the Utah Jazz the night before.
"I couldn't really sleep last night,'' he said. "I wanted to get here and see the town. It's a blessing to be here and part of this family.''
Hood had been in town for less than an hour when he addressed the Utah media. After saying "it was great to see the mountains,'' he drew some laughs when he noted, "It's a little bit different from Mississippi.''
The Jazz were thrilled to grab Hood with the No. 23 pick in Thursday's NBA draft after he was being projected as high as No. 12 by some mock drafts. Few thought he would fall out of the top 20.
Both Jazz general manager Dennis Lindsey and new head coach Quin Snyder talked about the character of Hood and No. 5 pick Dante Exum, and Lindsey added, "We couldn't have two better fits.''
The 6-foot-8, 215-pound Hood began his career at Mississippi State, but after his coach resigned, he decided to transfer. He said he couldn't turn down an offer to play at Duke, one of the top college basketball programs in the country, led by one of the top coaches in Mike Krzyzewski.
"It was a no-brainer,'' he said of his decision to transfer to Duke, just the fourth player to do so under Krzyzewski.
"I learned how to be confident in my ability and to have a presence as a player,'' Hood said.
Asked what he brings to the Jazz, Hood said, "I'm a hard-working guy who's going to come to work every single day, a guy who can shoot the ball and wants to get better. I think I've got pretty good range.''
Hood said he talked to Duke teammate Jabari Parker after being drafted by Utah and Parker told him "I'd love it out here.''
Hood was accompanied by several members of his family, including his parents Ricky and Vicky. His father is the director of the East Mississippi Boys & Girls Club and his mother has been an educator for 28 years, including the last 15 as the principal at Newton High School in Meridian.
Of course his parents couldn't say enough good things about their son.
"Rodney is a very good kid,'' said Ricky. "He's hard-working and respectful. He's done everything we've asked him to do. So we're excited for him to be in Utah. I think it's a perfect fit for him. He's not only going to fit in with the basketball team, but with the community.''
"He's a very high-character kid, he's going to work hard,'' said Vicky. "Everybody roots for him to do well because he wants to represent and be the best player he can be and the best person he can be. He's a good student who never got in any trouble. He stayed in the gym most of the time and when he wasn't at the gym he was at the Boys & Girls Club.''
Ricky said he knows all about the Jazz from following the team in the days of Karl Malone and John Stockton and said he's a "big Jerry Sloan fan.''
Both Ricky and Vicky said they are looking forward to coming to Salt Lake to watch their son play next year.
"I don't know much about it, but I know it's going to be my favorite city,'' Vicky said.