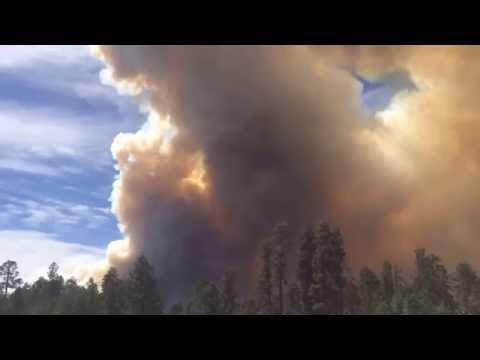 View 4 Items

The Gilbert Williams Field Stake Young Men's encampment near Greer, Arizona, was evacuated Thursday, two days before its scheduled end. It was concluded after lunch when a leader saw smoke on the horizon and was the first to report the fire via 911.
The encampment — named "Helaman's Camp" after the Book of Mormon hero — consisted of over 200 young men and nearly 100 volunteer leaders from The Church of Jesus Christ of Latter-day Saints.
Leader Mason Lundell said firefighters were at the camp within 25 minutes of his call and issued a pre-evacuation notice. If campers had subsequently received a full evacuation notice they would have to leave behind everything and depart immediately.
The San Juan fire is believed to have started on San Juan Flats on the Fort Apache Reservation, about 4.3 miles from Helaman's Camp, according to one camp leader, Rollin Adams, who was able to calculate the coordinates on his GPS. The cause of the fire is still unknown.
Chet Jenkins, another leader at the encampment, said the pre-evacuation notice resulted in "organized chaos." Many of the older young men, ages 14-18, were participating in high-adventure activities as Varsity Teams and Venture Crews, which meant the 12- and 13-year-old Scouts who were working on merit badges were the first to begin preparations to evacuate.
Two of those Scouts, Truman Idso and Branson Heywood, saw the smoke and weren't sure what to think at first.
Truman said that when he first saw the smoke, he didn't think it was a big deal: "I never thought it was possible something like this would happen to our camp. But within three or four minutes we were told it was a forest fire and we had to begin packing up camp as a precaution."
Branson, who just turned 12, said, "I remember another Scout running across a field yelling at us to turn around and look up. When I did, I thought I was looking at a dust storm. Then I realized it was smoke from a forest fire. It looked very close."
According to Truman, for 20 minutes the Scouts packed up all the gear in an organized fashion — folding up tents and rolling up sleeping bags — but soon they were told stake leaders had decided to do a full evacuation as a precaution. "After that, we just began throwing tents and sleeping bags and poles into trucks and trailers."
All of the Scouts worked hard and fast. One Scout, Josh Zoller, was wearing a splint on his finger because of a wood-carving accident. Undeterred, he carried items and packed up his camp as hastily as the other Scouts.
"By the end of the evacuation, the Scouts were covered in dirt and mud, but the camp was packed up. The Scouts did an amazing job," said Josh's father, Rob Zoller, who was volunteering his time at the encampment.
Perhaps most telling, another leader said he remembered seeing a big bag of candy on the ground as they packed. "Usually that would cause any Scout to lose focus on a task and take a detour to the candy. However, this time it remained on the ground, untouched and unnoticed."
The older youth were also alerted that there was a fire and to prepare to evacuate. One of those young men, Kaden Heywood, Branson's older brother, said he did not think it was serious at first.
"We were doing canoeing at a nearby lake and couldn't see any smoke," Kaden said. "But as we returned to camp, we could see a lot of smoke on the horizon. We knew it was serious. We had about 20 minutes to finish packing with the Scouts before we left."
This is not the first time this stake has had to evacuate a summer camp. Twelve years ago, the stake — then called the Gilbert San Tan Stake — was ordered to evacuate a Young Women's camp 20 minutes after the entire camp had been set up. They were given 10 minutes to collect a few personal items before having to leave.
Many of the same leaders, now with the Gilbert Williams Field Stake, were at that Young Women's camp and remember that experience vividly, including the many miracles they saw. Aaron Bradshaw, a former counselor in the stake presidency, said he still cannot talk about that girls camp without becoming emotional.
Mark Pugmire, the stake president at the time, said everything in that camp that was left behind was burned, except the young women's tents. "The burn marks came within 2 inches of their tents and then stopped."
Several months ago, on March 1, these same young men, combined with the young men and young women of many other area stakes, prepared to dance and sing in the Gilbert Temple cultural celebration, and the unexpected happened. As President Thomas S. Monson related in the opening session of the LDS Church's April 2014 general conference:
"(Arizona) had been experiencing an especially dry season, and I believe many prayers had been sent heavenward over the preceding several weeks for much-needed rain. Unfortunately, it came just before the performance and stayed for the entire production! Despite the fact the youth were soaked through with the rain and chilled from the cool temperature, we all felt the Spirit of the Lord.
"The theme of the program, 'Live True to the Faith' … was portrayed magnificently by smiling and enthusiastic young men and young women," President Monson said. "Despite the cold and the rain, this was a faith-filled and inspiring experience these young people will ever treasure and will be relating to their children and grandchildren in the years to come."
Although the Young Men's camp could not continue like the Gilbert Temple cultural celebration, the decision to evacuate was the correct one. The fire exploded to 2,000 acres by nightfall, burning 3 square miles due to gusts of winds reaching 45 miles per hour. Many nearby communities — mostly cabins and second homes — have been evacuated. It is still unknown whether the fire has reached Helaman's Camp, where some equipment, including a large trailer full of food, remains.
Also left behind were trebuchets — which were built in advance of the camp by each ward for a series of activities that were to take place Friday. The leader of the stake encampment activities committee, Tarik Williams, said the stake Young Men leaders began to prepare for Helaman's Camp a year ago, with many of the committees going into full preparation mode in February.
"I've been going on four hours of sleep a night for four weeks trying to prepare for camp and stay on top of my business in the meantime," Williams said. In total, thousands of hours were donated by leaders for Helaman's Camp, both preparing for and participating in it.
Stake president Jay Andersen said he was disappointed that Helaman's Camp came to a premature end but was grateful for the preparation of the Young Men leaders, the hard work of the Scouts and other young men, and the responsiveness of the community fire and rescue teams.
The night before the evacuation, President Andersen read to the young men the story of BYU linebacker Spencer Hadley, "Honor and Redemption," written by Jeff Benedict for Sports Illustrated. The timing of the story was telling: life does not always turn out the way you want it to (like Hadley's experience playing Utah for the last time as a senior), but good can always come from disappointments if you let it.
Comment on this story
And just like the Gilbert Temple cultural celebration, the young men had a positive outlook on the evacuation and will remember it for a long time.
Said Truman, "It was disappointing at first, but it was also a neat experience. The Scouts were the first ones to see and report the fire. If we weren't there, it could have been worse before it was seen and reported."
LDS young men's camp in Arizona evacuates after spotting large fire
This video was taken by Jon Lawrence, who was camping when the fire broke out just a few miles from his campsite.
Scott practices commercial and bankruptcy law with Lewis Roca Rothgerber LLP in Phoenix.