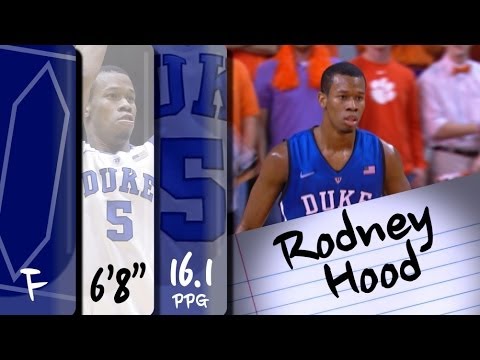 View 2 Items

SALT LAKE CITY — For most of the past year, Jazz fans have been hoping that a certain 6-foot-8 forward from Duke would be drafted by Utah in the first round of the NBA draft.
Well, the Jazz got their 6-8 forward from Duke Thursday night, but it wasn't Jabari Parker. Rather, the Jazz picked up Parker's teammate, Rodney Hood, with their second pick of the first round at No. 23.
The left-handed Hood, who played one year at Duke after transferring from Mississippi State, was expected to be drafted much higher, in the 13-18 range in many mock drafts. However some unlikely picks ahead of the Jazz, such as Bruno Caboclo of Brazil by Toronto, Michigan's Mitch McGary by Oklahoma City, and UCLA's Jordan Adams by Memphis, left Hood available for the Jazz.
"I'm very excited to get to Utah to play with those guys,'' Hood said immediately after being chosen. "I've got a big chip on my shoulder now, and I'm just really excited to get there.''
Hood's "chip" is because he was expected to go higher, which he acknowledged later.
"It was nerve-wracking because you want to hear your name called as soon as possible,'' he said. "But at same time, I landed with a really good team with great fans and a great coach in his first year. I'm very excited to be part of the organization.''
Hood averaged 16.1 points, 3.8 rebounds and 2.1 assists in a team-high 32.9 minutes per game last year for the Blue Devils, while shooting 42 percent from 3-point range. He was selected as a team captain before he played a minute for the Blue Devils, and one commentator said the Jazz were getting a "high character guy" in Hood.
"We thought there was a slight chance, and fortunately for us, he was there,'' said Jazz general manager Dennis Lindsey. "He's a 6-9 shooter, who's a quality kid and a good pick-and-roll player, who we think in time will be a good contributor to our group.''
The 21-year-old Hood, who hails from Meridian, Mississippi, began his collegiate career at Mississippi State in 2011-12 before transferring to Duke, just the fourth player to transfer to Duke under coach Mike Krzyzewski.
"I learned a lot from coach K and everybody who helped me along the way,'' he said. "It was great to be in a winning atmosphere.''
When asked what he will bring to the Jazz, he said, "A guy who can score the ball and shoot the ball, a guy who will come and work every single day and try to get better. I can add some depth to the wing. I want to win and prove myself.''
Hood said he knew Trey Burke and watched Derrick Favors in high school and was excited to play for Quin Snyder, a former Duke player and coach.
"It's great, I've heard a lot of great things about him,'' he said about Snyder. "I'm sure he learned a lot from coach (Krzyzewski) and it will be a more comfortable transition knowing he went to Duke.''
With their second-round pick, the Jazz selected Jarnell Stokes, a 6-9 power forward from Tennessee, who was one of the 90 players the Jazz brought in for workouts over the past several weeks. However, a half hour after the selection, the NBA announced that Stokes had been traded to Memphis for a second-round pick in 2016.
7
comments on this story
Stokes was known for his rebounding at Tennessee where he averaged 10.6 boards per game while averaging 15.1 points per game. Like Hood, he is a left-handed shooter, who shot 53.0 percent in his three years for the Volunteers.
"There was a lot of talk and we actually like the player we traded away,'' Lindsey said. "But with our adding two young players last year and one extremely young player in Dante (Exum), we needed to push out that pick going forward. Our ability to accumulate assets is key for us to be able to make deals in the future.''