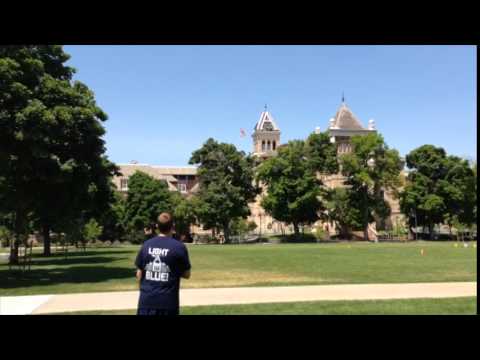 View 3 Items

The Sports BLT is dedicated to finding the most passionate fans of sports played in the state of Utah, and we've found the perfect example.
Meet D.J. Ransom. This die-hard Utah State fan has earned himself the title of Top Fan.
And yes, that's his actual name. His full name is David Joseph Ransom.
Can you think of a better fan name?
He was kind enough to talk with me about his epic fandom. Naturally, I asked him how it felt to win the Sports BLT Top Fan Contest.
"It is an incredible feeling," Ransom said. "As you know, BYU and Utah are our rivals, and BYU is our biggest rival. It's something I'm going to throw around as a bragging tool. We're better fans than you are!"
Then I asked him about when he started rooting for the Aggies.
"I've been a Utah State fan for a couple of years. I transferred here from Snow College," Ransom said. "I got here, and I got involved in athletic events and everything. I found out it was a lot of fun."
And he sure knows how to stand out in a crowd. Utah State fans may recognize Ransom's face from the Dee Glen Smith Spectrum wall.
Ransom was just as surprised as anyone else to see his own face on the wall.
"I was actually at a volleyball game with my girlfriend," Ransom said with a laugh. "We're walking out the front door and walking down the stairs, and I looked up and did a double take. That is my face on the wall from a basketball game the previous winter. It was really cool to see."
Naturally, he likes to point this out to his fellow Aggie fans.
"It's really cool and I get an awesome feeling every time I see it. I point it out to people at games. Like, 'Hey, it's me.' Another time last winter I was walking in the back; for a joke I pointed up and said, 'Hey, I know that guy!' A bunch of people turned around and looked up, and one of my friends who was still in college was right ahead of me and said, 'Hey, I do know that guy!' and he turns around and sees me."
Clearly, Ransom is a superfan among fans. So I asked him what he does to stand out.
"I'm one of those people that are early, or who are always there, who will wait in line for hours," Ransom told me. "People see us because we're always on our feet. We're always cheering on our team, making noise and trying to be heard."
But one other thing that sets Ransom apart is his dedication to all Utah State sports teams, not just football and basketball.
"They're just as much fun. As Aggie fans, we do love all sports. My group of Aggie fans, we try to go to as many as we can because they're almost more fun than football or basketball games. It's just the four or five of us. Everyone knows we're there. We're doing all the cheers by ourselves. Obviously, we're not nearly as loud, but we get all the attention. The teams really appreciate it."
In fact, the USU softball team gave Ransom's small group of fans its nickname.
"The softball team in particular likes to see us come down. The four of us went down to Provo for softball games against BYU and UVU. They really liked it and gave us the interesting nickname the Diamond Dudes. We keep coming back, and we get more and more attention. It's just fun to support the Aggies."
Ransom knows that he and his fellow Aggie fans make a tremendous impact on the game.
"I think it's a very positive impact. Players see us fans show up early and often. It gives them a boost and emotional support. It gives them something to play for. A lot of times, especially in the Spectrum, that energy helps them play better. That, in turn, gives us fans something to cheer about. It's kind of a win-win situation."
So, what does Ransom think is the best thing about being a Utah State fan?
"I've said that it's a lot of fun, and it is. It gives me something to look forward to every week, especially during the school year," he told me. "It gets me out of my apartment for a change, and I can go and be with my friends. It's the excitement of watching the Aggies play and, often, win."
As the winner of the Sports BLT Top Fan Contest, Ransom will receive a $200 gift card to Fanzz. He can't wait to add to his already extensive collection of Aggie blue.
"I don't think I have enough. I have quite a few shirts. I was about to go to Macey's or Locker 42 to get more shirts. ... I can't have enough. My family and friends make fun of me for it, but I love Aggie blue. It's my new favorite color."
Speaking of his family, not everyone in his family is as fanatical as Ransom is.
"My parents went here a few years back. What drew me here is I have a lot of family who are Aggie fans. But my little brothers aren't as much. They think I'm absolutely nuts. All the time and energy I put into being a fan, they just can't understand it. I take them to games, they think it's fun, but they don't understand why I go to every game."
Ransom also had some words of wisdom for those who want to become elite fans:
"Just stay loud, stay rowdy, have fun at the games. Let yourself be seen, and come have a good time."
Ransom also wanted to make sure to give a shout-out to Chris Campbell, the man who helped him make his winning video entry. "He's my roommate and one of my best friends. The man is an artistic genius when it comes to video and video editing. I have a lot to thank him for in this video. I could not have done it without him."
Congratulations once again to Ransom. He has earned his place as the state of Utah's Top Fan.
Lafe Peavler is a staff sports writer for the Deseret News. Follow him on Twitter @LafePeavler.