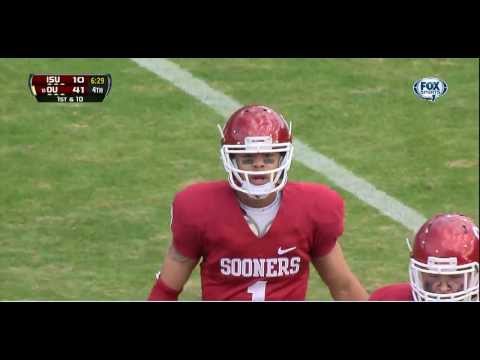 View 3 Items

That part of it, selfishly, we wish we still had him. But, again, quarterback is a different position and the way it worked out we're all understanding. He left in good graces with all of us. So we all want him to do well.

—Oklahoma coach Bob Stoops, on Kendal Thompson
CLEARFIELD — Oklahoma coach Bob Stoops was in Utah Thursday morning to speak to participants and their parents at the All-Poly Camp at Clearfield High. He also took time to talk about former Sooners quarterback Kendal Thompson, who transferred to Utah and will be immediately eligible after graduating early.
"I'm excited for Kendal. I saw him just a week ago and he said he was on his way out here," Stoops said. "We all love him back in Oklahoma and appreciate his hard work and are excited that he has the opportunity."
Thompson has two years of eligibility remaining. He appeared in just two games over three seasons with Oklahoma, falling out of a three-way race for the starting job last fall because of a broken foot. Trevor Knight, who is a year younger than Thompson, now holds the top spot.
When you're in a competition that doesn't quite work out, Stoops explained, it makes it harder. Even so, there are positive elements to the situation. Thompson is now in Utah's summer development program and is expected to get a lot of reps when the Utes open camp in August.
"So at the end we're excited for him," Stoops said. "I'll be paying attention and rooting for him and hoping he does really well."
The Utes, he noted, are getting a great young man with strong character and a fun, happy person.
"He's what you want," said Stoops, who added that Thompson is also really talented. "That part of it, selfishly, we wish we still had him. But, again, quarterback is a different position and the way it worked out we're all understanding. He left in good graces with all of us. So we all want him to do well."
At Utah, Thompson is in a quarterback mix that includes returning starter Travis Wilson, as well as fellow junior Adam Schulz. Redshirt freshmen Brandon Cox and Conner Manning, plus true freshman Donovan Isom, round out the list of competitors for this season's starting job. Wilson is awaiting medical clearance later this month after missing the last three games of 2013 because of an intracranial artery injury.
Email: dirk@desnews.com
Twitter: @DirkFacer