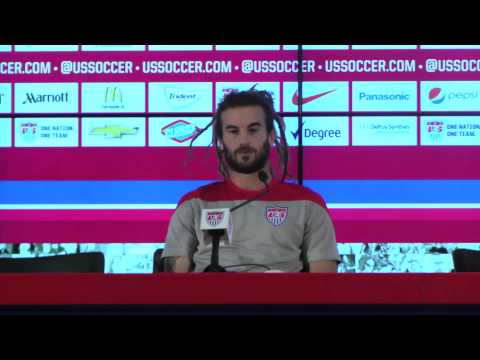 View 5 Items

I read somewhere or saw something that was about he's emulating a ping-pong shot. He just makes the ball go up and down really fast and the ball kind of does some crazy things. You'd have to ask him how he does and let me know.

—Kyle Beckerman
SAO PAULO, Brazil — Moments after the final whistle of the United States' 2-1 victory over Ghana on Monday night, Kyle Beckerman traded jerseys with Ghana defender John Boye.
It turned out to be his first actual souvenir of the World Cup.
On Sunday night, the Real Salt Lake midfielder and his USA teammates will be concentrating on another jersey — the No. 10 shirt of Portugal. That happens to belong to one Cristiano Ronaldo, the talented and lethal forward who is considered in many quarters to be the best player on the planet.
That's assuming Ronaldo will be healthy enough to play.
"A big challenge, for sure," Beckerman said at the Americans' training base at Sao Paulo FC Thursday morning. "It's going to be something we're going to have to be aware of him at all times. He's most dangerous when you have the ball and you're attacking. We've seen games where the others team's attacking looks dangerous, next thing you know they lose the ball, find Cristiano and it's in the back of their net."
Beckerman was most impressed with Ronaldo's ability to make something out of nothing, which he most recently accomplished on a regular basis with 2014 UEFA Champions League champ Real Madrid.
"He doesn't need many touches," he said. "I mean it can be a game where he gets maybe 20, 30 touches but has two goals. You got to just be on high alert when he touches the ball because he's just so dangerous."
Especially on free kicks, where Ronaldo becomes a pure magician as he seems to be on target more often than not.
"He made free kicks his own," Beckerman said. "I read somewhere or saw something that was about he's emulating a ping-pong shot. He just makes the ball go up and down really fast and the ball kind of does some crazy things. You'd have to ask him how he does and let me know."
That comment elicited laughs from the media.
After Ronaldo left practice early on Wednesday due to his ailing knee, there have been unconfirmed rumors that he has been ruled out of the Manaus match. Regardless, it will be business as usual for Beckerman and the USA.
"We hear all that stuff but I think we're preparing that he'll be playing," he said.
At the age of 32, Beckerman became one of the oldest players in U.S. soccer history to make his World Cup debut. He played a vital role in the Americans' triumph in Natal, working his tail off while helping hold the defense together while Ghana pressured in the second half.
Beckerman never looked nervous, playing as though he was a three-time World Cup veteran. He cited his experience playing in Major League Soccer and with the youth and senior national teams.
"It prepares you for these type of games," he said. "It's a familiar feeling, it's not like you're a fish out of water."
The USA certainly did not feel like a fish out of water against Ghana where a reported 20,000 American fans helped pack Arena das Dunas. The American players felt at home.
"It's been awesome," Beckerman said. "That was one of the really neat things about the first game, hearing the national anthem, and it almost feeling like a home game. Being far away and having all those fans there for us was just an amazing feeling."
It was not immediately known how many American fans will be journeying to Manaus.
On Wednesday, Beckerman and his teammates were rewarded with a deserved day off from the daily grind of training.
"Just relaxed with the family," he said. "We watched all the games and really just kind of chilled out because we know we got a huge effort ahead of us."
That effort probably will include stopping the best player in the world.