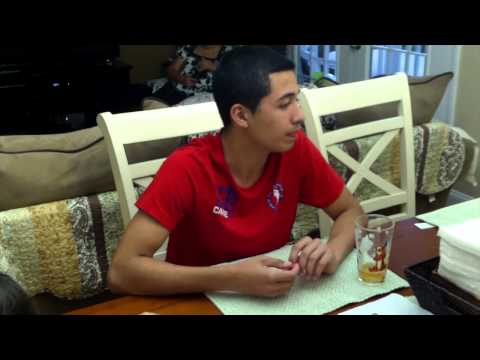 View 23 Items

This fall, the Maryland Baltimore Mission of The Church of Jesus Christ of Latter-day Saints will roll out a social media campaign to highlight the critical shoulder-to-shoulder work of its full-time missionaries and local LDS Church members. The campaign is called #socialmediasplit, and pilot efforts prove the program will work anywhere, not just in the Crab Cake Capital of the world.
The concept is simple: When church members work alongside elders or sisters, whether in a traditional two-by-two split or in a threesome, they are invited to use social media such as Facebook, Twitter and Instagram to document and share their experiences. Using the hashtag "socialmediasplit" allows friends and followers to track members and missionaries as they teach, perform service or engage in traditional finding activities like street contacting.
Think of it as an insider's view of the phenomenal good missionaries accomplish each day, and just how easy it is to join them.
Originally, the idea for a member-missionary social media campaign was born in the Ohio Cincinnati Mission by inspired President John Porter. Earlier this year on May 10, members across his mission split or accompanied every companionship and documented their experiences teaching, preaching and serving alongside the full-time missionaries. The result was an unprecedented flood of positive media both online and with traditional media outlets.
Their original #socialmediasplit in Cincinnati occurred on Jan. 18. Members were so enthusiastic to participate, the mission set a new record for "member present lessons," and the success led them to repeat their efforts on May 10. (Learn more about Cincinnati missionaries' experience in this Storify post.)
Maryland Baltimore Mission President Mark Richards credits President Porter's willingness to share so much of what they learned. "What we're about to launch here in Baltimore simply couldn't have been done without our dear friends in Cincinnati. Our program will not look exactly like theirs, but we'll hit the ground running because of them. We're so grateful!"
President Richards noted they hope to make #socialmediasplit an ongoing and permanent part of the work in his mission.
President Richards also added that because Baltimore is not a Facebook or iPad mission yet, the campaign will allow members and missionaries to get an early taste of how the coming changes can be a blessing in the hastening of the work.
Whenever praised for his leadership and forward-thinking approach, President Richards is very quick to defer to others. One of those he credits for developing their own unique approach is Michele Calderone, an LDS Church member and public affairs representative in the area. "We're hopeful that not only will increased member involvement enhance the missionaries' efforts," Calderone said, "but by sharing their experiences on social media, members will help others understand what missionaries do."
Recently, my own stake, the Winchester Virginia Stake, was selected by President Richards to pilot the program by educating members on the approach and value of the campaign. Eager to test it for myself outside of my comfort zone and to share the experience with my own predominantly non-LDS social media audience, and with the permission of President Richards, I arranged to spend a full day with Elder Anthony Burrup of Pocatello, Idaho, and Elder Logan Herzog of Austin, Texas. They are Spanish-speaking missionaries assigned to the Alameda Branch in the Baltimore Maryland Stake.
The experience was one of the most educational and spiritually satisfying I've had since I wore my own nametag 20 years ago on the streets of Belo Horizonte, Brazil.
When I arrived at the missionaries' apartment just outside Baltimore at 10 a.m., Burrup and Herzog had been awake since 6:30. Their morning routine, and that of every missionary, includes exercise, personal study, companionship study, teaching practice and, for missionaries speaking in other languages, time to improve their language skills.
After they finishing quizzing each other on weather-related Spanish vocabulary, they prayed at the door — in fluent Spanish — and began their day.
Our first stop was a district meeting with other missionaries serving in and around the city. We rode light rail and then the metro to one of the LDS Church's chapels downtown. En route, the elders engaged with everyone they could. One man, Ken, shared his experience living years ago in Salt Lake City and meeting with sister missionaries. Burrup and Herzog asked for and were given his email address to schedule a follow-up visit.
As we walked from the metro station to the chapel, I used my iPhone to share my first post of the day. It was a collage of three photos, including their apartment, the metro stop and the train, and an explanation of each. A crucial component of the #socialmediasplit campaign is seeking permission before taking and sharing photos of anyone other than the missionaries. I was pleasantly surprised that throughout the day, not a single person declined the request.
The short district meeting covered teaching tips and was heavy on role playing, or as the mission calls it, "real playing." I noted that despite most of the missionaries being native English speakers, it was entirely in Spanish. Across the hall, another district meeting was underway with a group that covers another part of the city and meets and teaches in English. In all, there were more than 20 missionaries in the building coordinating their activities, including two senior couples.
As the meeting ended, I shared another post that highlighted the importance of training and coordination in full-time mission service. Each of the posts went to each of my social media accounts and reached different audiences.
After lunch, we walked around Baltimore's famed Inner Harbor and I watched the elders engage with anyone willing to stop and listen. Linwood, an elderly man fishing on the pier, politely declined an invitation for a visit, but spoke of his love of the Bible and for those who preach. A Hispanic man, Roberto, was thrilled the elders stopped to talk to him. He revealed that he'd once attended a Mormon congregation in another city. Now living in Baltimore, the man had been telling his daughters they needed to find a church. Before their discussion ended, Roberto had scheduled a visit with the elders.
"That's a miracle!" Burrup said as we walked away.
Herzog agreed. "That doesn't happen often, not like that. We were led to him today."
Soon we were back on the metro, then, light rail, and the elders spoke to another dozen people and handed out "pass-along cards" as they walked and talked. Some people were more receptive than others, but not a single encounter could be labeled rude or combative. Those who expressed no interest were met with the same smile as those who did. Once again, I shared a photo and commented on their courage and willingness to talk to absolutely everyone they saw.
We returned to their apartment and climbed into their church-supplied Malibu. In nearby Lutherville, Maryland, we sat at the kitchen table of a family who recently returned to the church after years of being less active. The family credits the elders and their "church family" for their return.
As we ate hot, delicious pupusas, the elders spoke with 16-year-old Fernando and shared ideas on how he might help a young man who's drifted from the LDS Church. They also spoke at length of another friend who's expressed interest in learning more. "I would love to see him baptized," Fernando said. "I love baptisms!"
Before leaving, the elders shared tips for Fernando to continue his own preparation to serve a mission upon graduation from high school. As they spoke, I created another collage of several photos and posted them in a single image. Not only was the family willing to have their pictures taken, they were excited for their friends and family to know the elders had stopped by for a visit.
Our next stop was a Latino market to visit a man named Roy. "We go where we need to go," the elders told me. "We don't like to bother people at work, but he's said it's all right and we've been there before." Between his helping customers, they invited Roy to a soccer game and lobbed friendly trash-talk back and forth. Like the others, Roy was intrigued by my explanation of my experiment with the missionaries and was perfectly happy to have his picture taken and shared online. "How's my hair?" he joked as I stepped back and took an action shot.
Later, we visited an investigator named Nelson in Pikesville and taught him about Joseph Smith's First Vision. When Nelson shared that he was unsure how to pray, the elders took turns giving suggestions and invited him to pray with them on the spot. Nervous but willing, the three men knelt at wooden kitchen chairs and Nelson prayed with humbling sincerity.
"Fantastic! Amazing! Beautiful!" the elders praised.
Before leaving, I thanked him for allowing me to share some of our experience online but also assured him the social media campaign did not overshadow the real reason for the visit. I offered my own testimony of the restored gospel, invited him to be baptized and promised to be there when it happened. Neither Nelson nor I needed a hashtag to tell us the Spirit was trending with us both.
Our last stop before returning to their apartment for the night was with a recent convert. While Burrup helped a child with math homework, just a few feet away, Herzog chatted with the mother about the weather and Mexican food. "Can we pray together?" Herzog asked as we prepared to leave.
A few moments later on the sidewalk I noticed the elders practically bouncing with excitement. I asked, "Did I miss something?"
"She's never wanted to say a prayer before!" Herzog said. "Did you catch that, Elder Burrup?" They discussed the development for much of the drive home.
At 9:30 p.m., we walked back into their living room. "Right on time," Herzog said. "We have to be home by now at the latest." Then he turned to his companion before the door was even shut. "Ready to plan for tomorrow?" (See Calderon's post on Storify.com for many of the posts from that day.)
Preparing for my long drive home that night, I sat in my car and shared a final post on my memorable experience with the elders. I marveled at how in a single day we'd performed some service, worked with less-active members, engaged in finding activities, met with other missionaries and coordinated with members. Sitting alone, I contemplated how their enthusiasm, their desire for obedience and their teaching skills proved the bar had truly been raised.
I also took time to thank heaven that the Spirit had been our most important companion of the day, and I enjoyed a few sweet tears that testified our day had been filled with the kind of light that only truth brings.
In the days since my adventure with these impressive and righteous servants of the Lord, I've considered how much has changed since my own mission. With cellphones in every pocket and with the Internet and social media available to almost everyone, we're blessed with so many more ways to share the gospel, to engage in service with other faiths and to fellowship than at any point in history.
So much more, however, remains the same. The study time, the meetings, the correlation and the need for practice is universal. And, of course, the overarching goal will never change: to invite others to learn more and, eventually, to enter the waters of baptism and become converted to The Church of Jesus Christ of Latter-day Saints.
When and if you choose to spend time with the missionaries and participate in the #socialmediasplit campaign, you might find one other constant from your own mission or that of a loved one. The most important conversion for these missionaries and their 83,000 counterparts around the world probably won't be that of someone they saw on a train or a pier.
It's that of the one in the mirror.
Jason Wright is a New York Times best-selling author of 10 books, including "Christmas Jars" and "The Wednesday Letters." Learn more at jasonfwright.com, or connect on Facebook at facebook.com/jfwbooks or by email at [email protected].