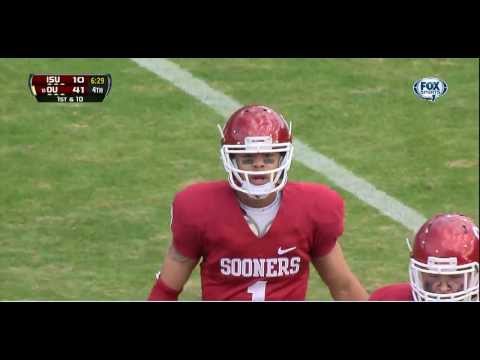 View 9 Items

My mindset is to go in and do what I'm capable of doing. Those other guys are going to be competitive, not only Travis but the other group of quarterbacks as well. Competition brings out the best in everyone. So I'm looking forward to the competition and just trying to come in and do what I can in order to elevate the level of the program.

—Kendal Thompson
SALT LAKE CITY — Kendal Thompson put Oklahoma in the rearview mirror earlier this week. With his girlfriend and 2-year-old daughter in the car, the Sooner-turned-Ute made the drive to Utah — making it to Albuquerque the first day and Salt Lake City the second.
After graduating early from Oklahoma, Thompson was headed to his new college football home — joining the quarterback mix at Utah, where he'll be immediately eligible and have two years to play.
Upon arrival, Thompson will be immersed into the Utes' summer development program. It's the first official step in his bid to win the starting job over incumbent Travis Wilson and a pool of candidates that includes Adam Schulz, Conner Manning, Brandon Cox and true freshman Donovan Isom.
"My mindset is to go in and do what I'm capable of doing. Those other guys are going to be competitive, not only Travis but the other group of quarterbacks as well," Thompson said. "Competition brings out the best in everyone. So I'm looking forward to the competition and just trying to come in and do what I can in order to elevate the level of the program."
Thompson, who saw limited action at Oklahoma because of a broken foot, is bringing a focused approach to his new surroundings.
"I think the main thing with me is getting on the same page as my teammates as far as continuity with the receivers and getting a great relationship with my offensive line," said Thompson.
As far as the mental aspect of joining a new program, Thompson added that he has been looking at Utah's playbook and Hudl, the online video service.
"So I feel pretty up to par as far as that goes, but obviously there's a big difference in looking at stuff mentally and actually going out there and doing it physically," Thompson said. "So I think that transition will take a little bit. But other than that, I think things will go smoothly."
The task, Thompson acknowledged, will be easier after earning his bachelor's degree — fulfilling a promise he made to his mother. He'll enroll in a graduate school program at Utah this fall.
"That was the main priority this past semester, making sure I did everything I needed to do as far as the academics in order to come up here and give myself a chance to be successful when I get to Utah," Thompson said.
Football, he continued, is his main focus now.
Thompson wants to develop "kind of that telepathic awareness" where he knows what a guy is going to do before he actually does it. The 6-foot-1, 199-pound quarterback visited Utah for a week during spring ball and has a pretty good understanding of the team's personnel.
There's much more to it, however.
"At the end of the day it comes down to coming out and proving your worth," said Thompson's father, Charles, a motivational speaker who was Oklahoma's starting quarterback in 1987-88 before leaving the program following a scandal. "Proving how good you are, proving you deserve the opportunity, and proving that you're willing to earn the respect."
Charles shared some "old-school advice" with his son about the challenges ahead. He encouraged him to earn the respect of the football team just as he did at Oklahoma.
It starts, Charles said, with your buddies and developing a camaraderie with your teammates. Then, showing the coaches that you have the mental fortitude, character and all the traits to get the job done. Third comes winning over the fans. The latter, he noted, falls into place when the first two things come into place.
"That's the philosophy and the concept that Kendal will begin with when he steps on campus," Charles said.
The situation
Thompson steps into a crowded quarterback situation at Utah. He's one of six quarterbacks eligible to be the starter this fall. Compounding the uncertainty is the health status of Wilson. The junior missed the last three games of 2013 when an intracranial artery injury was discovered. He was eventually cleared for non-contact drills during spring ball but has yet to receive full medical clearance to resume his playing career.
Utah coach Kyle Whittingham expects such a decision to come later this month and expressed optimism that Wilson will be cleared to play.
Regardless of the verdict, Thompson is expected to get a lot of reps when camp opens in August.
"We've got to find out about Kendal right away," said Whittingham, who declined to define Thompson's exact situation. "All I can tell you is he's going to get reps and we're going to find out about him."
Whittingham added that the coaching staff got a good look at the quarterbacks who participated in spring ball. They expect Thompson, who is entering his fourth year in a college program, to be more advanced than Isom, the other newcomer who is also going to get a look.
"We're not going to just say, 'Hey Kendal, you're the guy,' " said Whittingham, who noted that Thompson will get reps with Wilson or whoever is deemed the top guy if Wilson's not cleared to play when camp opens. Whittingham said at this point there's no pecking order established between Manning, Cox and Schulz.
"A lot of talent," Whittingham said. "We've got to find out what Kendal's capabilities are early in camp."
Isom, he continued, will be given as many reps as they can spare. In the meantime, Whittingham said the newcomers need to get themselves comfortable, completely comfortable, with the offensive schemes this summer.
"They can get the video. We get to spend a little bit of time watching video with them (this summer), but they go out on their own and throw some balls and work with their teammates," said Utah offensive coordinator Dave Christensen. "They'll get a lot of work done on their own and we'll spend a little bit of time in the film room with them. The big key is going to be how they do when we start practice and we get a chance to actually evaluate them."
Christensen noted that all the quarterbacks are going to get a good look.
"There's great competition, just like at every position," he said. "Whatever the depth is, whatever number of guys you've got there, you're going to throw them out there and let them all compete."
Ready for action
Although Thompson's college football career is limited to just two games (against Iowa State and Oklahoma State), the former UnderArmour prep All-American is healthy and eager to get on the field. He was in the mix for Oklahoma's starting quarterback job with Blake Bell and Trevor Knight last fall when a broken foot on the opening day of camp stymied his progress.
Thompson, who redshirted in 2011 and did not play in 2012, wound up completing 4 of 13 passes for 64 yards with one touchdown and one interception. He had two rushes for 21 yards.
Despite the lack of playing time, Charles Thompson insists his son is prepared and ready. He considers the time spent at Oklahoma to be invaluable, especially the knowledge Kendal gained in becoming a complete quarterback under assistant coach Josh Heupel.
"I think it's given him all the necessary tools to go in there and do what we feel like is the task at hand and that's win the job," Charles said. "When he steps on campus, day one, that's what his objective is."
Kendal's father believes the Utes are getting a guy who understands what it takes to be successful at the highest level of college football. He noted the tradition at Oklahoma, where the Sooners project themselves and how they go about their business, an environment Kendal has been engulfed in the past three years.
"I think Utah is getting a very, very seasoned guy who has the ability, I think, once given the opportunity, to be a superstar in my opinion," Charles said. "I just don't want to say things just to be saying them because he's my son but I think that anyone will tell you that he certainly has the skill sets and the ability to be a phenomenal quarterback."
While acknowledging that Kendal's injury and the way things worked out at Oklahoma perhaps wasn't meant to be, Charles is proud of how his son handled things.
"He didn't hold his head down in that situation. He decided to do what he thought was best for him and we went about a process of seeking that," Charles said. "I feel really good and comfortable about not only what, No. 1, he's bringing to Utah, but what Utah's going to bring for him. That's just the ability and opportunity to compete on the highest level and get a chance to show what he can do on the football field."
In that regard, Charles believes that Kendal is a more well-rounded football player than he was back in the day.
"I think because, obviously, a lot of it is natural. He certainly doesn't have the top-end speed that I had, but I think he's certainly got the lateral movement and the quickness," Charles said. "But I think what he does have is a mind that has a unbelievable ability to process things at a calm and high rate. He's got a certain calmness about him. So it allows him to be in control at all times on the field."
It's served him well off the field, too.
Kendal's post-Oklahoma recruitment involved a matrix, of sorts, that father and son put together to make a wise choice. Charles admits that Utah wasn't really a factor initially because of distance. But more research and a concerted recruiting effort continually gave the Utes high marks with the Thompsons and eventually won them over.
Christensen was one of the first coaches to contact them. He and Whittingham later made an in-house visit.
"They had done their homework on Kendal and they knew exactly what they were getting and why they wanted to pursue him," Charles said.
It turned out that Kendal's first high school offensive coordinator was also a big fan of Christensen and his coaching philosophies. In the end, it all added up to a recruiting success for Utah.
Louisville, whose offensive coordinator Garrick McGee has a good relationship with Charles, and Vanderbilt, with offensive coordinator Karl Dorrell, were the other schools the Thompsons felt would give Kendal the best opportunity to be an impact player.
Even so, the decision to leave Norman, Oklahoma, wasn't easy.
"Obviously, I didn't want to transfer from Oklahoma, but I did what I had to do. I just looked at it as a business decision," Kendal said. "Utah gave me everything I was looking for going into it. So I'm just excited to finally get out there and see what I can do."
Email: [email protected]
Twitter: @DirkFacer