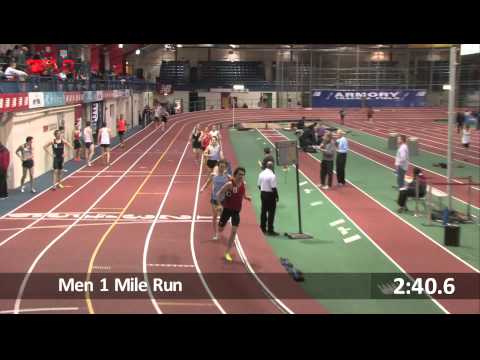 View 3 Items

NASHVILLE, Tenn. — Who decides when it's too late to live your dreams?
Brad Barton's dream of creating 3,000-meter steeplechase track and field history looked all but impossible the night his foot slipped off the water barrier in the final lap of the semifinal round of the 1992 USA Olympic trials in New Orleans.
"I dedicated years of my life to the goal of making the Olympic team. After falling hard at the water barrier, I jumped up, sprinted to the finish, but didn't even qualify to the final round of the trials. I was devastated," Barton said.
Two decades later, his dream was rekindled when he reunited with his former Weber State track coach, retired legendary steeplechase guru Chick Hislop. "Brad and I talked about coming out of retirement to see if we could break some Masters Track and Field age group world records," said Hislop, the former 1996 U.S. Olympic track and field distance coach.
After capturing the Masters 45-49 age group mile world record in New York in March 2013 (4:16.83), the two set their sights on Hal Higdon's almost four-decade-old steeplechase American record of 9:39. In his first steeplechase in 21 years, Barton ran 9:22.00 in Salem, Oregon. Seven weeks later, he topped his own American record with a 9:17.59 effort in Seattle.
"It was tough to work that hard and miss the Masters world record of 9:16.10 by two heartbeats. Training at this level has been a huge commitment for me and my family, but we decided to give it another go in 2014," Barton said.
After claiming Masters World Games titles in the 3,000-meter steeplechase and 1,500 meter in Torino, Italy, in August, Barton and Hislop knew a different training approach was required.
"I wasn't sure Brad's 48-year-old body could absorb the strain of increased mileage, but we decided to take the gamble and significantly increase his work volume and intensity. The extra work made him a lot stronger this year," Hislop said.
In March, the gamble netted them a 3,000-meter Masters indoor world record of 8:26.15, the fastest 3K ever run by a human being over 45 years old. "Brad surprised me a little with his performance in New York in March. After that, I was thinking not only could he break the Steeple world record but he could do it in a big way," Hislop said.
A couple of significant injuries robbed them of collegiate meet opportunities in April and May and compromised Barton's fitness. They settled on the Music City Distance Carnival in Nashville, Tennessee, last weekend to make their world record attempt.
A tornado warning forced suspension of the meet on Saturday night. The action resumed instead the next morning. "The meet qualifying standard was 9:07. With no 2014 steeple mark, the race director said he would 'grandfather' me in. I think his playful pun was very much intended," quipped Barton, a recent Weber State University Hall of Fame inductee. "Racing talented college athletes less than half my age is quite a thrill. I knew I would beat some of these youngsters today.
2
comments on this story
"I came through an even-paced first mile at 4:53 and felt phenomenal. Lap five was more difficult. The meet announcer was wonderful, keeping the Nashville crowd on their feet as he appraised my situation. The final 1,000 meters was run in a haze of concentration and pain," Barton said.
His 9:06.68 performance bested the 30-year-old Masters world record set by Norwegian Nils Undersaker (1984) by almost 10 seconds.
"Who decides when it's too late to live your dreams?" asks Barton, a corporate leadership and continuous improvement professional speaker. "Coach and I are doing things that have never been done before by someone my age. With the right opportunity, a strong support team and a willing heart, we can all recapture goals we thought were dead and gone."
Nicole Carpenter is the CEO of MOMentity.com and creator of Define Your Time eCourse. She is a speaker and mentor for mompreneuers. Barton is a former client of Carpenter's. Twitter: @momentity