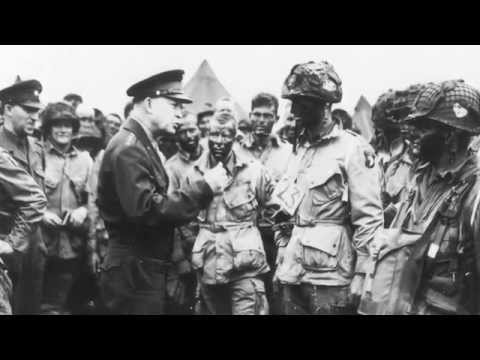 View 21 Items
YouTube

I'm a survivor, I just survived. I'm telling you right now I'm no hero," he said. "I just survived, and every one of us took care of each other. … We just said we wouldn't have left each other no matter what!

—Earl Howard Clements
COTTONWOOD HEIGHTS — Howard Clements was in the third wave of soldiers who stormed the beaches of Normandy 70 years ago on June 6, 1944.
On a recent summer day, wearing an American flag pin on his shirt and breathing with one lung and the assistance of an oxygen tank, the 90-year-old recalled the events of that fateful day. Even seven decades later, there are some experiences that always bring him to tears.
"Half of us were going to be killed. They told us that. But everybody went anyway," he said, his voice breaking as he began to cry. "They didn't hesitate a minute, and neither did I."
His family knew none of those details until eight years ago when he was finally ready to talk about it. Now 2nd Lt. Earl Howard Clements brings up his experiences whenever he can.
"It's been quite haunting for him," said Patti Clements, his daughter-in-law.
Clements was among the 160,000 Allied troops who landed along a 50-mile coastline to fight Nazi troops on the beaches of Normandy in France, according to the U.S. Army.
He is also one of 8,840 surviving World War II veterans in Utah, according to the United States Department of Veterans affairs.
More than 5,000 ships and 13,000 aircraft assisted in the invasion. By the end of the day now known as D-Day, Allied troops had established a foothold in Normandy.
More than 9,000 Allied soldiers were killed or wounded in Normandy. From the victory in France, more than 100,000 soldiers started to march through Europe to claim victory over Nazi troops. Clements and others walked or rode in tanks from France to Germany. Miraculously, Clements was never injured in the war.
"The eyes of the world are upon you," General Dwight D. Eisenhower told Allied troops before the 1944 invasion.
After graduating from Park City High School in 1942, Clements was told that he would be drafted into the military in a matter of weeks or months. The following spring he received a letter from President Franklin D. Roosevelt, ordering him to report for active duty.
"There wasn't anybody that didn't go. Every one of us went. Unless you were missing a leg, or an eye, or an arm or something, you had to go," Clements said.
Tension filled the country that was at war with Germany and Japan. Those who were able to serve felt the need to prepare for war. Clements and others spent 17 weeks in basic training.
"I'm telling ya, they made a bunch of pansies, they made us tough nuts," he said. "We could run 10 miles without blinking an eye."
Clements, then a sergeant in the third army, did not know about the attack on Normandy until his ship was on its way to the Port of Southampton, England. Depth charges that dropped while the crew was traveling to France rocked the boat of 5,000 men, who slept on bunk beds five people deep.
"Everybody was just on pins and needles, really, in the process of not knowing what was going to happen," Clements said.
He and those in his platoon climbed down a rope net and into a landing craft. Once they arrived on Utah Beach, the troops made their way toward the cliffs of Normandy. The thoughts "Just stay alive. Just stay alive and help my squad to stay alive" were running through his mind.
He was never injured in the war, but he developed asthma and lung problems as a result of inhaling Creosote fumes that had been applied to the tanks and exhaust.
Clements is able to look upon some of his experiences with a bit of humor. He was trained in throwing hand grenades and carried a bag of eight grenades with him. Whenever he had a moment to rest or sleep, he would use the bag of explosives as a pillow.
"Everybody just got a big kick out of it. Really they just laughed at me, but it was, you know, that was my pillow," he said.
He also tells the story about how he became bald: He popped his head out of a tank and a passing bullet grazed his head, shaving the hair fuzz off the top.
Regardless of what type of story comes into his mind, Clements said he thinks about the war and the events at Normandy constantly — even after all these years.
"I don't know how you can forget, you never forget it," he said. "It's so embedded in your mind that there's no way to forget it."
Clements describes himself as a survivor. The heroes of the battle are buried in Normandy American Cemetery, he said.
"I'm a survivor, I just survived. I'm telling you right now I'm no hero," he said. "I just survived, and every one of us took care of each other. … We just said we wouldn't have left each other no matter what!"
After the war, he was reunited with his wife, who wrote him a letter every day for the three years he was at war. They had four children together and he attended college, graduate school and went on to be a dentist. He took advantage of opportunities for growth because he knew of others who could not.
"All those guys that were my age that were buried over there didn't have any of those opportunities that I had. And so that's why I say I'm a survivor. Those guys didn't get the chance at all to be a father, or a husband or even go to college," he said.
Clements has never been back to Normandy. He almost went for the 50th anniversary of D-Day but told his wife, "I can't go back there. I'd just stand and cry."
His son Scott and daughter-in-law visited Normandy five years ago and brought back a bag of sand from the beach as well as a message from those who lived nearby.
"Tell your father, 'Thank you.'"
The nearby town of Saint Mere Eglise also reflects this gratitude for the Allied troops. It claims to be first town to be liberated from the Germans and was where paratrooper John Steele landed on a church. His parachute became stuck on the steeple, according to the Saint Mere Eglise office of tourism. He hung there for two hours before being cut down by a German soldier and ultimately escaped. A hotel in the area was named in his honor.
A Utah state flag also hangs in a frame in the Saint Mere Eglise city office, according to Ogden resident Jackie Westergard, whose father, John "Jack" G. Hayes, was a pathfinder paratrooper in the 101st airborne, 506th infantry, and one of the first 350 men who parachuted into Normandy.
Years ago, Westergard started a tradition of placing Utah flags on the graves of the 12 Utah veterans buried at Normandy while visiting for the 50th anniversary of D-Day.
"It looks quite poignant because none of the other graves had a state flag," said Westergard.
Hayes died in 2001, but his legacy lives on through his grandchildren, two of whom are visiting Normandy for the 70th anniversary.
"It was the greatest generation, and they changed the world for the better," Westergard said.
Hayes did not talk about the war until after he visited Normandy during the 40th anniversary.
"He said (visiting) changed his life for the better. He was finally able to heal, have some sense of healing," Westergard said.
He never returned to Normandy.
As a pathfinder during the war, he was supposed to light the way for troops that followed. He and other paratroopers were dropped just before midnight on June 5. He landed near a river bridge near La Barquette, just below a German camp. After hiding his parachute under the reeds and thicket, he hid all night under the brush until dark fell on June 6. He escaped to a local church where he was treated for hypothermia. Once he recovered, he worked on the beach for grave detail.
"These are heroes, those who are (buried) here," she said, echoing Clements' sentiments.
The Utah Department of Veterans and Military Affairs and Fort Douglas have combined forces to honor these WWII veterans on Friday. They will host a commemoration from 3 to 4 p.m. at the Fort Douglas Post Theater, which includes a panel of WWII veterans and historians. Following this, the Fort Douglas Museum will host events running from 4:15 p.m. to 9 p.m., including a screening of the movie "The Longest Day."
To watch a short yet poignant film clip of the events at Normandy, visit army.mil/d-day/.
Email: wevans@deseretnews.com, Twitter: whitevs7