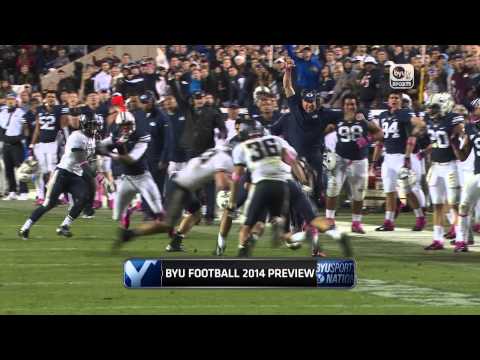 View 4 Items

College football master prognosticator Phil Steele surprised many BYU fans with his comments on "BYU Sports Nation" on Monday.
Hosts Spencer Linton and Jarom Jordan asked Steele which position group was strongest for BYU headed into the 2014 season. He said that five Cougar position groups made his rankings for his upcoming 2014 College Football Preview. The defensive backs are No. 37, running backs are No. 27, wide receivers are No. 21 and quarterbacks are No. 17 in the nation in their respective categories.
No real surprises there. Cougar fans expect those position groups to do well next season.
Then, Steele said something few BYU fans would expect. "I'll go with my No. 1 unit: The offensive line. I rate them the No. 15 offensive line in the country."
Come again? The offensive line? Did he mean the offensive line that gave up 38 sacks last season, including five in BYU's embarrassing loss to Washington? The same offensive line that struggled to open up the running game at times last season and contributed to BYU's 102 penalties last season? The same offensive line that struggled inside the 20-yard line, leading to the Cougars scoring just 27 touchdowns in 56 trips to the red … er … blue zone?
Did he just place that offensive line in the top 15 in the nation?
Yes, he did.
Remember, Steele isn't your average college football analyst. His annual College Football Preview is the preseason bible for professionals covering the sport. Steele is one of the foremost experts in the country on college football.
So, what does Steele see in BYU's offensive line?
First off, he points to how much more experienced this offensive line is compared to last season.
"It's a veteran group," Steele said on "BYU Sports Nation." "You look at the career starts. Last year they only had 44 career starts. This year they've got 87 career starts."
That's quite a jump, but how much does that increase in starts really matter?
"Experience is a lot in the offensive line," Steele said. "That's why every year in the magazine I put career starts. If you go back, and I have a database taking me back like 20, 22 years of career starts, you can see teams that have a big upgrade in the amount of career starts usually upgrade."
Hard to argue with a man who has that kind of data at his disposal.
Steele certainly has a point. Not only was last year's line inexperienced at the FBS level in general, but it also had to learn Robert Anae's new "go fast, go hard" offense. It's particularly hard on offensive linemen to adjust to BYU's new blistering pace. A full year of experience should make a world of difference.
And BYU brings back four starters on the line.
Steele pointed out two interesting stats from last season. The Cougars were No. 10 in the nation in rushing offense with 267.3 yards per game and No. 19 in yards per attempt with 5.23, according to the NCAA. Those stats make it sound like BYU's offensive line did a solid job opening up holes for the running game.
Well, it's not that simple.
A closer inspection of the numbers reveals an interesting dichotomy. BYU had five games last season where the team averaged 5.0 yards or more per carry: Idaho State (9.15), Nevada (8.76), Texas (7.63), Middle Tennessee State (5.62) and Notre Dame (5.25). BYU went 4-1 in those games.
At the same time, BYU also had five games where the team averaged less than 4.0 yards per carry: Utah (3.89), Washington (3.83), Houston (3.71), Virginia (3.53) and Utah State (3.18). BYU was 2-3 in those games.
Naturally, BYU struggled against the better rushing defenses in the nation. The Cougars faced three top 20 rushing defenses: Wisconsin (No. 5), Utah State (No. 8) and Utah (No. 20). On the other hand, at least two of BYU's best rushing games were against horrible defenses. Idaho State is an FCS opponent and a bad one at that, and Texas fired its defensive coordinator after Taysom Hill ran wild over the Longhorns.
Besides, Hill is a mobile quarterback who was fairly good at escaping a collapsing coverage and picking up positive yardage on broken plays. Yes, some of the blame for BYU's high sack count rests on Hill as he did hold onto the ball for too long in many passing situations.
While the offensive line certainly deserves some credit for BYU's 3,475 yards rushing last season, those who watched this line struggle all the way through the Fight Hunger Bowl know that it still has a long way to go.
So, what if Steele is right and BYU does put together a top 15 offensive line?
Simply put, everything on offense would see a massive boost. Hill's numbers, particularly in passing situations, would increase. Running backs such as Jamaal Williams would be able to score more touchdowns. BYU would rise from the basement in blue zone offense.
In short, BYU's offense might finally meet the fans' lofty expectations after years of disappointment.
It may be hard for those who watched BYU's offensive line struggle last season to believe that the offensive line might be the strongest position group on the team in 2014. Then again, you can't ignore when a man like Phil Steele makes that kind of claim with more than 20 years of experience and data backing him up.
At any rate, fans will be paying close attention to the offensive line in 2014.
Lafe Peavler is a staff sports writer for the Deseret News. Follow him on Twitter @LafePeavler.