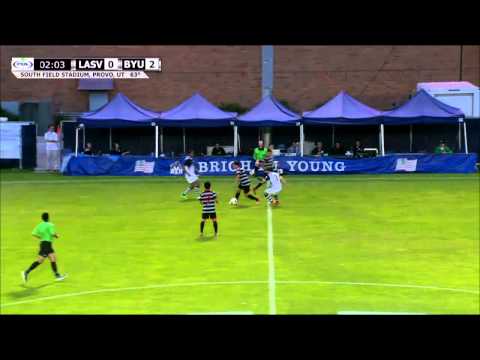 View 3 Items

PROVO — In an exciting game against the Las Vegas Mobsters Saturday, BYU earned another three points to keep the Cougars on top of the PDL Mountain Division with a 3-2 win at South Field.
"We did just enough to win," said BYU head coach Christopher Watkins. "We have a lot to work on after tonight."
The scoring started quick for the Cougars when in the sixth minute Garrett Gee scored after receiving a pass from BYU senior defender Jonathan Junca.
In the 21st minute, Scott Heaton scored the second goal for the Cougars after a chip into the net. The Cougars had a third opportunity to score in the second half when freshmen Blake Frischkencht found the net. The goal was not counted due to a controversial offside call.
In the 71st minute the Mobsters put their first goal on the board when Mobster captain Victor Arbelaez scored off a cross from a free kick to make the score 2-1
In the 78th minute Abelaez collided with BYU keeper Jake Peterson during a challenge of the ball. Arbelaez injured his right lower extremity on the play. Arbelaez was attended to and eventually transported by EMT after 30 minutes of stoppage in play.
After the delay in the 16 minutes stoppage time BYU's Wiston Sorhaitz took the ball into the penalty area and drew a foul. Pedro Vasconcelos took the penalty kick and scored for the Cougars. The Mobsters closed the game with a goal from Julien Drasomir.
The Cougars will be on the road for the next game against FC Tucson Thursday. Kickoff is set for 7 p.m.
The Cougars hold a 5-0 preseason record and a 4-0 season record.
BYU 3 vs. Las Vegas 2
Saturday
South Field
Summary
BYU: Garrett Gee (Jonathan Junca) 6
BYU: Scott Heaton 21
LV: Victor Arbelaez 70
BYU: Pedro Vasconcelos 121
LV: Julien Drasomir 123
Cautions
BYU: Pedro Vasconcelos 28
LV: Sal Bernal 50
BYU: Blake Frischknecht 61
BYU: Colby Bauer 114
LV: Julien Drasomir 120