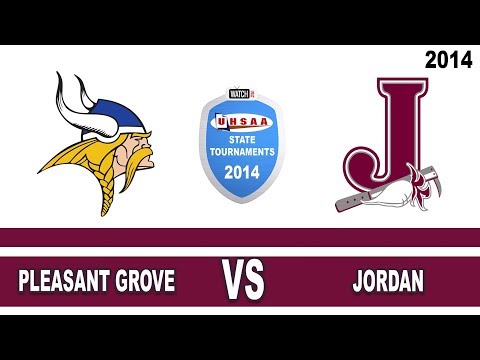 View 12 Items
Buy photos


OREM — Jordan's baseball team wasn't in a lot of close games this season, but on those rare occasions it always won.
"They just know how to buckle down. It's almost like they know they're going to win. It's crazy," said Jordan coach Chad Fife.
You can imagine the frustration then when Jordan didn't win the first game at UVU on Friday. Pleasant Grove denied Jordan the 5A state championship on its first try with a 4-3 victory, and it would've been easy for Jordan to feel sorry for itself about a quick, decisive rematch.
In many ways it did, as Pleasant Grove fed off the momentum from the first game to take an early lead in Game 2. Mason Krueger changed all that with one swing of the bat.
His solo home run injected much-needed life into Jordan in the third inning, and the Beetdiggers never relinquished it, reversing the Game 1 loss into a 4-3 victory in Game 2 to clinch their first state championship since 2007.
"His home run really got us going again, got that momentum, and we never looked back," said Jordan sophomore shortstop Drew Lisk.
After Krueger's leadoff home run in the third gave Jordan the 2-1 lead, Lisk followed four batters later with a two-run single that increased the lead to 4-1.
"I've been dropping my hands getting under everything, and I tried to stay short through the zone, get something through, knock a run in, and I got the job done," said Lisk.
Pleasant Grove answered back in the bottom of the third with Chase Merrell tripling in two runs to cut Jordan's lead to 4-3.
After that, Jordan ace Morgan Gomez took over the game. The winner against Lone Peak on Tuesday, Gomez started throwing his cutter with more command after the slow start and didn't allow a hit in the fourth, fifth or sixth innings.
"He traditionally gets better as he goes. For four years he's been better in the second half of the game than the first," said Fife.
In the seventh, Gomez retired the first two batters, but there was no way Pleasant Grove was going to go that quietly. In many ways, Fife wasn't surprised by the necessity of the second game.
"To lose the first day and come all the way through, we knew (Pleasant Grove) were warriors and we knew it was going to be a fight," said Fife.
That's exactly what the final out was too — a fight. With the crowd on their feet, Payton Henry kept Pleasant Grove's season alive with a double off the right-field fence, a blast that was a few feet from tying the game.
With a runner in scoring position, though, Gomez got the next hitter to ground out weakly to second base as Jordan mobbed the field to celebrate the championship.
Gomez struck out five for the victory, and said he was excited to take the mound after the Game 1 loss.
"We took that first game and used it as motivation. We knew we didn't play our best the first game," said Gomez.
Jordan had numerous opportunities to blow Game 1 wide open, with Pleasant Grove starter Easton Walker struggling with his command with five walks, but it never did. Jordan left 12 runners on base as Walker pitched himself out of several jams with nine strikeouts.
In the sixth and seventh Jade Smoot and Payton Henry came on in relief and shut things down for the Vikings to force the second game.
The victory was Pleasant Grove's seventh-straight playoff win after dropping the opener to Viewmont last week, but it could never sustain that momentum in Game 2 against a confident Jordan squad.
"We were hoping obviously to get out of here with one game, and then we just said it's on now, the second game is a battle. Both teams are going to battle to the end," said Fife.
Pleasant Grove jumped out to an early lead in the second game on a Jade Smoot RBI single, but after another hit by Brayden Cox, Gomez pitched himself out of the bases-loaded jam with a strikeout and a line out to shortstop.
The Vikings probably could've crushed Jordan's confidence with a big first inning, but Gomez fought through the adversity.